In the Nation's Most Affluent Region
By Patrick Szabo, photos by Camden Littleton
It's become commonplace in Northern Virginia to see Teslas, Lamborghinis, Ferraris, and Maseratis sharing the road with more usual cars like Toyota Camrys, Honda Odysseys, and Ford F-150s. But unless the drivers of those super and luxury cars are breaking the law and slicing through traffic, everyday drivers don't get a chance to see those high-end cars compete for anything other than a lane advantage in rush hour traffic.
That wasn't the case in October, as close to two dozen racers snaked their cars around the famous bends of Skyline Drive, split the historic battlefields of Gettysburg, and pulled up to the front door of the fourth U.S. president's house along a nearly 600-mile route that set the drivers' sights on one goal—to win a spot in "the most beautiful race in the world."
For three days, 21 competitors driving classic and modern supercars roamed around Northern Virginia's rural roads, through Loudoun, Clarke, Fauquier, Rappahannock, Madison, Orange, Greene, Rockingham, and Page Counties. They were racing in the second annual 1000 Miglia Warm-Up USA, and all were attempting to cross a finish line where one of them would be crowned the inaugural Coppa USA champion and given the chance to compete in Italy's 2020 Mille Miglia—a century-old, 1,000-mile rally race from Rome to Brescia and back, known in English as the 1000 Miglia. From Oct. 24-26, 2019, nineteen Americans, one Briton, and one Pole drove their cars 588 miles from Middleburg to checkpoints in Virginia, West Virginia, Maryland, and Washington, D.C., traveling as far south as Montpelier and as far north as Gettysburg.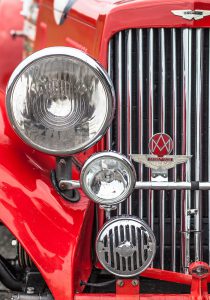 Those drivers, alongside their co-drivers, competed in two classes—the 1000 Miglia Era Class, which featured cars manufactured between the years of 1928 and 1957; and the Post-1000 Miglia Era Class, which featured sports, grand touring, and supercars manufactured from 1959 to 2018. Spread out between the two classes were six Alfa Romeos, three Jaguars, three Ferraris, two Aston Martins, and even a McLaren and Maserati.
Before the first leg of the race, the drivers traveled to Summit Point Motorsports Park in West Virginia for a day of training that was required for novice racers and optional for veterans—or the drivers who had competed in at least two 1000 Miglia races since 2013. Seventeen racers took to the two-mile track for pre-race training, with veteran driver Dave Atcherley placing first in his 1928 Alfa Romeo.
A day later, on Oct. 24, the warm-up race officially kicked off at 8:30 a.m. in Middleburg, as Mayor Bridge Littleton waved the green flag—an Italian flag in this case—and unleashed thousands of horsepower into the rural countryside. One-by-one, each car peeled rubber off Madison Street before stealing a quick right onto Rt. 50 on their way to Shepherdstown, W.Va., for a lunch break at the Bavarian Inn Resort and Brewing Company.
From there, the drivers continued north to Antietam, Md., then to Gettysburg, Pa., before heading south back to the Creighton Farms gated community south of Leesburg to wrap up a 251-mile excursion. There, a Cars & Cocktails event invited residents out to examine the cars up close and talk with the drivers about their first days on the road.
Day two of the race saw the drivers taking the green flag in Middleburg Friday morning for a 208-mile loop that had them traveling southward to Montpelier and Somerset, then west into the Shenandoah National Park to traverse the world-famous paperclip turns and sweeping bends of Skyline Drive on their way back to Loudoun.
Before the competitors returned to Middleburg just before sunset, they stopped in the Atoka Chase neighborhood about four miles west of town for an end-of-day time trial. It was there that residents really got to see the cars in action, as they motored past their driveways and fenced-in horses on a 1.2-mile rural residential road.


The final day of the race also began in Middleburg, but this time had an end goal somewhere other than Loudoun County. The drivers were racing 129 miles toward Villa Firenze—the Tudor-style, 92-year-old Washington, D.C., home of Italian Ambassador Armando Varricchio. On their way there, the drivers climbed Capitol Hill, giving members of congress a glimpse of automotive culture as it was decades ago in a country that fought shoulder-to-shoulder with Germany and Japan against the U.S.
Earning the right to hoist the inaugural Coppa USA, and a guaranteed entry into the 38th modern running of the 1000 Miglia in Italy next May, was the veteran team of John and Julie Herlihy, who piloted a 1953 Jaguar XK120 OTS Roadster. Finishing second in the 1000 Miglia Era class was a 1956 Ferrari 250 GT Coupé Boano.


Topping the Post-1000 Miglia-Era class was a 1963 Lancia Flaminia Touring Spider, followed by a 2016 BMW M4 GTS.
In addition to the Herlihys, five other crews were awarded a guaranteed entry into the 1000 Miglia—the other veteran crew in the 1000 Miglia Era Class, along with that class's top two novice finishers, and the top two novice finishers in the Post-1000 Miglia Era Class. There were no veteran crews in the Post-1000 Miglia Era Class.
To earn those spots in the 1000 Miglia—a competition that for decades has been referred to as "the most beautiful race in the world" for the Italian hillside and architecture that the classic cars cruise through each year—the 21 racers didn't bang doors through the winding back roads of the Washington region, but instead battled the stopwatch in an orderly fashion while sharing the roads with commuters, weekend drivers and the occasional speedsters looking to put up a fight against the supercars.
Completing two of the warm-up's three days was Dave Atcherley, a resident of northeastern Pennsylvania who competed with the 1928 Alfa Romeo 6C 1500 Super Sport that his grandfather built nine decades ago. Atcherley said he found the car three years ago in Belgium and spent two years prepping it for last year's 1000 Miglia Warm-Up USA, which was neither scored nor crowned an official winner.


Like others in the warm-up, Atcherley got his start in auto racing by competing in rally races. Atcherley is so involved in racing that he even competed in an English rally with a Ferrari 308 the weekend before the warm-up race.
Atcherley said the warm-up, while an unusual sight for American eyes, was a fun chance for him to navigate the twists and curves of the region's backroads, until he was forced to withdraw from the race on day three, as did two of his fellow competitors because of mechanical issues that plagued a handful of the racers. Their mid-20th-century cars were all stock and were relying on parts manufactured around the same time many of their drivers were born.
But on hand to make repairs were numerous support teams. Forrest Smith, a New Orleans resident with a background in motocross racing and engine building, was one of those crew members—his support going toward the 1956 Ferrari 250 GT Coupé Boano.
Smith said that while his team followed a few miles behind the Ferrari with fuel pumps and other miscellaneous tools, they were prepared to make only relatively minor repairs to the car. "If anything serious breaks, you're out," he said just hours after he had helped to repair a decades-old clogged fuel pump on an Alfa Romeo on day one of the race.
Although he wasn't competing in the race, but following behind his driver with wrenches in hand, Smith praised the warm-up as an authentic automobile competition in which the drivers had to work their way to the finish line, seeing that none of the older cars had power steering and only a few sported hydraulic disc brakes. "It's basically every form of racing, it's just at higher stakes—you wreck these cars, you're out a lot of money," he said.
While the race was a major success in the eyes of Middleburg's town officials, and was an unexpected treat for thousands of metropolitan drivers, many residents were left with one big question when the checkered flag dropped—why here?
The selection of Middleburg as this year's race hub was more than an experiment to find out if the Hunt Country vibe meshed with the Italians' visions for the event. According to Francesca Parolin, the general manager of the Mille Miglia, the selection incorporated feelings of community and, more importantly, excitement.


"It's not just a car race, Mille Miglia is about the connection that the driver has with the local communities, with the spectators," Parolin said. "That's exactly what we found in Middleburg."
But beyond the questions of "why Middleburg?" or "why Northern Virginia?" came the overarching question of "why America?" Parolin said that was an easy decision to make.
She referenced the classic car market in the U.S., which, she said, is the largest in the world. More than that, Parolin said the U.S. also features the largest pool of classic car owners who are willing to drive their hotrods, rather than simply put them on display.
Parolin said her company has entertained offers to hold the warm-up race in Australia, China, and all over the Middle East, but rejected all of them because the classic car owners there wouldn't necessarily get the whole point of the 1000 Miglia.
"Part of the pleasure is of course owning the car, but also feeling it when you're inside and you're driving it," she said. "Definitely D.C. is the right place for us."
The race didn't disappoint for anyone involved, especially the Middleburg Town Council and staff members, who felt victorious for negotiating a deal that saw their town play host to the precursor of one of the world's most historic and well-known car races.
Town Administrator Danny Davis said the Italian organizers told him that hosting the warm-up in Middleburg felt to them like they were running the actual 1000 Miglia.
"We had brought just that sense of energy and excitement and community to the event," he said. "It made them feel like it was the real deal."
That sentiment was shared all around, with a confirmation from Parolin that the organizers would consider Middleburg, along with a few localities in California, for the location of the 2020 warm-up race.
"We hope to come back, that's for sure," Parolin said. "We came here to the U.S. because we want to tell a story—we want to tell people why events like Mille Miglia is important, why classic cars are important, because it is a part of our story and will be part of our future."  
To see the provisional starting list, click here.