Be prepared to take away something more than memories of a great meal
Story and Photos by Kaitlin Hill 
"It's not just about the food or the wine. It's about you guys coming together and finding that we as humans should love each other. And listen, if you don't find a new friend tonight, you'll get your money back."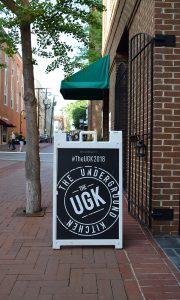 Charismatic host and Underground Kitchen founder Micheal Sparks promised more than refined food and thoughtful wine pairings as he addressed his guests in a candlelit dining room on Charlottesville's Downtown Mall. And he and his team certainly delivered. Underground Kitchen's April 27 event at Reserve, part of their UGK: Retrospective Tour, was a night of culinary storytelling and communal fun, as diners were treated to Sparks' expert hospitality, Chef Natascha "Taz" Bowles' multicultural recipes and an undeniable sense of camaraderie. 
Established in 2014, Richmond-based Underground Kitchen was born when Sparks and his husband wanted to build relationships in a new community. Sparks laughed, "Underground Kitchen started in my backyard, and like with most good inventions, I was really drunk." He continues, "We had just moved from New York and we didn't know what to expect from Richmond. So we just drank a lot and started inviting the neighbors over for dinner."
From backyard to big business, Underground Kitchen expanded into a network of 3,000 chefs offering secretive pop-up dining events in 28 cities nationally, working with a multitude of corporations and, recently, catching the eye of The James Beard Foundation, where UGK will hold a two-day event. 
Even with national recognition, Underground Kitchen is still driven by the same purpose that inspired Sparks in 2014—connecting people. In Sparks' vision of hospitality, each guest is treated as if they were eating in the family home. Sparks remarks, "It's not about a restaurant experience, it's about an experience, period. It's that you feel that you're in someone's house and you're part of something more. It's not just a regular dinner party." 
That "something more" is Sparks' belief that shared meals are the great unifiers of the human experience. He explains, "We are challenging the divide. We understand that Democrat, Republican, black or white, gay or straight, it doesn't matter who you are. We all find common ground through food and wine." For Sparks, this ideology is especially relevant in Charlottesville, as the two-year anniversary of the deadly Unite the Right rally looms.
At UGK, inclusivity is also practiced by giving opportunities to chefs who, though they have the talent, might not otherwise have the exposure. Sparks notes, "It's about empowering people who feel that they have no power. We want to give women, minorities, and people of color an opportunity: to teach them not just to be line cooks, but to be business owners."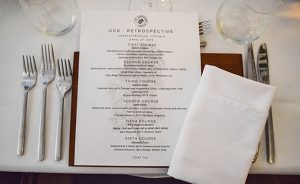 Appropriately, the evening's spotlight was on Chef Taz, her inspiring journey from homelessness to James Beard House and her distinctive dishes with multi-ethnic influences. Taz, a three-year veteran of the organization, sees cooking with UGK as a platform to tell her story. "I am excited about having the opportunity, as a girl who grew up homeless, poor, and lived on ramen noodles most of my life, to stand in front of people who appreciate food and give them the best quality product. That's my story, and I get to put my life on a plate. And somebody gets to listen." 
Her menu for the UGK event at Reserve, reflected her narrative and her heritage. Taz reveals, "This menu for this event is in honor of my mom. She's German-Jewish, so this is my take on German-Jewish food. And since there is no staple in Israel, I've put my spin on it with those German-Jewish roots, as well as being Caribbean Black." Her recipes also use elements of African, Middle Eastern, and Mediterranean cuisine for a mix of flavors and textures that showcase her limitless creativity. 
The first course, Sabich Crostini, her version of an Iraqi-Jewish dish popular in Tel Aviv, included the traditional ingredients: soft roasted eggplant, creamy hummus, tangy pickled peppers and hard-boiled egg with an added North African twist from spicy harissa-coated cucumbers. The zesty harissa and crisp cucumbers contrasted wonderfully with the creamy hummus and savory eggplant for a strong start to the evening. Sparks paired the initial bite with an incredibly drinkable and very fun Jacqueline Leonne Rose. 
The Reconstructed Mezze that followed blended classic and inventive, too. The sweet potato and lentil hummus was smooth as silk when run through with a challah bread crisp and her beet version of the dip was as vibrant in color as in flavor. A bite-sized falafel acted as a nice vehicle for swabbing up last bits of hummus. A hit of salt from black olives balanced the sweet date disc nestled in the hummus. Washed down with a 2015 Eden Ridge Chardonnay, this mezze was memorable. 
An elegantly dressed clam hinted at Taz's German heritage, with German beer mignonette. The luscious shellfish was expertly steamed and the fresh ocean flavor boosted by a sprinkling of tobiko. This one-slurp course meshed bold flavors with delicate preparation, allowing the quality of the ingredients to shine. 
Sabich Crostini
Reconstructed Mezze Plate
Lamb Steak
Surprise Dessert
For the main event of the evening, Taz served wonderfully tender lamb shank with couscous, carrots, mushrooms, and a thinly sliced fennel and artichoke hash. The licorice bite of the fennel cut the richness of the rare lamb and savory mushrooms nicely. Doused in lamb jus, the favorite Moroccan combination of lamb and couscous played like a stick-to-your-ribs stew, smartly paired with a fruity 2017 Cruz Alta Reserve from Argentina. 
Dessert was perhaps the biggest surprise of the night, literally, as it remained a secret from the guests — and even Sparks — until served. Boldly forgoing classics like chocolate or vanilla, Chef Taz instead served a miniature cast-iron of creamy cheese dressed in honey and pistachios and her daring rendering of baklava infused with garlic. The finale was an obvious expression of Taz's culinary prowess and fearlessness as she creates new flavors. 
"It's taking different aspects of different cultures because I'm so mixed, I have the audacity to mix other cultures and other techniques," she says. "My brain is scientific, so I can see something, break it down into its simplest components and rebuild it…What can I take out that won't destroy what this dish really is, then how can I make this new element redefine the plate." Her method and her technique allow her to stay true to her heritage while constantly reinventing her cuisine, an enviable quality that results in extraordinary dining experiences. 
UGK is everything right with the culinary industry and so much more than a night out. Beyond exquisite food and fine wine, of which there is plenty, Sparks and Taz add meaning to the meals they serve by using their events as opportunities to facilitate new friendships and pursue purposeful connections. Perhaps Sparks puts it best by drawing a comparison to the dinner table of his childhood: "When we got together as a family at dinner, it was important for us to talk, love, fight, argue, care, whatever. It was about developing us as humans. You experienced that tonight, and that's what it's all about." 
---
Chef Natascha "Taz" Bowles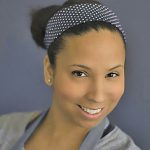 Natascha "Taz" Bowles is a Richmond-based chef with a culinary degree and Hospitality Entrepreneurship Associate's degree from J. Sargeant Reynolds Community College. Taz received additional schooling at The Culinary Institute of America, completing professional development classes. And she expanded her knowledge of global cuisine by observing locals in Spain, Germany, and France during extended stays in Europe. She has worked with some of Richmond's most well-known chefs including Chef Walter Bundy, as an intern at Lemaire, and Chef Chris McCandless. Bowles joined the Underground Kitchen team in 2016. Her work ethic and creativity are inspired by her mother, a German-Jewish immigrant, single mom, and military veteran. "It was amazing to have a woman like that show me the way and teach me that I can make it through anything." From childhood homelessness to an invitation to cook at the prestigious James Beard House in New York, this young chef has a bright future with plans to open her own restaurant and, one day, earn a Michelin star.