The new Grandale Vintner's Table enjoins two of the finer things in life: wine and cuisine. The new concept by Executive Chef Author Clark will continue to showcase local, farm-to-fork fare, but with an exciting epicurean twist in an accessible, relaxed setting.
One rarely finds wineries and high-end cuisine paired together due to unfortunate bureaucratic obstacles. "But vineyards and restaurants belong together," said co-owner Peter Deliso. "We wanted to put the band back together."

This was my first encounter with a vintner dinner. As you walk in, a chalkboard lists the farms and farmers whose produce and livestock are featured in the dishes. From this sign, I knew to expect a sense of locality, of community, of friendliness. My expectations were exceeded.
Grandale restaurant opened in 2005, and in the past five years has been voted one of Northern Virginia Magazine's Top Restaurants three times. Chef Clark is CIA-trained (Culinary Institute of America, that is), and his knowledge extends beyond his expertise in the kitchen. He understands what visitors at 868 Estate Vineyards truly want out of a visit.
"People want innovative gastronomy; they want a sensory experience, not just the classic dishes. We're going to continue offering a gourmet menu, but we're looking forward to experimenting and offering new tasting and dining combinations in a comfortable, modern farmhouse setting," said Clark.
Clark's cuisine is paired with wines from local vineyards as well as 868 Estate's own.For Carl DiManno, the resident winemaker, winemaking is about combining the very best that nature has to offer with artisan techniques and practices in order to put the best possible product into the bottle, mirroring Chef Clark's own approach to culinary creations. Chef Clark has significantly expanded portfolio of wine and craft beer selections from local producers, as well as global collections, all of which compliment his edible masterpieces.
"Those enjoying DC's wine country will now have a richer, more complete vineyard and culinary experience with the new concept," said Deliso said, over the first course of charcuterie, local cheeses, and scrumptious, massive Chesapeake Bay oysters.
Named for the topographic elevation, 868 Estate overlooks a grove of sycamores and orchards, beyond which lies the majestic Blue Ridge. Despite the spaciousness of 120 acres, their is a congenial atmosphere. "Going into this, we needed the neighbors to be in full support," Deliso said.

You can feel it. When the dinner began, I sat with my girlfriend at a table of strangers. By the time we had finished our cheesecake and handmade truffles, we were passing our phones around the table, proudly showing off pictures of our dogs. That doesn't happen everywhere. It doesn't happen most places. But Grandale is one of those rare exceptions where the food, wine, and ambiance combine to make for a deeply enlivening and pleasurable experience.
That evening was a special combination of the rustic and refined, or, to use the chef's words, "a symphony of wine, food, atmosphere, and good company." Conversation ranged from motorcycles to the intricacies and nuances of red wine. The dishes and wines were exquisite without being ornate. This ability to fuse haute with the everyday is the sign of a restaurant that trusts itself enough to relax a little, that takes itself seriously but not too seriously.
Because of this ethos, as well as the cuisine, I am certain that I'll find myself back at 868 in the spring, when the grill is fired up and local bands take to the stage on Saturday and Sunday afternoons.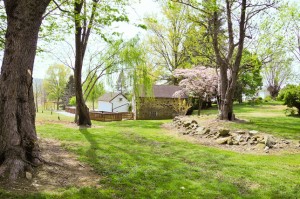 Grandale Vintner's Table
14001 Harpers Ferry Road
Neersville, VA 20132
540-668-6000
Friday & Saturday: noon – 7 p.m.
Sunday: 11 a.m. – 6 p.m.