As we reflect on the Road to Farm Aid and the Good Food Movement that surround us locally and regionally, we bring you some fall gardening thoughts and encouragement from Jenna Brownell, Master Gardener at the Inn at Little Washington.
Autumn is not the end of the gardening season, but rather a busy time of transition between final generations of warm weather crops and the first planting of cold weather autumn vegetables.
As we relish the first days that have the real feel of autumn, home gardeners are still enjoying the fruits of the summer harvest. In fact, many may be overwhelmed with extra vegetables this time of year. This is the time to preserve your surplus. While time consuming, jarring or freezing your summer vegetables will be well worth it when you are able to enjoy the burst of homegrown summer flavors of tomatoes, cucumbers, or zucchini in the dead of winter.
But our cooler days do not mean the fresh flavors have passed for this year. This is the time to plant another generation of some of your summer favorites. Some favorite and most successful varieties for this final planting of the growing season are "Summer Ball" squash, "Taverna" green beans, "Chioggia" beets, "Purple Haze" carrots, and "Winter Density" lettuce. The cooler weather is also conducive to nurturing delicious greens such as arugula, lettuce, kale, spinach, mustards, and collards.
While this is the time to be planting the final crop of your summery vegetables, it is also the time to start your cold weather favorites, most of which take 3 months to grow to maturity. This the perfect time to get in your winter squashes (spaghetti, acorn, kabocha, butternut, etc.) as well as broccoli, broccoli raab, cauliflower, romanesco, onions, and leeks. And a final reminder for this year's planting schedule: plant your garlic the first week of November, and mulch it well.
W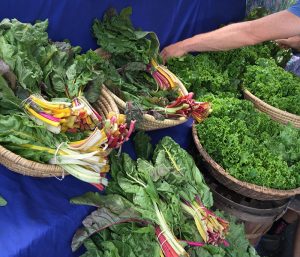 hile it may be tempting after a hot summer to take these first cool autumn days to rest, hang up the garden spades, and start dreaming of falling leaves and cozy fires, there is still plenty of time for more growing and harvesting! In our climate, if we continue to put in the work now we will be able to enjoy fresh, homegrown produce for the months to come.
Jenna's favorite seed companies include Johnny's Selected Seeds, High Mowing, Seeds Savers Exchange, Southern Seed Exposure, and Native Seed Search.
Photos by @CamdenLittleton