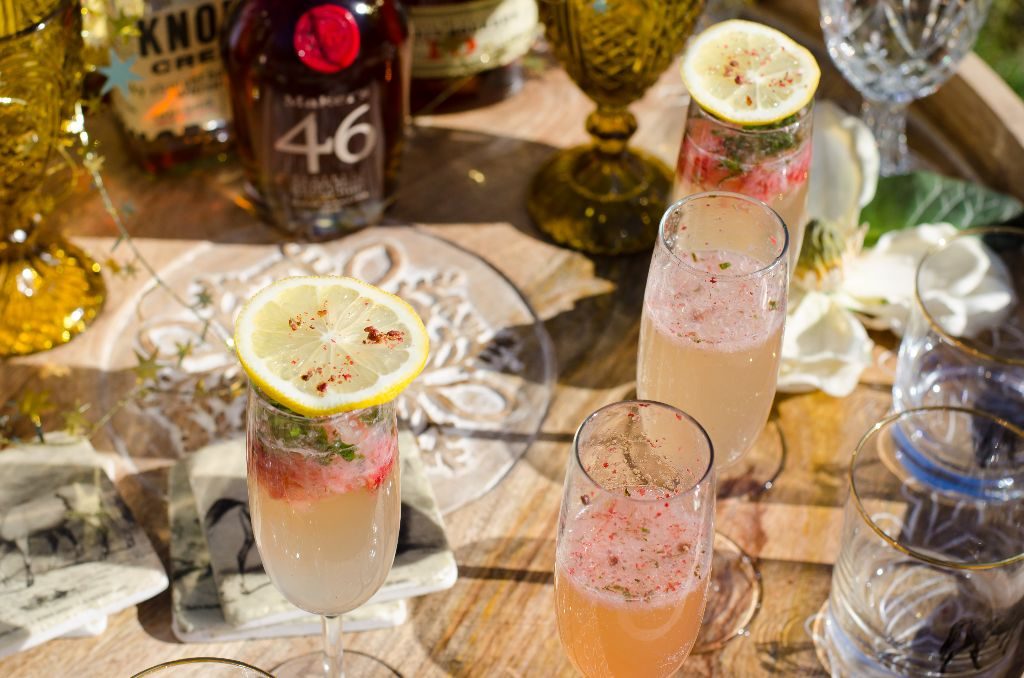 This recipe by Laurie Beth Gills, with photos by Amy Fewell, originally appeared in our "Fine Art of Tailgating" feature. To read the rest of the article, click here. 
Herb Hurdle & Smash
Serves: 2
Ingredients:
A few pink peppercorns, slightly crushed
A bunch of fresh herb leaves (e.g. basil or mint)
2 or 3 ripe local strawberries, hulled and chopped
1½  ounces gin
1 ounce fresh lemon juice
1½ ounces simple syrup
2 thin slices of lemon
Chilled sparkling wine, such as Prosecco
Method:
1. Prepare the simple syrup. It can be made in larger or smaller quantities with the same ratio of water to sugar.
2. Heat the water and sugar over medium heat, and bring to a strong simmer. Stir to dissolve the sugar. Lower heat and continue to simmer for about 2-3 minutes. Remove from burner and cool. Pour syrup into a sterile glass container or bottle and refrigerate. (Keeps for up to 2 weeks in the refrigerator, and 3 months in the freezer).
3. Using a mortar and pestle, smash the peppercorns separately, then transfer to a small bowl.
4. Smash the fresh herbs and strawberries together until the berry pulp and herbs release their amazing spring flavor. Evenly distribute the strawberry-herb smash between two flutes.
5. Fill a cocktail shaker with ice. Add the gin, lemon juice, and simple syrup. (If you prefer to serve a cocktail without any pulp, simply add the strawberry-herb smash to the cocktail shaker along with the other ingredients).
6. Shake well, then strain into the flutes. Top with sparkling wine, a very thin slice of lemon, and a pinch of peppercorns.
Note: For a drink with less alcohol, use sparkling water instead of the sparkling wine.