Explore Hoo-ville's bustling, diverse arts districts
By James Wilkinson
What do you experience when you take the time to engage with a work of art? Inspiration, perhaps? Beauty? An emotional or thoughtful connection? This is the beginning. The journey unfolds from there. The more time you take, the more you find—stories, truth, lies, commentary, comedy, outrage, obfuscation, memory. The more you consider, the less you know. Transformation. Magic.
McGuffey Arts Center
In Charlottesville, this journey leads to a pair of large red doors on a hill. The doors belong to McGuffey Arts Center, the longtime heart of the city's arts community. The towering brick building was an elementary school for almost six decades before it was transformed into its current incarnation in 1975.
Tug open its doors and cross the threshold into a space where past, present, and future intermingle. The entrance gives way to long, wide exhibit halls that stretch in either direction. This is the place to find art at its source. Breathe deeply and set off. Exploring the building's ground floor and second floor leads to drawings, paintings, sculpture, textiles, mixed-media installations, performance art, poetry. Step into an artist's studio, explore exhibitions and performances, take a class. Each doorway opens opportunities for new conversations, new possibilities.
On a Thursday afternoon, artist Russell U. Richards is at work in one of the studios. The walls are lined with figural studies and science fiction panoramas. Worktables, shelves, and flat files by the building's massive trademark sash windows are covered with unfinished work and rolled sheets of paper and canvas. Mason jars are jammed with paints and brushes. Richards is applying the finishing touches to a large acrylic painting, a fantastical urban scene teeming with life. A huge dragon grips crumbling brickwork in its claws, threatening the congested streets below. Dozens of lives hang in the balance.
"McGuffey means the world to me, I live and breathe this place," Richards reflects. "It's a huge part of my support system. It's the place where I work all the time, where I can teach and interact with the community." Richards is a longtime member, working and teaching at McGuffey since 2000.
Come back to the art center a day later and you'll see what he means. Charlottesville's Downtown Art Walk—held the first Friday of each month, and better known as "First Fridays"—is another local institution. Across the city, the doors of Charlottesville's art world open to welcome visitors. On this Friday, McGuffey's halls are packed with art lovers, students, artists, teachers, and passersby checking out exhibits focused on mixed-media drawings and the world's oceans. The wine and cheese don't hurt, either.
The Yellow Cardinal
To continue exploring Charlottesville's downtown art scene, walk a couple blocks west from the art center along Market Street, past Lee Park and the downtown library, to visit the city's smallest gallery, The Yellow Cardinal, which opened in 2014. Artist and owner Jane Goodman uses the one-room space as both her painting studio and an exhibition space for local artists. Late afternoon sunshine pours through the second-story windows, bathing her paintings and the work of other artists—reclaimed wood sculpture, abstract calligraphy—in a bright, warm glow. "Painting is about breaking old habits, about looking at the canvas and the world in new ways for me, at the moment," she says. "My gallery is about helping people find original art they love and can afford. They come one flight up and find something that speaks to them."
New City Arts Initiative
When you're ready, head back downstairs. Take a few steps across Market Street. You'll find yourself in front of a brick-and-glass storefront, the Welcome Gallery at the New City Arts Initiative. Now in its seventh year, the local arts nonprofit is a leading voice for Charlottesville artists. In addition to exhibits, the organization hosts education forums, an artist-in-residence program, and an artists' exchange. In addition to its space here on the Downtown Mall, it also hosts exhibits at the WVTF and Radio IQ Studio Gallery several blocks to the south, on West Water Street.
Walking the Mall brings you closer to two major downtown art resources—the Second Street Gallery (or SSG) and the Chroma Gallery. On your way there, though, don't miss the exhibits often just on the far side of a window pane: coffee shops and restaurants offer glimpses of other voices and perspectives as you walk past. Stores such as the C'ville Arts Cooperative Gallery and 20th Century Vintage carry the work of local artists.
Second Street Gallery
SSG is part of Charlottesville's City Center for Contemporary Arts building, a striking silver structure on Water Street that is also home to the Live Arts community theater and Light House Studio, a nonprofit film production organization. Founded in 1973, SSG is the oldest nonprofit contemporary art space in central Virginia. SSG's mission "is to enliven Virginia through access to the best in contemporary art and artists: to inspire new ways of thinking, seeing, and doing." The longtime gallery walks the walk, too: in addition to exhibitions, lectures, workshops, classes, tours, and publications, it brings its artists and programs out into the community, hosting sessions at area schools and Boys and Girls Clubs.
"Artists think out of the box, and ask us to try, as well. Whether they use innovative materials or propose new ways of considering old ideas, artists stretch our thinking muscles," noted SSG co-president Claire Holman Thompson. "I have stayed involved with SSG over many years because we make such a huge contribution to the creative capital of the community. I'm proud to support SSG because we make a difference every day."
Chroma Projects
A similar ethos is at the heart of nearby Chroma Projects. The arts laboratory opened its newest gallery space earlier this year in York Place, an indoor shopping area on the southern side of the Mall. "I'm interested in bringing together out-of-area artists with local artists," says gallery owner and curator Deborah McLeod. "A lot of energy and new ideas come out of those interactions." The gallery hosts wide-ranging shows and plans to collaborate with their next-door neighbors, the Piedmont Council for the Arts.
Bridge Progressive Arts Initiative
It's time to step back outside. You've done well. One important stop remains. Head back up the Mall, toward the Sprint Pavilion, and over Belmont Bridge. Your reward for the slight trek is a visit to the Bridge Progressive Arts Initiative. This innovative nonprofit started in a vacant storefront as a space for small art exhibitions. Thanks to broad community support, the organization now hosts music, literature, theatre, and film programs as well as art exhibits. As you step inside, you may see a dance performance, or musicians grooving, or local writers sharing works in progress as part of the Charlottesville Reading Series. Or an artist may be discussing her video art installation, who knows?
"At the core of the Bridge is an understanding that the arts play an immense role in strengthening and enriching the community as a whole," says Director Alan Goffinski. "Not only does the organization serve as a space to support artists in taking creative risks, but it also believes that art should be accessible to all, being a shared connection in central Virginia and beyond."
That energy and belief has helped fuel your day's journey. You may well be hungry and thirsty. And you are most definitely in luck. As the rest of the day stretches before you, you are standing in Charlottesville's historic Belmont neighborhood, home to some of the city's finest restaurants and nightlife. The end of your journey is, in fact, a new beginning.
As Deborah McLeod reflects, "There's a lot to explore. The artists here bring so many interests and influences to their work. Love of the land is one theme that I see come through in many different ways. Come and see for yourself."
---
Heading Further Afield—Art Beyond Downtown
These august institutions, only a short drive away, also host First Friday events.
The Fralin Museum of Art
Just east of downtown, UVA's art museum shares its permanent collection and hosts visiting exhibitions. Recent shows have highlighted work by Ann Gale, Andy Warhol, and Richard Serra.
uvafralinartmuseum.virginia.edu
155 Rugby Road, Charlottesville
Kluge-Ruhe Aboriginal Art Collection
This is the only museum in the United States dedicated to the exhibition and study of Australian aboriginal art. It is located just west of town at historic Pantops Farm, a rural landscape incongruously surrounded by shopping centers and Martha Jefferson Hospital.
www.kluge-ruhe.org
400 Worrell Drive, Peter Jefferson Place, Charlottesville
Les Yeux du Monde
Take Route 20 north from Pantops to reach this contemporary art gallery, which represents established and emerging artists from across central Virginia and beyond as well as offering spectacular views and architecture.
lesyeuxdumonde.com
841 Wolf Trap Road, Charlottesville
---
Take a Field Trip to IX Art Park
Find Second Street and wander south from the downtown mall for several blocks, crossing the rail tracks, to reach Charlottesville's remarkable IX Art Park, a self-described "walk-through, sculptural, mural-festooned Mecca that's free and open for the public to wander, night and day … a public, non-commercial, interactive space for spontaneous dreaming – for residents, visitors, families and solo acts." 
The park hosts a dizzying array of events, from art exhibits and concerts to beer festivals, craft fairs, plant sales, pop-up markets, and political rallies. Admission is free and the park is open dawn to dusk, seven days a week. The sprawling facility is also home to native plant gardens, restaurants and other businesses, and the Charlottesville Newsplex.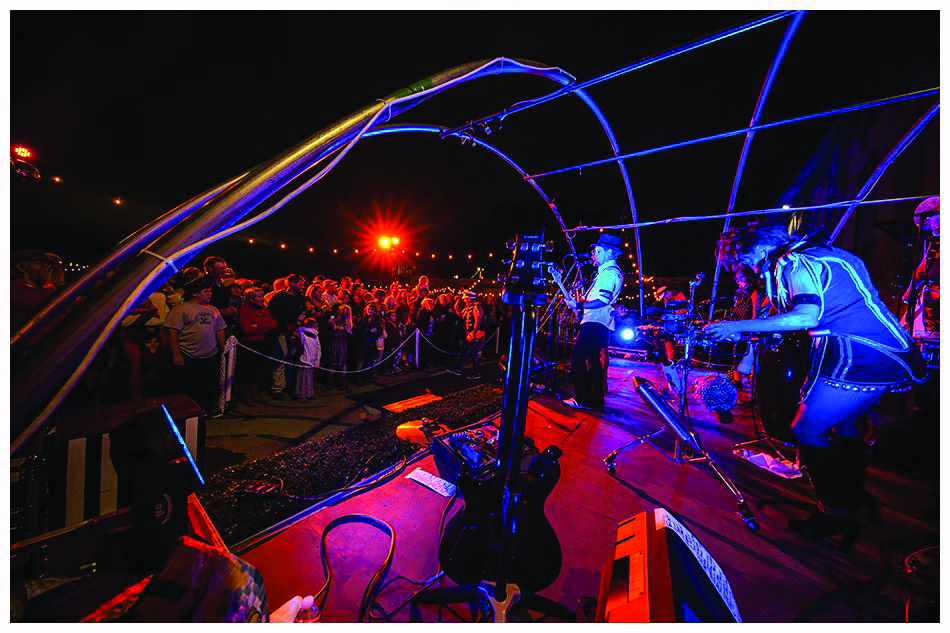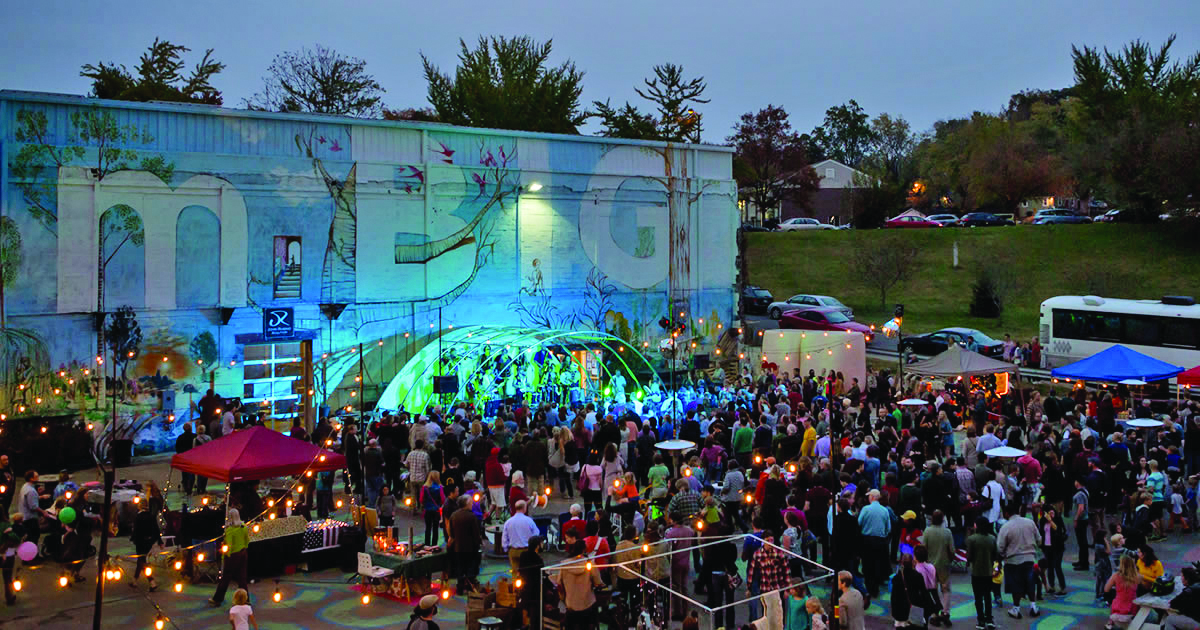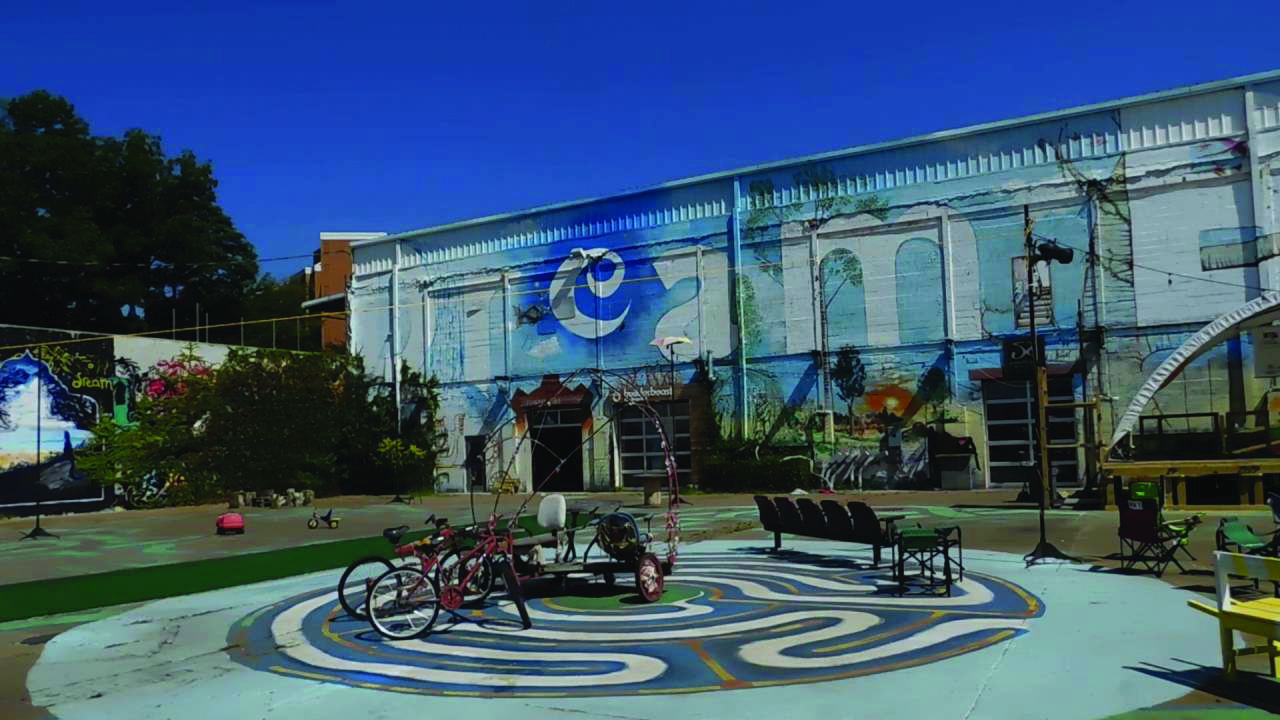 ---
First Fridays Downtown Art Walk
Visit the galleries of Charlottesville during the downtown's monthly First Friday celebration. Here's a list to be sure you don't miss any!
Chroma Projects Art Laboratory Gallery




112 West Main Street, Suite 10 (in York Place)

C'ville Arts Cooperative Gallery




118 East Main Street

IX Art Park


522 2nd Street SE

McGuffey Art Center


201 Second Street NW

Second Street Gallery


115 Second Street SE

The Bridge Progressive Arts Initiative


209 Monticello Road

Yellow Cardinal Gallery


301 East Market Street (one flight up)

Welcome Gallery at New City Arts


114 Third Street NE

WVTF & Radio IQ Studio Gallery
218 West Water Street