Middleburg inn boasts a touch of the Old World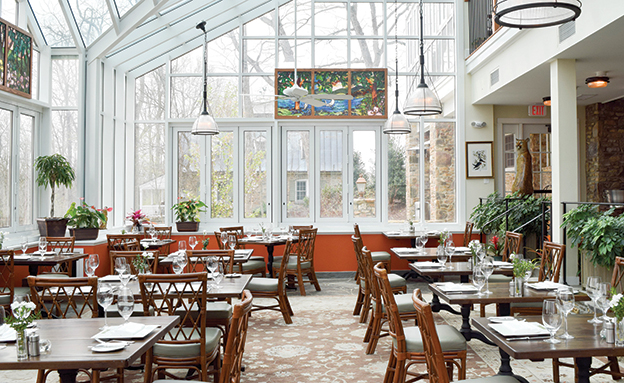 Story and Photos by Kaitlin Hill 
Just minutes from Middleburg's main street, the sprawling 265-acre property of Goodstone Inn & Restaurant is an idyllic country escape with a fine-tuned balance of natural splendor and purposeful hospitality. These qualities are echoed in the award-winning inn's kitchen, where Chef Jan Van Haute and his team offer guests an elevated dining experience driven by homegrown produce, impeccable service and the team's shared ambitions. 
A native of Belgium, Van Haute developed a talent for growing his own ingredients and creating upscale cuisine from a childhood spent in the garden and a wealth of experience cooking in high-end kitchens. From a young age, Van Haute would help his grandmother prep vegetables as a way to escape his four sisters. He laughs, "Sometimes I needed to be away from the girls. My grandmother was helping my uncle a lot with cleaning the vegetables; he would bring in cases of beans to be topped or carrots to be peeled, and I think that was the start of my interest."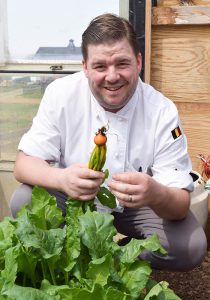 This early enthusiasm for cultivating ingredients turned Van Haute's attention to culinary school. He says, "I couldn't stop thinking about it, and I was only 14." He would spend five years at Spermalie in Bruges training to be a chef with a specialization year in catering. Van Haute's culinary capabilities didn't go unnoticed. Before he could finish school, he was recruited to cook for the Belgian royal family as the queen's private sous chef. From there, Van Haute's culinary journey would take him around the world—to Vue de Monde in Melbourne, Australia; to RyuGin, a Michelin three-star eatery in Tokyo; back to Belgium to work at Michelin three-star Hof van Cleve; and finally, to Washington, D.C., as the Belgian ambassador's personal chef. 
Now at Goodstone, Van Haute's agrarian interests and culinary prowess are the backbone of unforgettable dining experiences for the establishment's two restaurants—the main dining room, The Conservatory at Goodstone, and the newly opened and more casual venue, The Bistro at Goodstone Inn.
Open Monday through Saturday for lunch and Thursday through Tuesday for dinner, The Bistro's atmosphere is decidedly laid back, but the food is undeniably elegant. Van Haute's sophisticated yet playful dishes highlight his Michelin-star skill and ingredients from his ever-growing garden.
Foie gras with speculoos cookie butter, huckleberry and carrot tops from the property's greenhouse is a clear expression of Van Haute's culinary mastery and unbridled creativity. Elements of salt, fat, sweet and acid blend seamlessly for a luscious first plate. 
For something on the lighter side, Salade de la Jardinière is teeming with just-picked vegetables from the produce patch. Thinly sliced red and gold beats lend gorgeous color as well as flavor, and sunflower seeds add a satisfying crunch. Delicately dressed in tarragon vinaigrette, this salad makes for a quick and tasty lunch. 


The bistro's list of entrèes is inspired, too. Chef's version of Sole Meuniere, is decadent but unfussy. The fresh fish is lightly sautéed and paired with tender white asparagus, savory morels and fluffy pommes tournées. Rich and nutty buerre noisette is served alongside to dab or douse your bite of fish or vegetable – before licking the dish clean. 
Van Haute's focus on excellence in the kitchen is inspiration for Goodstone's obliging front of the house staff, for whom a guest's enjoyment is more than a responsibility, it's a mission. General Manager Edward Villafane says of Van Haute, "He is so passionate, and it comes directly from his heart. And it is reflected in his cuisine and in everything that he does. It's just so calculated in such a beautiful way." 
"What happens in the kitchen is where the magic comes from, and then the front of the house has to add to the theater. The two hands work so closely together that whatever is happening in the kitchen transcends right into the dining room. Everyone on both ends is so engaged and so invested in what we are trying to do." 
For Villafane, an essential to that theater is making guests feel at home. "We genuinely care. We genuinely value [our guests] in every single way and we want them to feel like they are walking into our home." He continues, "We want to create individual, personal experiences. We don't do cookie cutter. We take the time to get to know who our guests are, why they are here, their history, their story." 
As for Van Haute's story, it's safe to say he is just getting started as he sets his sights on the inn's future. He isn't shy to admit, "I get bored when I achieve something. There always has to be the next goal and the next goal. I like to push…I want to build the best team and make the best food. And then I want to go for the best restaurant in America and then in the world."