Ah, the joys of puppy-parenting!
Story and photos by Ed Felker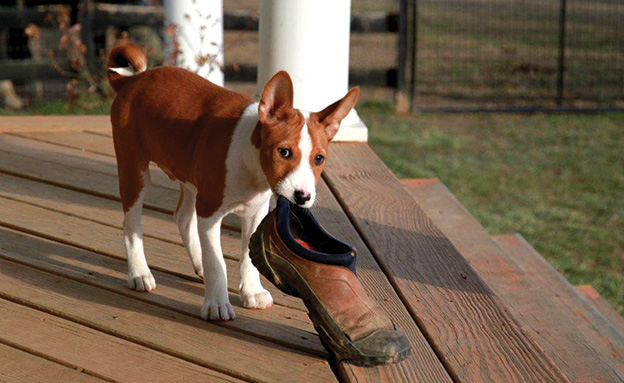 "Oh my God, a Basenji!" cried a grey-haired woman as she excitedly crossed the gravel lot toward the dog at the end of our leash. "A dog like this nearly cost me a thirty-five-year marriage," she said with a jolly laugh, and a wonderful friendship was born.
 Not really.  We never saw her after that day many years ago.  But she did sit and tell us her story over a beer at the brewery we were all leaving when she spotted us with Petey, our young Basenji.  We enjoyed talking and laughing about the quirky nature of these singular dogs. 
 Petey joined our pack seven years ago after my wife researched the breed at length, then discussed it with me at considerably less length.  We then found out that one of the preeminent Basenji breeders in the entire country, Reveille Kennel in Leesburg, run by Damara Bolte and Jane Lodge, happened to be right up the road from our home.  And they had puppies. We visited, talked, and after a couple more visits, selected a puppy.
Damara and Jane have been involved in this ancient, athletic breed from Africa since the '50s and '70s, respectively, and they admit that the Basenji can be stubborn and quite a handful if not given appropriate outlets for energy.  "They are definitely a hunting dog and have a mind of their own," they say. "They are hardheaded, just like many of us, and they like to do what they want to do. But they're less trouble if they are tired!" 
For breeders, there is a lot of appeal to the Basenji.  The short, slick coat is extremely easy to keep clean, they breed easily, usually whelp naturally, and they take good care of their puppies.  But prospective first-time Basenji owners researching the breed's characteristics will soon and often come across two almost universal descriptors: aloof, and difficult to train.  As for the first generalization – they can actually be quite affectionate. But, like people, everyone expresses affection in their own way. When my wife is away from home for longer than usual, Petey paces, whines and really wants her to be there.  When she does walk through the door, though, he pretends he didn't even notice she was gone.  Then he slips away to destroy another pillowcase. I don't know if that's aloof, but it's something.
As for the common "difficult to train" reputation, Basenjis are at or near the top of any list of most difficult dogs to train, usually ranking somewhere between Afghan Hounds and wild Jackals.  It's not that they don't understand what you want them to do, it's that everything you want them to do must be their idea or they won't do it. You can't simply give a command to, say, come in the house so you can go to work.  Because that's your idea.  So you try reverse psychology, but spotting that is child's play for an adult Basenji.  You try everything. You finally let all the other dogs out who had already gone nicely in their crates.  Now, here you are, playing three-dimensional chess against a canine Bobby Fischer, who not only isn't coming inside, but who has now duped you into releasing his cellmates back into the yard.  You've lost. You just don't know it.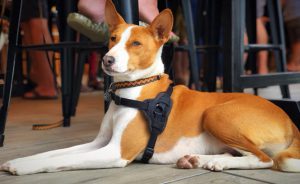 Claire Wisch Abraham, along with her daughter Kelly Shupp, includes Basenjis among the breeds they show and breed out of their Mountain View Kennel in Hellam, Pa.  Claire loves their sleek, athletic build and points out their cleanliness makes them fantastic indoor dogs. But having a fenced in yard is a requirement for any prospective Basenji home, and having an organized activity in mind for the dogs to focus on is important.  "Basenjis love to chase so lure coursing is great." Claire says. "They also like agility," she adds. Then, after a pause, "But they often want to do it their way." Classic Basenji. 
Basenjis are intriguing, both aesthetically and behaviorally.  If we are out with Petey he gets a lot of attention, and a very common reaction is, "I really want one!"  Now, I've had some fun at Petey's expense here, but my intent is not to talk people out of this breed. If you think you want a Basenji, do your research (no, reading this article doesn't count), and find a reputable breeder.  Then have honest conversations with the breeder, with your family, and with yourself about the amount of time and energy you are prepared to devote to the dog. This advice should serve you well regardless of the type of dog you choose, but is critical when dealing with one of the more challenging breeds. 
If you do ultimately bring home a pointy-eared, barkless bundle of joy, and you provide the appropriate environment for him, it's more likely than not that you will own (or be owned by) more than one in your lifetime.  And know that you can look forward to years of fun and frustration, of laughter and exasperation. But that's not life with a Basenji. That's just life, isn't it? 
Anatomy of a Basenji: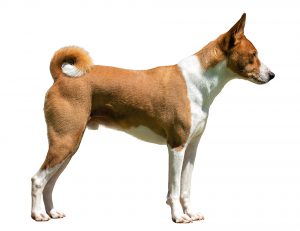 Ears– With this impressive aural array, the Basenji can hear everything inside a 50-yard radius, except his name.
 Vocal cords– Known as the "barkless dog," the Basenji yodels instead. "Yodel" is a Scandinavian word meaning "kind of like a gurgley yawn with some air raid siren mixed in." (Citation needed.)
 Tail– The tail curls like a donut and sits firmly on his back, so it doesn't wag.  It wiggles. The Basenji will wiggle his donut when he is very happy, or very mischievous.  That is not two different occasions, he is happiest when he is being mischievous.
 Legs– The Basenji is a graceful, beautiful, and deceivingly powerful runner.  He is especially fast when you do not want him to be.  
 Feet– The Basenji is whisper quiet when he moves.  He will not use this power for good.
 Hands– Yes, I know they're feet.  But if they insist on batting things around like a cat, I'm calling them hands.
 Coat– Self-cleaning, apparently.  They can lie in a dust pit of their own making all day and when they come inside they are spotless.  This is a good thing because they strongly dislike water. Like salt to a slug. 
 Brain– The Basenji is very, very smart.  This is a huge problem. 
 Snoot– When food is presented, the nose goes through an 18-point item identification and quality assurance process before sending the signal for the mouth to open.  Once a new food is introduced, the Basenji will walk away with it, drop it on the rug, bed, or couch for further examination, where it will then be eaten by another dog.