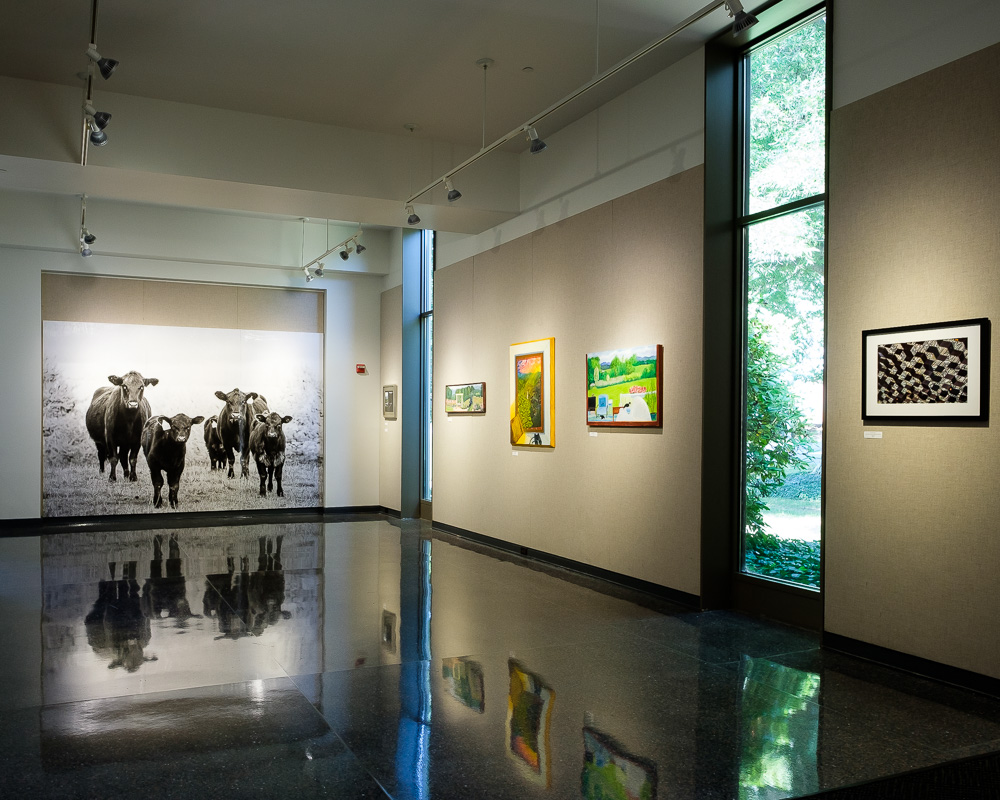 Firnew Farm Artist's Circle's 5th Annual Fall Show, which runs until October 29th at the Walker Fine Arts Center at Woodberry Forest School, is titled "A View with a Room." The title inverts E.M. Forster's novel A Room with a View, a work concerned with the experience of seeing the world through new eyes. Founder Trish Crowe explains the significance of the exhibit's name, saying, "Art is the constant  and reliable reference when everything else is in flux. Forster creates a juxtaposition of two modes:  the cool and sedate versus the sublimely passionate and romantic.  Forster uses both "Michaelangelesque' and 'Leonardesque' as adjectives to describe the opposing facets of the characters."
For the Firnew artists whose muse has long been the land, the images of both views and rooms are powerful.  The view symbolizes all the possibilities, that anything can happen.  However, it also makes one vulnerable.  The room is a place of comfort and security; a place to withdraw.  However, it can be a prison, too.  One needs the other.  There is beauty in both places.  The going inward and the going outward.
We are proud to announce that Firnew member and photographer John Berry is the featured artist. Berry talks about his love of large prints and shares the philosophy, technique, and work of those who have inspired him along the way.
The Artist in His Own Words
I think the first "seed" for these large prints was planted a year or so ago when I first saw a project by San Diego-based photographer John Mireles.  With some time available to him, and a large printer, he photographed his neighbors in his San Diego neighborhood, printed them 4' x 5', and displayed them on the fence surrounding his house.  John saw the fence as a way to unite the community rather than as a divider.
Recently, at a portrait workshop (with Mark Tucker) at Penland School of Crafts in North Carolina, I was introduced to the work of Chip Thomas.  Chip is a physician and photographer who works in the Navajo Nation in the US southwest.  From the "About" page on his website he says, "I'd become disinterested in showing my photographs [of my Navajo community] in galleries isolated from the people I was photographing and wanted to pursue a more immediate relationship with my community reflecting back to them some of the beauty they've shared with me."
When I arrived at Penland for the workshop, Chip was in the middle of pasting a photograph on one of Penland's buildings, and watching him work, I realized the task of gluing large prints to buildings wasn't as daunting as I had assumed.
I've printed large before and loved it.  There's nothing quite like seeing my work printed large.  And seeing what Chip was doing, I now had a way to do it that wasn't incredibly expensive.
I really have no idea where I'm going with this, but I'm really enjoying the process.  Digital photography is so technical, and heavily computer involved, so printing and gluing up these large prints is a way to create something with my hands that's not totally unlike creating prints in a darkroom, as I'd done when I first started in photography.