Zoe Sumrall, Forest Technician, Virginia Department of Forestry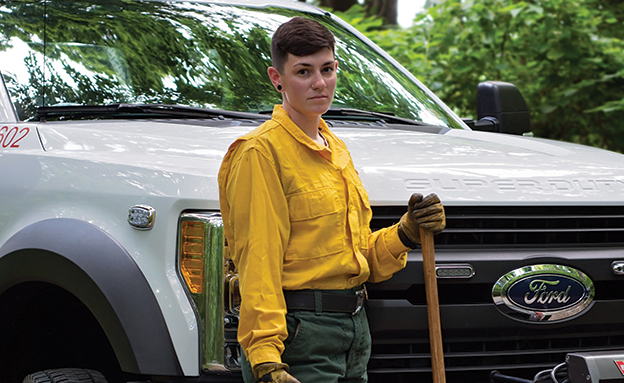 By Ed Felker
Zoe Sumrall grew up in Warren County, Virginia, nestled between Shenandoah National Park and the George Washington National Forest, just four miles from each. From her yard she could see Skyline Drive. Her family owned a small lot along the Shenandoah River and she has fond memories of exploring, camping, swimming and canoeing there. Family friends were resident park rangers at Shenandoah National Park. To say she was immersed in the outdoors at a young age would be putting it mildly.
She was always intrigued by animals. When she was in preschool, the kids in her class were asked to think about what they wanted to be when they grew up. "My answer? Zookeeper," Zoe recalled easily. But for a long time she didn't quite know what she wanted to do with her life.  "I knew what interested me," Zoe said. "But I didn't know what to do with that information."
A science teacher decided to teach Environmental Science for the first time at her school. "Thank goodness he did," she said. "I
had no idea that you could go to college for environmental science until I took his class." Her path was beginning to take shape. Zoe earned her BA from Shepherd University, but Environmental Science is a broad discipline. While she learned a great deal, she didn't feel as if she acquired the necessary skills to get a job doing something she really enjoyed. "There I was again," she said. "I didn't really know what to do with that information." 
After a stint at Sky Meadows State Park as a member of AmeriCorps – a program that teaches skills to young people while providing essential community needs such as sustaining parks – she was hired by the park part-time. She started working on a master's degree through Virginia Tech, and in 2016 the stars aligned as the Virginia Department of Forestry had a position open where Zoe was living. She now splits her time between Virginia's State Parks and as a Forest Technician for the Department of Forestry. For the first time, she felt she knew what to do with the information.
The Virginia Department of Forestry is perhaps best known for fighting wildfires, but it is an all-hazards response agency. Teams respond to wildfires, hurricanes, floods, and winter storm emergencies in Virginia and beyond if out-of-state assistance is requested (such as for major hurricanes and other disasters).  
"In Virginia, humans cause 95 percent of wildfires," Zoe said. "The most common causes of wildfires that I have experienced include escaped debris burns (the most common), downed power lines, and improper disposal of woodstove ashes." But accidental or naturally occurring wildfires aren't the only fires under the Department of Forestry's domain. As part of their training, the agency's firefighters also become Virginia Certified Prescribed Burn Managers. 
Prescribed burning is applying fire to the landscape deliberately to achieve predetermined results. Landowners or natural resource managers may desire a prescribed burn for a variety of reasons, such as to improve wildlife habitat or reduce wildfire hazard.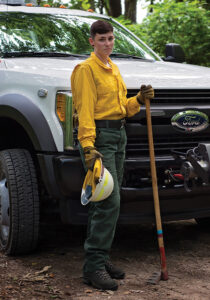 Writing and executing Prescribed Burn Management Plans is a big part of Zoe's job. In such a plan, she and her team must describe what, when, where, why and how they intend to burn a given area, identify weather parameters they're looking for, and what strategy, personnel and equipment will be needed to safely accomplish the goal. "Think of it as writing a prescription for the burn," Zoe explained.
"Prescribed fire is necessary because fires used to happen naturally onto the landscape," Zoe said. "But over time, people began suppressing fires more and more. This changes the landscape by not allowing it to go through its natural processes done by fire." Prescribed burning is a safe way to mimic those once-natural fires. "It's important to remember that not all fire is bad." Prescribed fire is not always the answer, but where it is suitable, it creates critically important wildlife habitat and maintains the health of an ecosystem. 
Being a steward for healthy forests and wildlife population would please the preschool zookeeper Zoe. And she's happy working outdoors in the same area where she fell in love with nature as a kid. She describes her affinity for the outdoors by referencing the biophilia hypothesis introduced by E.O. Wilson. "Humans have an instinctive desire to connect with nature, whether it is spending time in nature to improve mental health, sitting on a porch, or wanting a view of nature from the office window," Zoe said. "People want to be outside."