Hylton Performing Arts Center Presents: The Authentic Irish Band, Danú. Friday, 8 p.m., Manassas. High-spirited Celtic music comes to town as the traditional Irish band Danú presents "St. Patrick's Day Celebration." Music is an essential part of the celebration of St. Patrick's Day, and this performance brings the tradition and passion of Irish music in an upbeat celebration of the Emerald Isle. This concert honors the rich musical tradition of Ireland with a mixed performance of high-energy contemporary Celtic beats blended with the well-known traditional Irish jigs.
Appalachian Trail History Hike. Sunday, 2 – 4 p.m., Boyce. Join PEC and Tom Johnson, Archivist for the Potomac Appalachian Trail Club, for a scenic 1.5 mile walk along the Appalachian Trail above Ashby Gap. Learn about the local history of this section of the AT, along with the Civil War and natural history of the area as well as PEC's efforts to restore native habitat on the property and protect the region's historic landscape.
** Featured on our blog: Reception with Painter Peter Corbin. Saturday, 10 a.m., Middleburg: "Line Dance-the Art of Fly Fishing" by Peter Corbin Exhibition. The artist delves into his artistic inspirations, his meticulous painting process, and his philosophy on creating the art of his exhibit, "Line Dance: The Art of Fly Fishing."
Duvall Designs Gallery Artist Reception: Painter Winslow McCagg. Saturday, 4 – 6 p.m., Millwood. Celebrate Winslow McCagg's latest work that revisits his early work with a new vision. Duvall Designs introduces new furniture and we look forward to introducing an exciting year of the finest work of contemporary artists.
8th Annual Kite Flight Festival. Saturday, 1 – 3 p.m., Delaplane. Dust your kites off after a long winter and join in the fun in the skies above Three Fox Vineyards. The vineyard always has great breezes in the spring. Enjoy live music from Richard Giersch and artisan wood-fired pizzas from Black Fig Pizza Company.
** Featured in our March/April issue: Virginia Festival of the Book. March 16 – 20, Charlottesville. The 22nd annual Virginia Festival of the Book brings readers and writers together for a five-day celebration of books, reading, literacy, and literary culture. On March 19, Bryan Stevenson (Just Mercy: A Story of Justice and Redemption) will speak about his experiences as a social justice lawyer and how these continue to influence his lifelong work of combating poverty, discrimination, and the lingering legacy of racial inequality in the United States. John Grisham will join Stevenson on stage for discussion of these issues.
Summer Vegetable Planting at Monticello. Saturday, 10 a.m. – noon, Charlottesville. Join Pat Brodowski at the Thomas Jefferson Center for Historic Plants' propagation facility for this two-hour, hands-on workshop full of gardening tips and practical advice for summer gardening. Participants will start seed from the Monticello gardens to take home. Tickets are $28.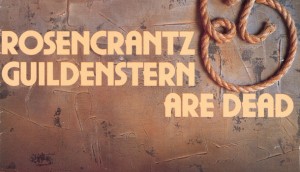 Rosencrantz and Guildenstern Are Dead. Friday and Saturday, 8 p.m.; Sunday, 2 p.m., Warrenton. Fauquier Community Theatre is delighted to present the tragic comedy Rosencrantz and Guildenstern are Dead, playwright Tom Stoppard's take on William Shakespeare's Hamlet. As the play opens, Rosencrantz and Guildenstern find themselves on their way to Elsinore to visit their childhood friend Hamlet, only to find that there is, indeed, something rotten in the state of Denmark.
St. Patrick's Weekend Party with Music by Smokin' Trout. Saturday, 1 – 5 p.m., Etlan. Join us for a touch of the Irish with Celtic rock, lyrical ballads, and bluegrass of Smokin' Trout. We'll also have some delicious Irish fare for sale provided by Mama's Caboose, so come hungry and ready to dance!
Presidio Brass. Saturday, 7:30 p.m., Culpeper. Combining a brass quintet, piano, and percussion with fresh, original arrangements makes for a truly exciting musical evening!
Fauquier Seed Swap. Saturday, 11 a.m., Warrenton. Swap your seeds, meet some gardeners, and go home with new ideas for your garden. Free and open to all gardeners, wannabe gardeners, or folks who just want to see what the fuss is all about. Event is located in the John Barton Payne Building.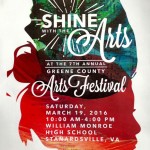 7th Annual Greene County Arts Festival. Saturday, 10 a.m. – 4 p.m., Standardsville. This free event features superb art, crafts, vendors, food, games for children, music and drama.
Hotel California: A Salute to the Eagles. Sunday, 7:30 p.m., Louisa. This group received a standing ovation last season!  Come pay tribute to late guitarist and Eagles' founding member Glenn Frey by dancing and singing along to hits such as "Take It Easy," "Peaceful Easy Feeling," "Desperado," and other classics.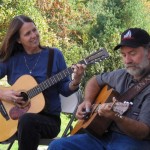 Traditional Appalachian Music by Wayne Henderson and Helen White. Sunday, 4 p.m., Castleton. Henderson, a National Heritage Award recipient honored as a luthier and a renowned fingerstyle Appalachian guitar player, will be joined by singer, fiddler, and tunesmith Helen White who has toured extensively with Henderson in the U.S. and Europe.
Danny Knicely's 10th Annual Concert. Sunday, 7 p.m., Purcellville. Happy Birthday Django! Celebrate what would be the 106th birthday of gypsy jazz guitarist Django Reinhardt, one of the greatest guitarists of all time.  Members of the Blue Rhythm Boys, Furnace Mountain, The Dixie Power Trio, Danny Gratton's Band, and Dan Hick's Hot Licks come together to tip their hats to one of the greatest that ever lived.