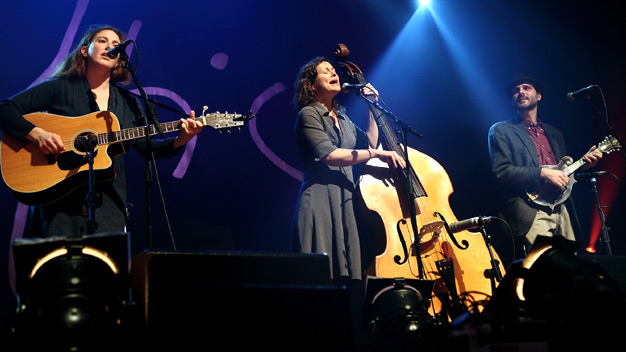 Gallery+Concert: Furnace Mountain and the Art of Maria Nicklin. Friday, 7 p.m., Barns of Rose Hill, Berryville. Art and music, music and art—perhaps a finer pairing than wine and cheese or even peanut butter and jelly. One the one hand, you have the bluegrass of Furnace Mountain. Named for a mountain near the members' hometown, Furnace Mountain consists of some of the most innovative and gifted musicians in Virginia. With Aimee Curl on bass and vocals, Danny Knicely on mandolin and fiddle, Dave Van Deventer on fiddle, and Morgan Morrison on guitar, bouzouki, and vocals, the band creates music that is at times lively and raucous, with spirited fiddle melodies weaving in and around the powerful rhythms of the bass and bouzouki, and other times poignant and poetic, with sublime vocal harmonies beautifully interpreting some of the oldest songs ever written.
Furnace Mountain has performed throughout the world, from the Yangtze River in China to the banks of the Shenandoah River, where they are the host band of Watermelon Park Festival, held on the site of one of the very first bluegrass festivals. Furnace Mountain plays music from the American Appalachian traditions, as well as original compositions, and songs penned by their favorite songwriting friends. Maria Nicklin's Furyworks Productions specializes in in custom illustration, hand-lettering, print, packaging, and logo design using a combination of traditional and modern techniques. The exhibition highlights her album artwork, one of the most visible forms of modern art. When combined, a synesthesia develops: a blending and commingling of the different artistic avenues. You can hear Furnace Mountain anytime and visit the gallery anytime between now and the end of the month, but this is the only occasion you'll be able to experience the two together!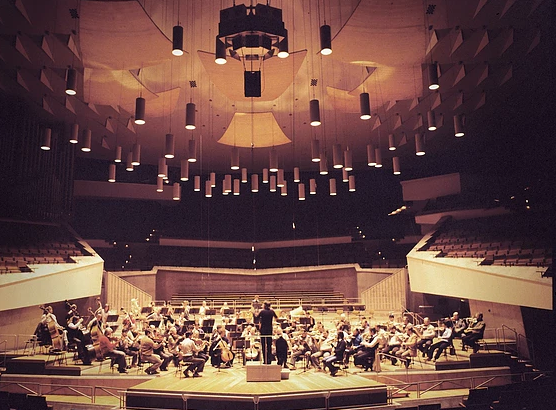 Loudoun Symphony Orchestra: Winter Respite. Saturday, 4 p.m., Community Center, Middleburg. Take a break from the winter gloom by attending Winter Respite, presented by the Loudoun Symphony Orchestra. The concert features guest conductor Juan Antonio Gallastegui Roca and violinist Teresa Gordon, staged in an intimate salon format with the audience in amidst the musicians. The uplifting program includes Haydn's "Symphony No. 88," Bach's "Concerto No. 1 for Violin," and Beethoven's "Symphony No. 1 in C Mayor." Wine and other refreshments will be offered throughout the concert. Now in its 26th season, the mission of the Loudoun Symphony is to enrich our community through music. To carry out this mission, a full season of five orchestral concerts is presented, including a holiday concert. Don't miss out!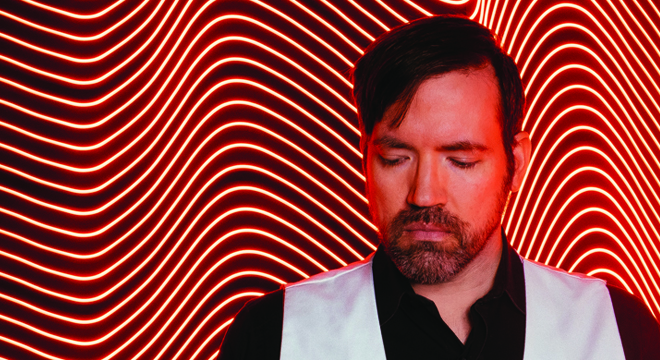 Synthetic Division *ALBUM RELEASE*. Friday, 7 p.m., the Southern Café & Music Hall, Charlottesville. Inspired by the sounds of 80s electropop groups such as New Order, Depeche Mode, Duran Duran, and the Pet Shop Boys, Synthetic Division keep up with the times by infusing modern sounds into a classic and proven dance sound. The Love of Your Life, recorded and produced in Brooklyn by Alan Siegler, is Synthetic Division's seventh album and represents what they do best: move your feet as well as your heart. They are joined by Ivan Christo Christopher, a.k.a Jaguardini, who blends gameboy sequences, shredding guitar, and drum machine beats. Ivan's open-source format means that he could be singing from inside a cardboard robot head into a megaphone or be joined onstage by a guest vocalist; you never know with Jaguardini and that's half the fun. You just have to show up to see what Ivan has in store and to celebrate the anticipated release of Synthetic Division's new album.
Bluegrass Showcase: Jeff Scroggins & Colorado with Josh Grigsby & County Line. Saturday, 7 p.m., the Old School House, Lucketts. Jeff Scroggins & Colorado is a high-energy, bluegrass quintet based out of Colorado.  Their distinctive sound showcases an eclectic range of influences that marry second- and third-generation bluegrass, delivering a unique experience that captivates audiences and keeps them guessing.  It's a powerful, high mountain "bluegrass explosion" that features world-class banjo and mandolin playing, incredible vocals, a solid and energetic rhythm and an easy stage banter that has delighted listeners all over the world.  Recognized as one of Virginia's fast-rising new bluegrass bands, Josh Grigsby and County Line was awarded the 2015 Bluegrass Band of Virginia Championship by the Virginia Folk Music Association. The VFMA is the only organization in Virginia sanctioned by the Governor of Virginia to hold Virginia Bluegrass, Gospel and Country Music "Championship Contests" and to induct Virginia Artists into the Virginia Country Music Hall of Fame.  In addition to winning the Band Championship, Josh Grigsby was voted first place Male Vocals.  The band has released their second album, Ruby Lane Memories, with the title track penned by Crystal Grigsby. Come get your hoedown on!
Opening Reception: The Exposure Group Photography Exhibit. Saturday, 6–8 p.m. (Exhibit Through March 3), Center or the Arts at the Candy Factory, Manassas. The Exposure Group photographers bring forth multiple interpretations of the experience of living in the DC metropolitan area. This visual and impactful body of work shares some of our nation's capital outside of the usual tourist areas. The Exposure Group represents the gamut of subject matter including landscapes, cityscapes, portraits, architectural, and photojournalism. The art will speak for itself, and coinciding with Black History Month, it's the perfect time to listen to these underrepresented voices.
---
MORE EVENTS
---
Gal-entine's Day Party & Jewelry Sale. Friday, 5–9 p.m., PONSHOP Studio & Gallery, Fredericksburg.
Donna the Buffalo. Friday, 7:30 p.m., Jefferson Theater, Charlottesville.
People's Blues of Richmond. Saturday, 7:30 p.m., Jefferson Theater, Charlottesville.
American Made Tour: Justin Moore & Lee Brice. Friday, 7 p.m., EagleBank Arena, Manassas.