Do you receive our free, weekly newsletter? If not, you're missing out on awesome events, fun articles, delicious recipes, and much more! Our #PiedmontWeekendPicks is a gorgeous, curated email updating you on the latest happenings and articles on our blog. Signing up is quick and easy. We know you're busy, that's why we send only one email per week. Help us help you by signing up via our form and together let's celebrate The Good Life. Just click here and fill out the form!
---
Friday-Sunday, May 18-20
One Love Manassas
Historic Old Town Manassas, 9431 West St, Manassas, VA 
One Love is a transformative three-day multi-media art and music event designed to give artists a platform to perform and share while raising awareness of all artistic platforms. From the visual arts, photography, and writing to the performing arts and music, the event has an impressive lineup of entertainment, workshops, and vendors. From rock to heavy metal to acoustic, Scottish fiddle, jazz, choir, hip hop, and reggae, there will be music for everyone! This is a not-to-be-missed event. Open and free to the public. For more info visit Onelovemanassas.com
---
Friday-Sunday, May 18-20
Piedmont Regional Art Show and Sale
Grace Episcopal Church, 6507 Main Street, The Plains, VA
The Piedmont Regional Art Show & Sale remains a must-see event, featuring more than 300 works in a variety of media. Grace Episcopal Church has hosted the show for 71 consecutive years.  Throughout its history, the art show has featured the works of artists of all media, ages, and levels of experience, including the work of established professionals. This year's show and sale will kick off May 18 from 6 to 8:30 p.m. with the Opening Gala for artists and sponsors. The show continues May 19 from 10 a.m. to 6 p.m., and May 20 from 11:30 a.m. to 3 p.m. There is no admission fee the last two days, and donations are gratefully accepted.
For more details, visit www.gracetheplains.org, email artshow@gracetheplains.org, check out www.facebook.com/artshowatgrace, or call 540-253-5177, Ext. 104.
---
Friday-Sunday, May 18-20
Avenue Q
5256 Governor Barbour St., Barboursville, VA 
This laugh-out-loud musical tells the timeless story of a recent college grad named Princeton, who moves into a shabby New York apartment all the way out on Avenue Q. Together, Princeton and his new-found friends struggle to find jobs, dates and their ever-elusive purpose in life. Filled with gut-busting humor and a delightfully catchy score, not to mention puppets, Avenue Q is a truly unique show that has quickly become a favorite for audiences everywhere. Although the show addresses humorous adult issues, it is similar to a beloved children's show; a place where puppets are friends, Monsters are good and life lessons are learned.
Mature audiences only. For tickets and more information, visit fourcp.org/_avenue-q/
---
Saturday, May 19
Great Meadow Foundation Twilight Polo
Great Meadow Foundation, 5089 Old Tavern Road, The Plains, VA 20198
Since 1993, Twilight Polo has brought the community together to watch fast paced arena polo at Great Meadow.  Arena polo is like hockey on horseback and is fast paced and easy to watch, even if you've never seen polo before! They will have THREE polo matches and halftime games for kids and adults. The evening will conclude with dancing in the pavilion after the matches!  There will be food and wine available for purchase on-site. Outside food and drinks are welcome as well. Join in the fun every Saturday night through September 15th! Every week features a different theme, food truck, and music. This week's theme is Military Appreciation Night & Twilight Polo's 25th Anniversary Party. Gates open at 5:30 PM, the first match starts at 6:00 PM with dancing in the pavilion following the final match at 8:00 PM. For tickets and more information, visit www.greatmeadow.org/twilight-polo 
---
!!TICKET ALERT!! This event fills up fast… get your tickets now!
Saturday, June 9
Civil War Paddle
Ely's Ford Boat Ramp, Ely's Ford Road, Fredericksburg, VA | 9 am – 4 pm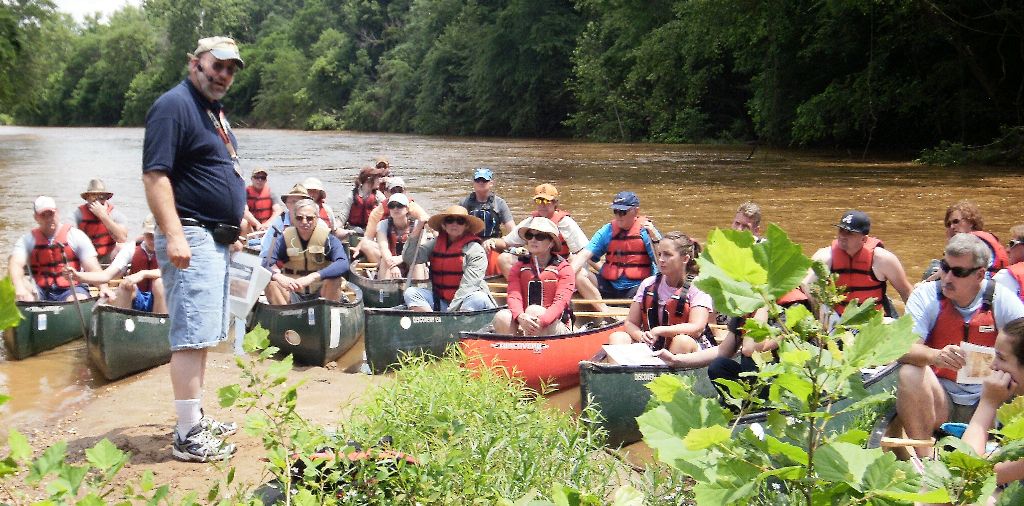 National Park Service Supervisory Historian Greg Mertz leads this day-long canoe tour of Civil War sites along the Rapidan River. A popular trip, it brings to life legendary figures, like Stonewall Jackson, George Custer and J.E.B. Stuart. We also see the remains of Native American fish weirs. Bring a bag lunch, lots of water, sunscreen, etc. No alcohol is permitted. This trips fills FAST, so register early. Minimum age is 12 years as this is a strenuous, all-day event. Meet at 9 a.m. at the Va. Dept. of Game & Inland Fisheries boat ramp at Ely's Ford, on Route 610, just before it crosses the Rapidan. A shuttle will drop off at Germanna Ford for launch, arriving back at Ely's Ford around 4 p.m. Tickets and contact info can be found at www.riverfriends.org/event/civil-war-paddle