Do you receive our free, weekly newsletter? If not, you're missing out on awesome events, local fests, and much more! Our #PiedmontWeekendPicks is a gorgeous, curated email updating you on the latest happenings and articles on our blog. Signing up is quick and easy. We know you're busy, that's why we send only one email per week! Help us help YOU by signing up via our form and together let's celebrate The Good Life. Just click here and fill out the form!
---
Friday, October 26
The Colin Thompson Band w/ Teddy Chipouras
Barns of Rose Hill, 95 Chalmers Court, Berryville, VA | Doors 7pm, Show 8pm
Known mostly for his unique and powerful style of slide guitar playing, Colin Thompson is a young Washington D.C. area guitarist and singer who has been performing live since his young teenage years. His mix of swampy blues and soul-infused rock creates something that is truly special. Colin has shared the stage with artists such as, Johnny Winter, Cris Jacobs, Eric Gales, Indigenous, Deanna Bogart, The Marshall Tucker Band, The Gin Blossoms, Billy Joe Shaver, Congo Sanchez (Thievery Corporation), and countless others. Teddy Chipouras is a thoughtful singer-songwriter that manages to lead the listener into profound situations through unapologetic imagery and prose. He is able to seamlessly incorporate unusual turns of phrase that are difficult to reproduce, and his songs are catchy but thoughtful.
Tickets: $15.00 in Advance; $20.00 at the Door; 12 & Under Free. To purchase tickets, click here.
---
Saturday, October 27
Imbibe Craft Beer & Arts Festival
Fredericksburg Field House, 3411 Shannon Park Dr, Fredericksburg, VA | 2-6pm

Imbibe is a touring craft beer and arts festival boasting more than 100 tasty libations, and showing some special love for local and regional breweries and cideries. By incorporating groups from the performing, visual, and culinary arts, the fest aims to demonstrate the unique bond between these interests and the craft beer industry in an environment offering education and a great time. Each festival features a Game Zone for Grown Folks, an Open Air Food Market, an Artisan Market, a one-of-a-kind Craft Soda Garden, a main stage chock full of great music from nationally-touring musicians, and an industry fave, the BrewU Craft Beer Education Stage.
Proceeds will benefit Virginia-based Hire Our Heroes. Event is 21+, no exceptions. For tickets, click here.
---
Saturday, October 27
Gay Street Gallery's Winter Exhibition Reception
Gay Street Gallery, 337 Gay Street, Washington, VA | 4-7pm
Gay Street Gallery's Winter Exhibition will feature works by Jeff Bussells, Adam Waimon, and Kevin H. Adams. Jeffrey Bussells paints the Virginia countryside using just a few colors on small wood panels, while Adam Waimon's striking glass sculptures are inspired by a multitude of sources with a primary focus in the natural world. Kevin H. Adams, the Gallery's resident artist, unveils new work from Virginia and his travels elsewhere. A reception for the artists will be held from 4-7pm. Beverages and refreshments will be served during the reception. The exhibition will run October 27 – January 8. Gallery hours are Wednesday-Monday 10am – 5pm and Tuesday by chance or appointment.
Free and open to the public. Share the FB Event!
---
Saturday, October 27
Farm-O-Ween
Farm Brew LIVE, 9901 Discovery Blvd, Manassas, VA | 6 – 11pm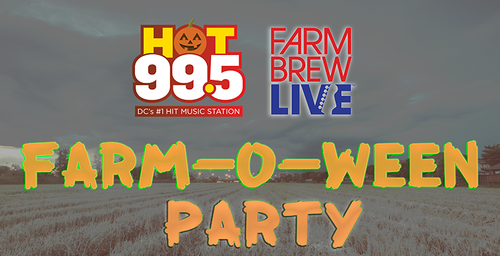 Get your costumes ready and come party with HOT 99.5 & Elizabethany at the Farm-O-Ween Halloween Party! HOT 99.5 will be at Farm Brew Live with your chance to win cash prizes for the Best Halloween Costume (First Prize: $2500; Second Prize: $1000; Third Prize: $500)! PLUS, you could score tickets to HOT99.5's JingleBall at Capital One Arena on Monday, December 10th! Live music will be provided by dynamic, rock cover band Dr. Fu and craft beer will be available on tap at 2 Silos Brewing Co. Come out for a scary good time!
Free and open to the public. For more info, click here.
---
Saturday, October 27
Devils Backbone Halloween Party
Basecamp Brewpub & Meadows, 200 Mosbys Run, Roseland, VA | 7-10pm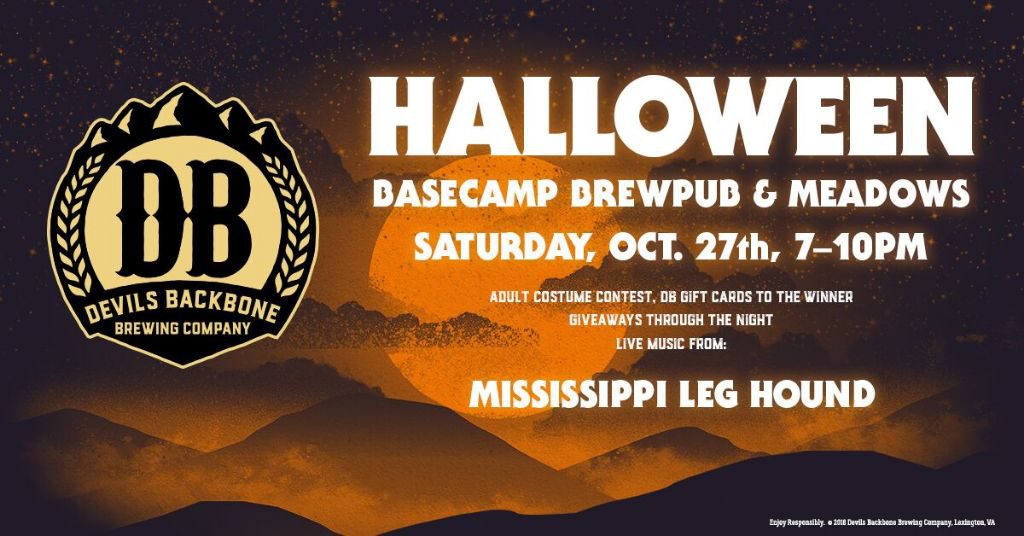 Looking for Halloween fun come early? Visit Devils Backbone Brewing Company for fun for the whole crew! There will be campsite trick-or-treating, a community bonfire, s'mores, children's and adults' costume contests (winners get DB gift cards), giveaways, and food and beverage specials! Live music will be provided by Bluegrass band Mississippi Leg Hound.
Free and open to the public. Share the FB Event!