Regional publishers Rappahannock Media (RM) and Piedmont Press & Graphics (PPG) have agreed to a partnership that will see RM acquire PPG's popular Lifestyle magazines — Warrenton Lifestyle, Broad Run Lifestyle and Haymarket Lifestyle — and integrate them into its growing portfolio of regionally focused publications.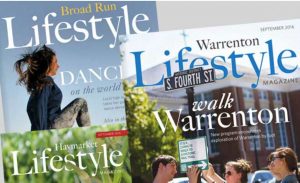 Washington, Va.-based RM, publishers of the Rappahannock News and Culpeper Times newspapers, as well as The Piedmont Virginian magazine, will take over ownership and management of the Lifestyle publications immediately. PPG owners Tony and Holly Tedeschi will remain involved in the magazines' production and strategic direction for one year.
"Not only do the magazines make perfect complements to our existing titles, but the opportunity to team up with Tony and Holly going forward ensures that the publications won't miss a beat in terms of delivering for readers and advertisers," said Dennis Brack, president and managing partner of RM.
The decision to sell the magazines is part of a larger strategic shift at PPG that sees the Warrenton, Va.-based company focus on its core competencies, including printing and sign-making. PPG, which recently purchased local sign firm D&D Signs as part of its broader strategy, determined that the Lifestyle magazines' future would be enhanced by aligning them with a publications-focused company.
"We launched the Lifestyle publication family more than a decade ago with the simple goal of spotlighting all that is great about our community," said Tony Tedeschi, PPG's CEO. "We wanted to ensure that this mission would be both honored and enhanced by its next publisher, and the Rappahannock Media team has demonstrated, through their own work, that they both understand and are dedicated to community-focused publishing."
Dennis Brack is a second-generation journalist who spent years in creative leadership roles in The Washington Post newsroom. Tom Spargur, RM's group advertising director, has more than three decades of experience as a community publisher, general manager and sales leader.
RM has not announced any new plans for the Lifestyle magazines, though each publication's core focus — serving targeted Fauquier and Prince William audiences with insightful features that spotlight local people, places, and causes — will not change. However, advertisers can expect to see a broader range of opportunities that will include buying into all of RM's titles with special rates and promotions.
The Lifestyle magazines also will continue to publish community resource guides for Fauquier and Culpeper counties.
"The Lifestyle magazines combined with our existing titles mean our audience will now stretch from Western Prince William down through Culpeper and west into Rappahannock County," said Brack. "We're excited about the possibilities to help local businesses gain exposure throughout the region, and help forge stronger connections with the readers and small businesses that make up the fabric of our communities."