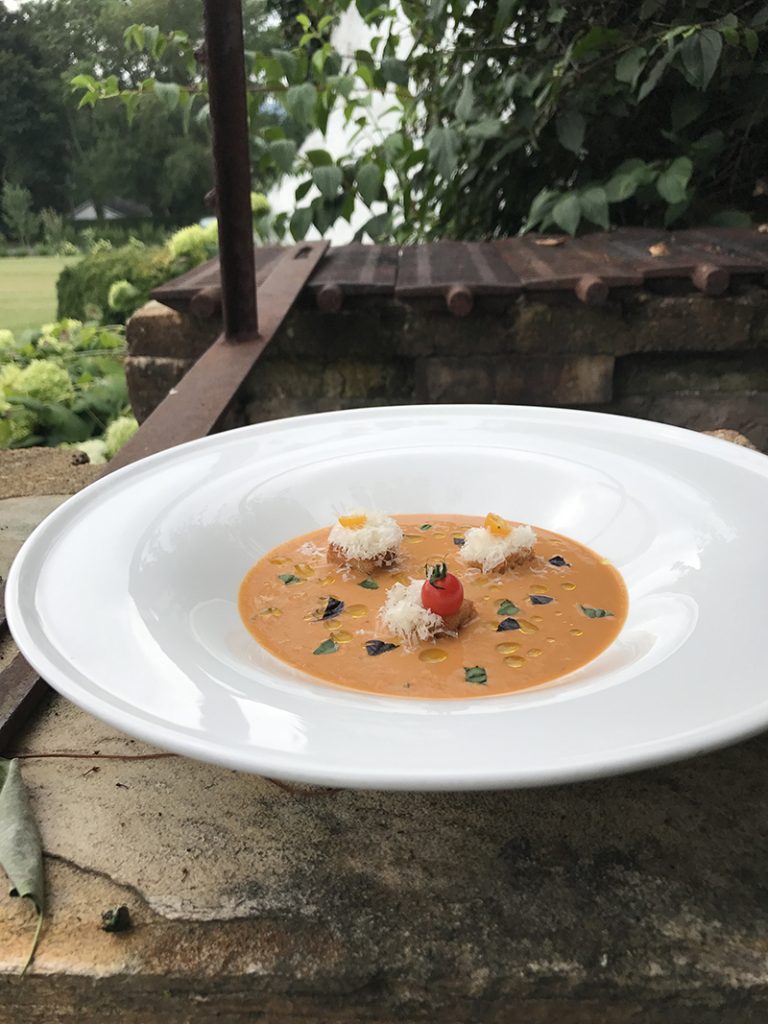 Tomato Gazpacho
Contributed by The Ashby Inn and Restaurant
Note: Chef Tom Whitaker prefers to provide the ingredients in metric measurements; a converter to American measurements can be found  here.
Ingredients
150 g yellow onion

1.6 kg ripe red tomatoes: beefsteak or roma

6 g garlic

800 g red peppers

400 g cucumber

12 g basil

50 ml white balsamic vinegar

30 g salt

7 g sugar

250 ml extra virgin olive oil

pinch of cayenne
Method
Peel peppers and deseed

Peel cucumbers, halve and deseed

Rough chop all vegetables into a large container and marinate with the sugar, salt, basil, cayenne, and vinegar for 6 hours or overnight

In batches, add the mix to a blender and emulsify with the olive oil till smooth and silky.

Freeze bowls and serve super-chilled for a refreshing summer lunch
Note: Alternatively the ingredients and oil can be run through a food processor or even a meat grinder for a chunkier version. At the Ashby, we emulsify three-quarters and grind the remaining for a best-of-both-worlds gazpacho.
---
Did you see our profile of the Ashby Inn, and 3 other Piedmont restaurants, in our July/August issue? Read it here