Story, recipes, and photography by Laurie Beth Gills.
During a leisurely stroll through Willow Oak's garden, I was inspired to incorporate the handsome, hardy daylily into my recipes. The flower belongs to the genus Hemerocallis, which translated from the Greek means "day's beauty," fitting as this little guy's bloom only lasts a single day. I was struck by the profound fragrance of the blossom, reminiscent of honeysuckle and summertime. Then there's the exquisite beauty of the petals. Presentation is such an important aspect of any culinary dish, and with its long, fiery orange petals, the daylily adds a warmth and exocticism to any dish. Before we get to recipes that highlight the flavor and appearance of the daylily, a quick precaution: there are many hybrid varietals which have not been thoroughly investigated for safety, so stick with the common daylily (Hemerocallis fulva) for these recipes.
---
Recipes
Garden Salad Garnished with Daylilies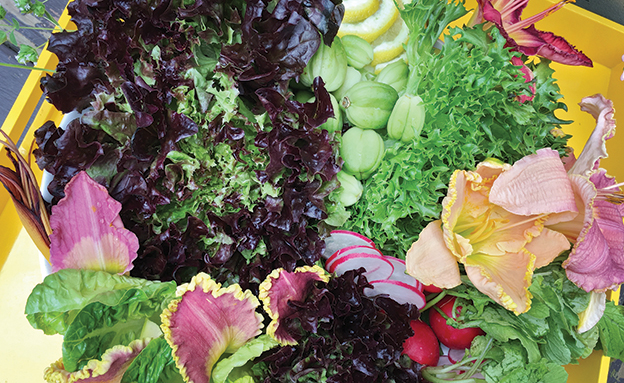 There's something magical about feasting on fragrant, colorful flowers, and this daylily salad will certainly charm you and yours. Even if you don't want to eat the flowers, you can simply use them as a gorgeous, safe garnish. Keep in mind that the flowers will wilt quickly. To preserve them for a few hours—up to a day before serving—gently wrap them in a damp paper towel, place inside an open plastic bag, and store in the refrigerator. Serves: 4
Ingredients:
Dressing (~⅓ cup)
3 tbsps. extra virgin olive oil
½ tsps. finely grated lemon zest
2 tbsps. freshly squeezed lemon juice
1 tbsp. white wine vinegar
1 tsp. sugar
pinch of fine sea salt and freshly ground black pepper
Salad
5 small heads of mixed lettuce: cleaned, damaged leaves removed, and roughly chopped or torn
2 tbsps. mixed fresh herbs (e.g. basil, chervil, and parsley), chopped
chamomile flowers, or any clean, edible, pesticide-free flower
5 daylily seed pods, organic and pesticide-free
⅓ cup radishes, thinly sliced
3 organic, pesticide-free daylily flowers (gorgeous ones only)
Method
Start with the dressing by combining all ingredients in a small bowl or decanter, mixing well, and letting set.
To assemble the salad, combine the lettuce, herbs, and radishes on a large platter. Whisk the dressing, then lightly drizzle half over the salad leaves, and toss.
Just before serving, decoratively arrange the radishes, daylilies, seed pods, and any other edible flowers. Finish and top with another small drizzle of vinaigrette and pinch of sea salt.
Pickled Daylily Buds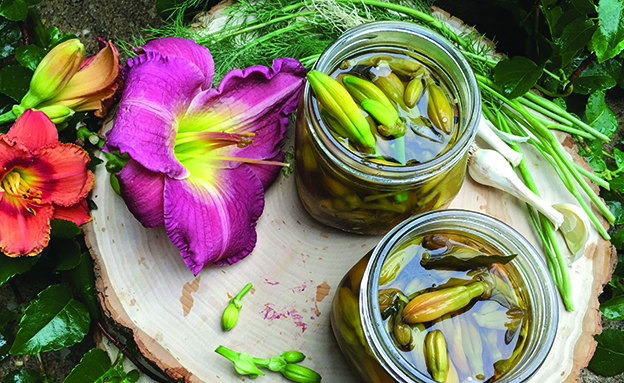 After leaving a friend's farm with a large sack of buds, I raced home—without stopping at the food store, mind you—and searched my pantry for ingredients to jar and pickle a few of these flowers right away. This is my quick pickling recipe. Use these pickles in salads, on top of bruschetta, or on a cheese plate. Serves: 1 pint canning jar
Ingredients
1 shallot, thinly sliced
6 garlic cloves, smashed
8 dill sprigs
½ tsp. mustard seeds
1 tsp. black peppercorns
small dash red pepper flakes
4 cups freshly harvested daylily buds, cleaned and white bases removed
1 cup filtered water
2 fresh bay leaves
1¾ cups cider vinegar
2 tbsps. kosher salt
2 tbsps. sugar
Method
Using tongs, place sliced shallot, garlic, and dill in a sterilized 16 oz. canning jar. Add mustard seeds, black peppercorns, red pepper flakes, then fill your jar with the daylily buds and set aside.
In a medium saucepan, bring the remaining ingredients to a boil. Remove from heat, allow to cool to room temperature, then pour over the buds. Seal the jar and store in refrigerator for up to two weeks.
Daylily Bud Saute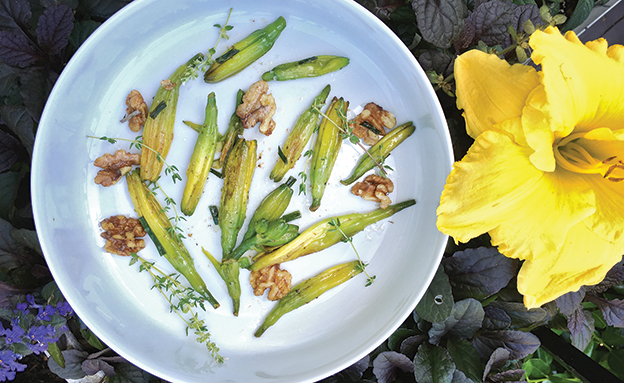 I discovered in my tastings that a daylily bud resembles a cross between freshly harvested spring peas and asparagus. They also have a light, fragrant sweetness about them that I find interesting. These special buds are paired with brown butter and walnuts, creating an aromatic, balanced nuttiness. Select young buds for the best flavor. Serves: 4
Ingredients
⅓ cup whole walnuts, skillet toasted
3 tbsps. unsalted butter
16 fresh daylily buds: young, mostly green, and firm
fresh thyme and chives
flaky sea salt (e.g. Maldon™)
Method
Thoroughly wash and dry daylily buds.
Toast walnuts in a medium-sized skillet over medium-high heat. Cook, stirring frequently, until the walnuts are fragrant and beginning to brown, about four minutes. Remove from skillet and set aside.
In the same skillet, melt two tablespoons of butter over medium heat. Cook until the foam and crackling has subsided and the butter is a golden brown with a nutty aroma, about three minutes. Scrape into a small bowl, brown bits and all. Be mindful of timing; it can easily burn since the butter continues to cook even after it's off the stove.
In the warm skillet, add remaining one tablespoon of butter and the daylily buds, along with the fresh herbs and sauté for about five minutes, or until brown on the sides and softened. Add the walnuts and brown butter, stirring to coat. Season with a hearty pinch of sea salt and serve at once.