Welcome to the Piedmont Virginian
Just west of Northern Virginia, in the foothills of the Blue Ridge, lies the Piedmont: a beautiful oasis with mountain views, charming small towns steeped in a rich history, and quiet rural areas where traffic jams usually involve livestock or tractors. 
The Piedmont's storied past and vast beauty are celebrated by the artists, restaurants, winemakers, and others that occupy this amazing region—a place appreciated and revered by those who live here and those who visit. 
The Piedmont Virginian Magazine, a richly produced quarterly journal of information and appreciation of this area's nature, place, people, and ways of life, is a window into this world.
We strive to give voice to this special—even magical—place in the hopes that it remains so.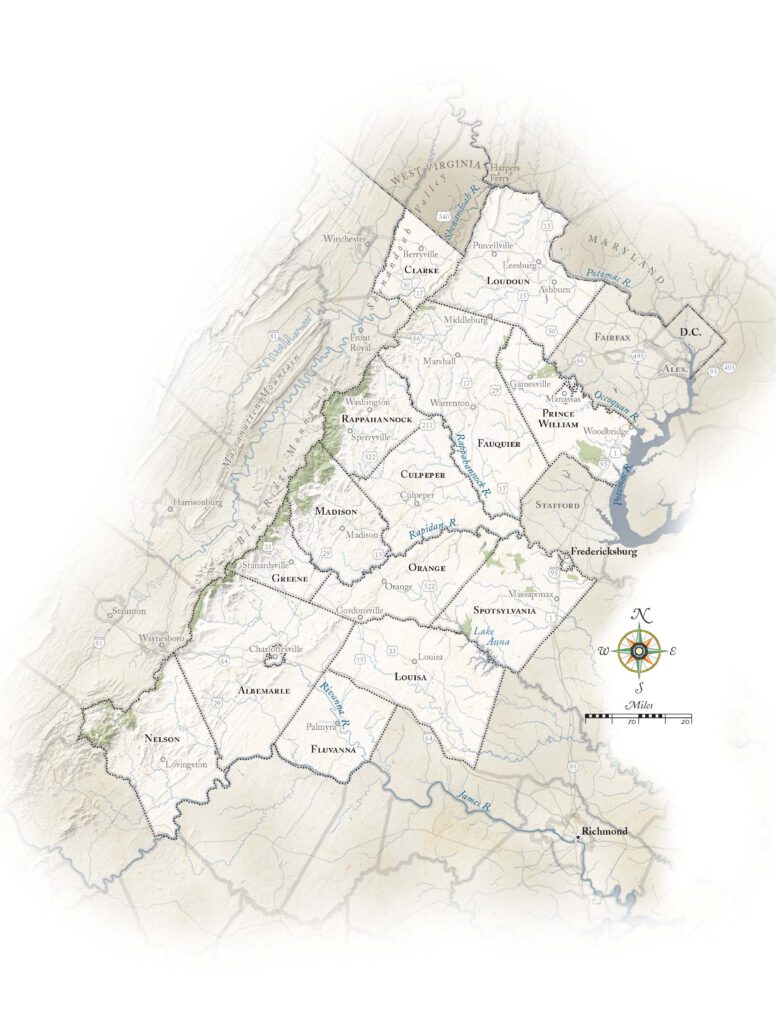 Coming up in Fall 2020
Cover Story: Enjoying the Piedmont from around the campfire
The Piedmont area of Virginia, within a few hour's drive from the Washington D.C. suburbs, is a short trip to a world away where you can get lost in the bucolic countryside, do some hiking or fishing, or investigate some of our local restaurants and wineries. Camping has seen a huge rise in popularity as a safe way to get away and spend time with family. This issue will feature suggestions, stories, reflections, and pointers to entice you to select a campsite and come enjoy our rich surroundings.
The stories we tell, the monuments we build, and the land we love.
A thoughtful analysis of the controversial removal of Confederate monuments by Piedmont Virginian founder Walter Nicklin.
Fiery Run
A powerful essay about lifeling healing and refuge at a remote cabin in Fauquier County by author James Reston, Jr. 
George's Mill Cheese
Their goats are the heart of everything at George's Mill Farm in Loudoun County, where Molly and Sam George produce exceptional farmstead goat cheeses with flavors reflective of  the terroir of the family farm. 
The Barns of Rose Hill
A converted dairy barn in the center of Berryville now houses a world-class performing arts center. Due to its superb acoustics and intimate atmosphere, it has become a destination for music lovers and the high quality lineup of local, national, and international musicians performing widely diverse genres of music including, but not limited to, Americana, Old-Time, Folk, Roots, Blues, Bluegrass, Jazz, and Classical. 
African American Hall of Fame Baseball Players from the Piedmont
In the early 20th century, African Americans were barred from playing on the major league teams so in 1920, a group of team owners formed the Negro National League, the first successful, professional, African-American baseball league in the country. Two of those legendary great players were born in the Piedmont.
Peregrine Falcons in the Piedmont
Ashburn's Luck Stone Quarry has been the location of a nursery for Peregrine Falcons last year when a female laid four eggs and the pair successfully raised four young. Using rock climbing gear, scientists have banded the birds to study dispersal, migration, and demographic patterns of these raptors whose population has been declining and endangered since the 1970s.  
Regular columns: People of the Piedmont, Recipes, Dogs, and Wine