Really, what could be more delicious in the summer than a popsicle with an adult twist?
Recipe and photos by Kaitlin Hill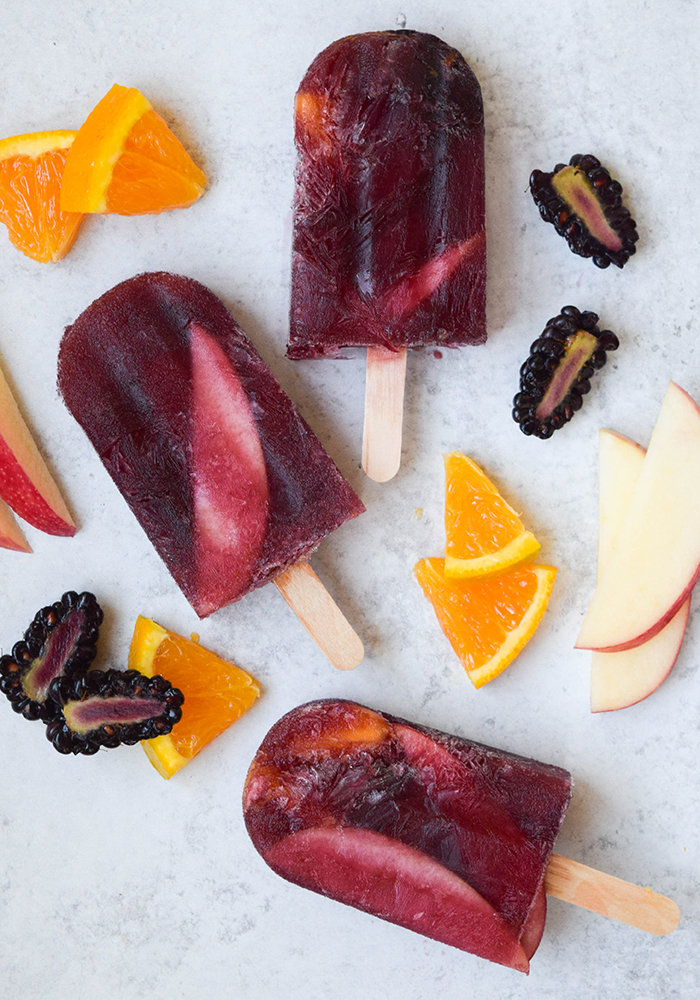 Makes 6 Popsicles
Check out popsicle molds on Amazon
Ingredients:
¼ cup of granulated sugar
¼ cup of water
1 cup of red wine (I used Merlot)
½ cup of fresh squeezed orange juice
1 teaspoon of orange zest
Pinch of cinnamon
Suggested fruit:
5 blackberries, halved
6 – 8 thin slices of apple (I used Honeycrisp)
8 – 10 thinly sliced orange segments with the skin removed
Directions:
Place the sugar and water in a small pot over medium flame. Cook for 3 – 5 minutes, swirling occasionally until the sugar is dissolved. Set the simple syrup aside to cool completely.
In a measuring jug with a spout, mix the simple syrup, red wine, orange juice, orange zest, and cinnamon together.
Divide the blackberry halves, apple slices, and orange segments between six popsicle molds.
Fill each mold to the top with the red wine mixture and insert a popsicle stick. Cover and let freeze overnight until popsicles have set.
To wiggle stubborn popsicles out of their molds, quickly dip the molds in hot water. This will help popsicles release.
Popsicles will keep for up to a month in the freezer.