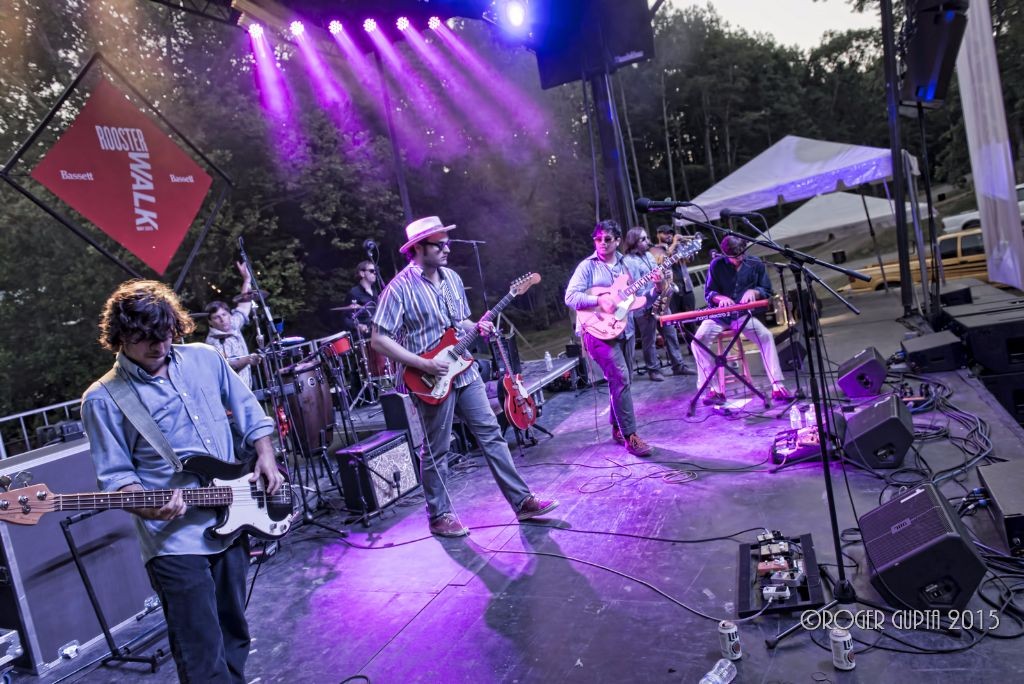 By Morgan Hensley
Rooster Walk 8 will take place from May 26 – 29 in Martinsville. Tickets are available here.

Stroll around Rooster Walk at sunset and you'll hear bluegrass banjo or maybe a blues rock guitar lick and in the audience barefoot mothers dancing with their children, or painters crouched over their easels by the stage, painting in long strokes a pastel scene inspired by the music. Hula hoops glow and are whirled by face-painted dancers, and the aromas of delicious festival foods waft over from the vendors. One wouldn't think while perusing the festival grounds that a celebration rich with music and joie de vivre was set in the city burned with the state's highest unemployment rate for more than a decade, and an ode to two hometown heroes who died young.
     Edwin "Rooster" Penn, Walker Shank, and festival co-founders Johnny Buck and William Baptist grew up together in Martinsville, ten miles north of the Virginia-Carolina border. "Martinsville is a small town, and a lot of your best friends in early childhood wind up being your best friends in high school and beyond. Edwin and Walker were two of our absolute closest friends, and, honestly, probably my two best friends in the whole world," Buck said. "Both guys would help you do anything if you asked. Both loved live music, the outdoors, and Martinsville." Rooster Walk brings those three passions together.
    Nearly ten years before the pals graduated and parted ways, Martinsville's unemployment skyrocketed, and nearly 25% of the town's citizens found themselves jobless. When economic downturn strikes, the art scene is one of the first things to go. Then the people leave, an exodus, in search of work elsewhere. "Rooster" Penn stayed in Martinsville and found work as a carpenter and helped the local Boy Scouts as an assistant scoutmaster, until a tragic dirt bike accident took his life in 2007. Shank attended the University of Virginia, graduated with degrees in economics and history, and moved to Long Island where he worked as a mortgage consultant until he passed away from heart trouble in 2008.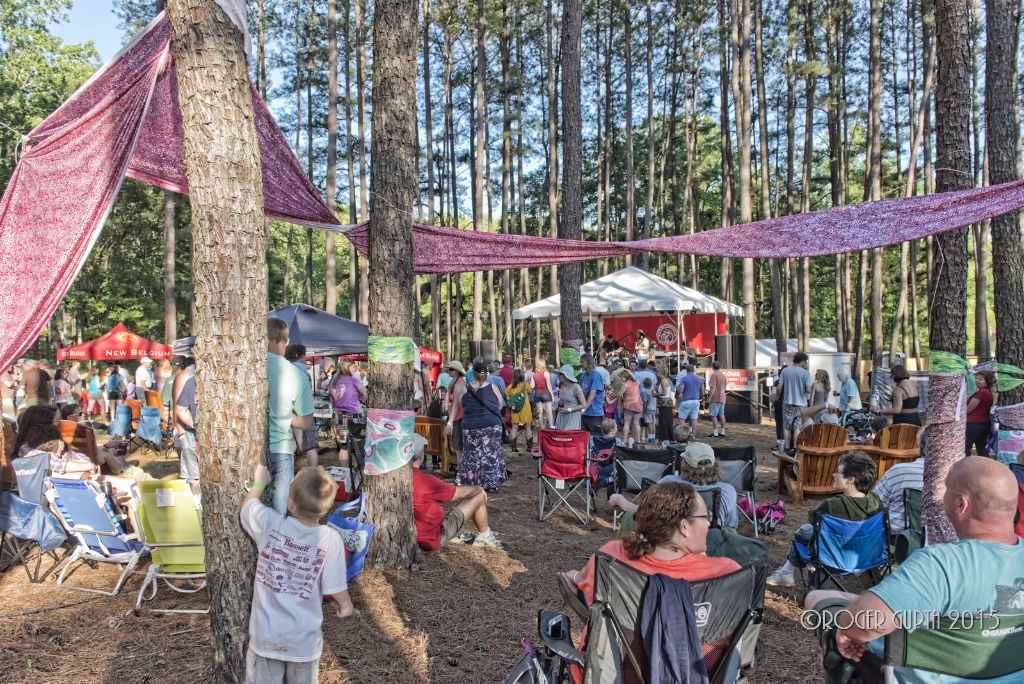 "Both guys would help you do anything if you asked. The last time I saw Edwin, he drove down from Martinsville to help me move from Raleigh to Asheville for a new job. After Edwin passed, I decided to move back home to Martinsville and take a job at the newspaper there. Walker helped me move from Asheville to Martinsville." Buck found himself back in his hometown in the wake of the tragic loss of his two closest friends since childhood. Unemployment was rising again. Amidst the tragedy of loss and in an economic wasteland, Buck and Baptist, who had recently moved back from Charlottesville, saw opportunity for improvement.
     The inaugural Rooster Walk was held in 2009 as a celebration of Edwin and Walker's lives. About 600 people gathered at the Blue Mountain Festival Grounds for the musical tribute, a final glorious sendoff. The event sparked more than just fond memories. The potential to reinvigorate a bereft art scene stirred through the minds of visitors. Friends from all over had come back together, and enjoyed the music, not just the farewell.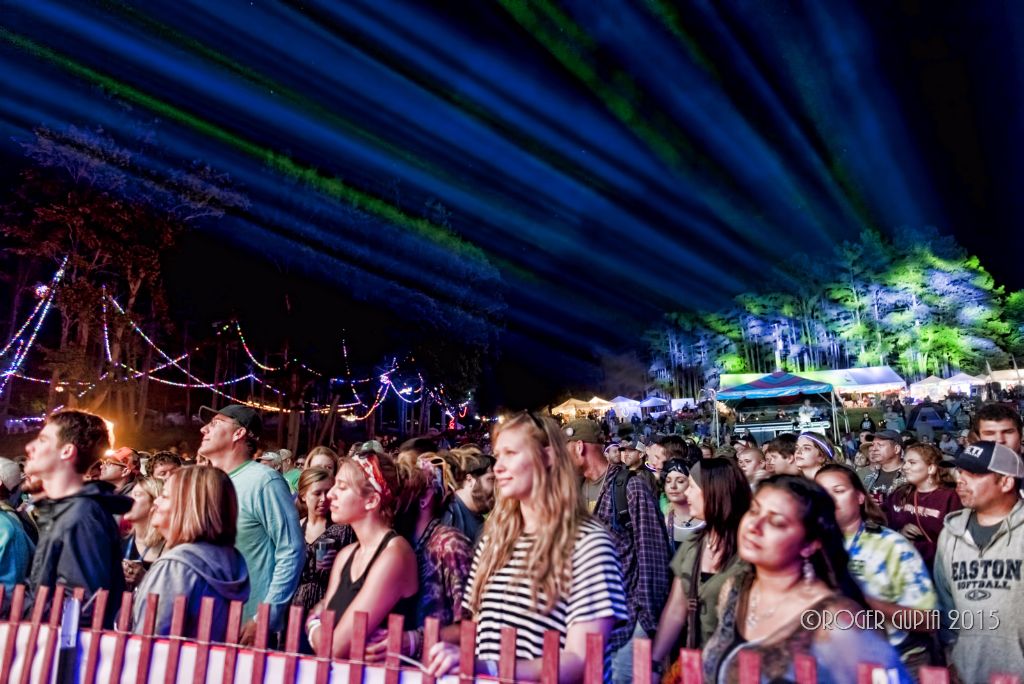 What started as a farewell grew into a festival. Nearly 5,000 people attended 2015's festivities, and more are expected this year. The festival outgrew the Blue Mountain Festival Grounds, and in 2015 the festival moved to Pop's Farm. The new venue "features the rolling foothills common to our area of the state, open hardwood forests, and several ponds," and received rave reviews from last year's attendees, many of whom are Martinsville natives who left the area in search of work, only to return and find a community vibrant with music. "It's become the de facto community reunion for folks who have ties to the area but no longer live here."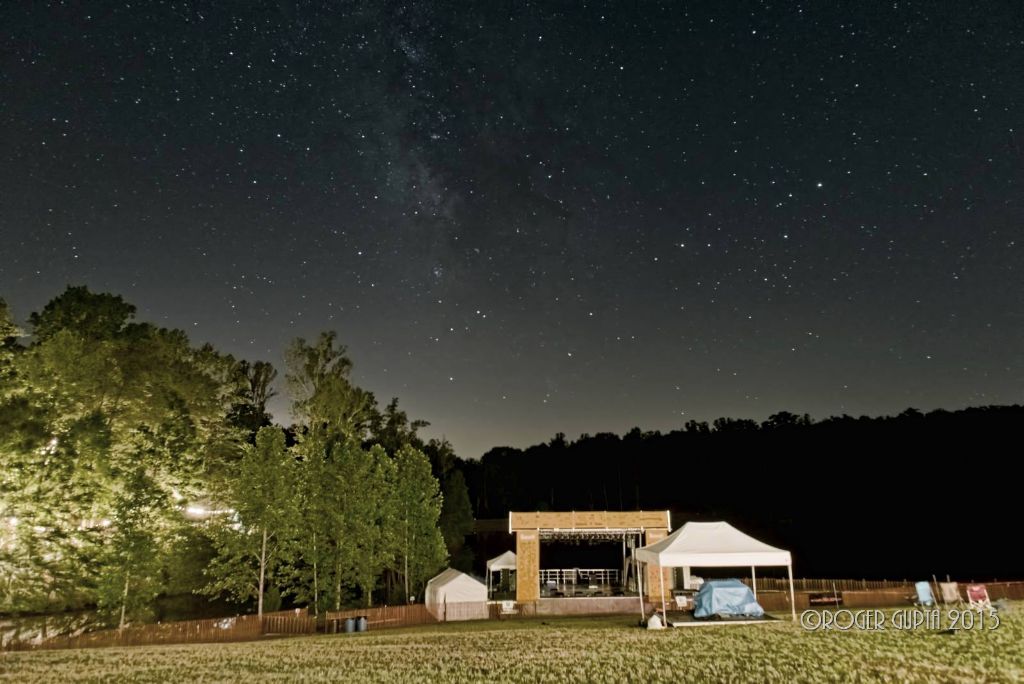 Outside the festival grounds, Rooster Walk Inc. has donated more than $80,000 to local charities, including the Penn-Shank Memorial Scholarship Fund for Martinsville High School's seniors as well as an instrument donation and repair program to benefit entry-level band programs at local public schools, which allows curious musicians who might not have the financial means to buy an instrument a chance to join the band.
   As Rooster Walk grows, the community grows, as well. "The worst is behind us and the community is on the upswing again. The area is reinventing itself and its identity, and the arts and entertainment are a part of the community's new social fabric." Unemployment has ebbed the past couple years, while a pride and sense of community has surged. As Buck notes, "There's a feeling of family that is impossible to miss when you're at Rooster Walk."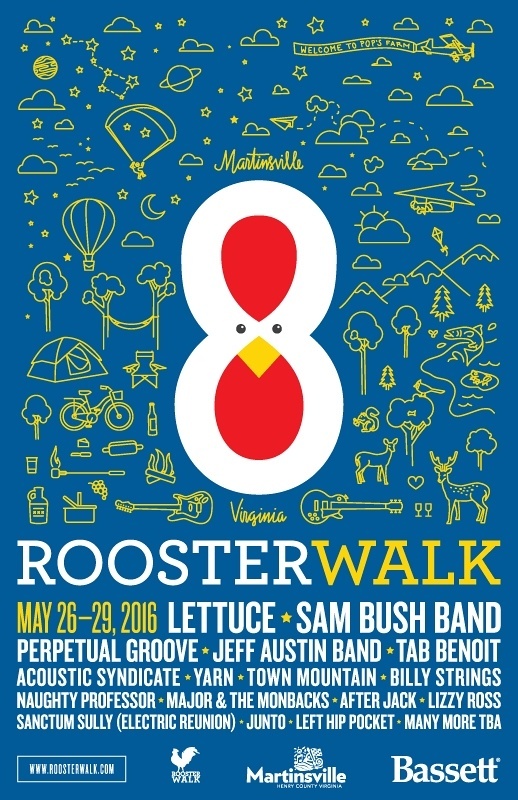 ---
ABOUT THE AUTHOR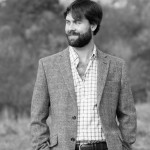 Morgan Hensley is a recent graduate of William & Mary where he studied English and creative writing with an emphasis on poetry. He is the Assistant Editor of the Piedmont Virginian and enjoys writing about music and the arts.