A TRADE ALMOST AS OLD AS HISTORY THRIVES TODAY
By Morgan Hensley
"This barn is built like a wooden ship."
Cold winds rustle around the creaking rafters while the ring of a horseshoe against anvil chimes outside. Farrier Scott Brouse walks inside the barn, reshaped shoe in hand, and approaches the horse calmly, wholly aware. Coaxing weight off the hoof, he lifts the leg between his knees and rests it on his leather apron. He talks to the horse in soothing intonations as a mother would when trying to take her child's mind off the impending flu shot. The cloud of his breath mixes with the horse's in the chilled air as he nails the lost shoe back to the hoof. His apprentice, Megan, comes over to clench the shoe and complete the early morning "tack on."
"After all these years, it never ceases to amaze me how sensitive a horse is," Brouse says. "They can read you before you say a word or touch them." His statement glows with poignancy considering the thousands of horses he has worked with in his lifetime. Born in upstate New York, Brouse has worked in barns since he was a teenager, "everything from mucking stalls to breaking young horses." He relocated to the area in 1982 to ride competition-level horses. Through this position he met Paul Goodness, a renowned farrier who now works with Virginia Tech's Equine Podiatry department in Leesburg. "If you've worked in the circuit, you've been exposed to great farriery. So I decided to switch."
Dismayed by the lack of mobility of a riding career, Brouse apprenticed with Goodness, and from him learned the art of farriery. In the wild, a horse's hoof wears down at the same rate that it grows. However, domesticated horses are used more than in the wild, interfering with the delicate balance shaped by years of evolution, and so horseshoes were developed to counteract this excess wear. Farriery began with the Egyptians and Persians, who wove grasses together to shod their horses. Romans introduced iron shoes attached with leather thongs, a design that prevailed until William the Conqueror's infantry, replete with nailed-on shoes, clenched a decisive victory at the Battle of Hastings (n.b. "clenched" derives from farriery, the act of fastening a driven nail). The event resulted in William's coronation and the advent of an important moment in farriery.
"Farriery" derives from ferrarius, the Latin word for blacksmith. Smithies were the first farriers, as shaping a shoe and nails was the primary requirement. Over the years, heightened attention was directed to horse's conformation as well as the terrain and climate where the horse was, and so as blacksmiths and farriers diverged, their trades specialized.
"There aren't as many handmade shoes out there today. Now it's mainly modifying stock shoes, welding, and making alterations," Brouse says. This process of forging and modifying premade "keg shoes" allows farriers to allocate their attention to shoeing more horses, and dedicating more time to each horse. While little has changed in the way of the everyday farrier's tools over the past several hundred years, recent innovations such as epoxies and plastic shoes enable farriers to do much more with their craft. Brouse says, "With all of the recent technologies, we're able to save horses we maybe wouldn't have been able to in the past."
However, the most drastic change in farriery is a device we all use every day.
"Having a cell phone has ruined my life!" Brouse jokes. "There's no sacred time anymore. That's the biggest game-changer." A farrier with Brouse's reputation and experience is on call nonstop these days. Before, a farrier's reputation spread by word of mouth, through loyal veterinarians and satisfied customers. He's been approached in stores and even flagged down and pulled over at a stop sign. Simply put, there are too many horses in this area, which ranks as one of the top five hotbeds for farriers. There are barely enough farriers in the area to satisfy the demand, and some of farriers can't assure quality.
Farriery is not as regulated as it is in the UK, where the Worshipful Company of Farriers has existed since 1356, and enforces the 1975 Farrier's Registration Act, which prohibits shoeing by unqualified persons. There is no organized educational system (e.g. veterinary school, for comparison), nor any legislated requirements or registrations. The American Farrier Association (AFA), established in 1971, has pushed for increased regulation, while also offering and overseeing voluntary certifications since 1979. The highest level of certification in the US is journeyman (CJF), which requires forging four shoes and shoeing a horse in under two hours. "Certification doesn't necessarily mean you do good work. I've seen it go both ways," Brouse says. This uncertainty is what makes apprenticeships so vital to the trade.
Megan, who graduated from Montana State's farriery program in 2015 before beginning her apprenticeship with Scott the following July, says, "Before going to school, I was familiar with the process, but I wasn't able to shoe a horse on my own. It's like watching a sport you haven't played; the professionals make it look simple." The apprenticeship is necessary not only to teach the skills one learns in the classroom, but to build a clientele. Apprentices assist the farrier, gradually taking on more duties and jobs. Eventually, they are assigned entire visits, and begin the client-building phase of their business. Brouse works with approximately 300 horses ("Or 1,200 hooves, if that's how you'd prefer to look at it."); more than one farrier can handle alone. "I'm still learning a lot more about how to use the tools. School can't teach you all of that. I'm not in any hurry," Megan says.      

Apprentices also lend another set of eyes, a necessity for a job as dangerous as a farrier's. "You don't always know a horse's past. Maybe they were handled roughly. If you're not careful, the situation could escalate," Brouse says. The profession is inherently dangerous, Brouse notes, "They're so much bigger. They don't mean to hurt you.
"You get hurt all the time; it's a matter of how badly." In the 28 years since he began, he has had his left bicep reattached, torn the menisci of both knees, broken several fingers and toes, and been bitten innumerable times. And those are just his injuries. Anecdotes, told like ghost stories and exchanged like urban legends of hook-handed hitchhikers, feature impalement, iron fragments barely missing the jugular, and a severed finger wriggling by a water pail, immortalized in Henry Taylor's Pulitzer Prize-winning collection The Flying Change.
"My hands are constantly bleeding. I don't even notice it anymore," he says. "We make it sound bad. You couldn't do it if it were that rough all the time. Horses are almost always well behaved. Still, you can't get used to it. Everything is routine and in the blink of an eye you're praying and calling a vet."
Despite the injuries, he's still in the stalls day in and day out, refining his craft, learning, and passing his wisdom down to future generations of farriers. He's worked with "prize-winning horses, backyard pets, and Przewalski's horses from Mongolia, the last truly wild horses in the world," and everything in between. At his final visit of the day, the smell of burnt hair seems to gather the air around it. The smoke is blue-gray, acrid. Hunched, with the hoof delicately in his lap, there is a feeling of timelessness, of permanence. As much as the world changes, it seems there will always be this.
---
ABOUT THE AUTHOR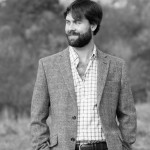 Morgan Hensley is a recent graduate of William & Mary where he studied English and creative writing with an emphasis on poetry. He is the Assistant Editor of the Piedmont Virginian and enjoys writing about music and the arts.