Essay
By Stephanie Slewka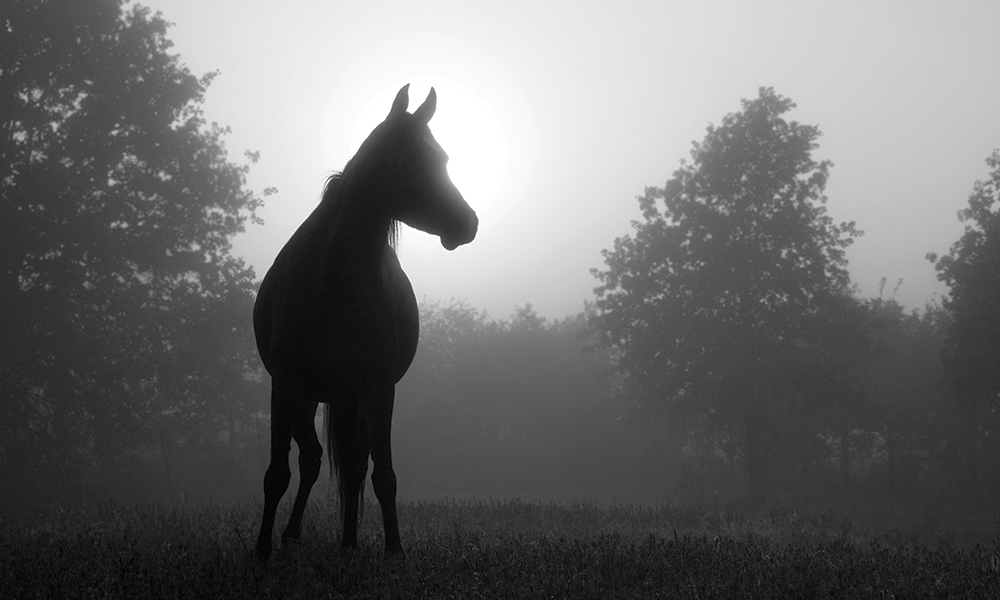 The sin-eater was lost. "This is Erik," said a frazzled caller on the voice mail, "from Valley Proteins. I can't find it. Call me back." A hint of panic seeped into the last word, cracking the "a" in "back" before no-last-name Erik from the rendering company hung up without leaving his phone number.
He was winding through the last of the morning mist on back roads, already late halfway into the perfect day of blue skies and emerald fields. His dump truck slammed around the bends, the chains attached to the winch leaping off the bed of the truck as he hunted for me. He had no GPS. There were two roads with almost identical names. Erik was on the wrong one.
I was waiting for him at a farm to which I had given his dispatcher careful directions, and where, I had explained, there was no cell service. So even had Erik left his number, I would not have been able to call him. On a straightaway, he latched on to a woman in a postal truck; she set him right and sent him on his way.
The henchman's rattle sounded a half a mile away and I walked towards my little, dark horse, faultless and sweet until the end. His delicate ankles folded together at a perfect angle, like Meghan Markle's after she embarked on training for her new role as a duchess. Small hooves pointed down, his coronet bands were white from the morning dew, the star on his forehead still askew. There had not been a quiver since the vet stood up over his velvet form and folded his stethoscope.
"After you lay the horse down, make sure you don't put a tarp on 'em, that'll cook him in this heat," the dispatcher had said with a warning chuckle when I called to make the arrangements.
That's an image the mind's eye does not like to conjure. "OK," I agreed. "Then what do I do?" The dispatcher slid into the singsong of tour guides and touts who repeat the same phrase so often it takes on the pitter-patter of a prayer and the drone of a whine.
"You take a jar with a lid and you weigh it down," he paused to make sure I now understood the notion of gravity perhaps because I had not reacted to his earlier attempt at levity. Then to make sure, or because it's alright to talk down to women in Trump's Virginia, he added "so, you weigh it down with rock or gravel."
"Put your check inside the jar and close the lid and leave it near the animal," he intoned. "The driver will pick up the horse, take the check and leave the receipt in the jar," he ended with a flourish.
"Wait," I croaked. "People put their horse down and leave it on the side of the road and just walk away?" I asked, incredulous. "Yes, ma'am, that's how we do it," he explained, now folksy. "The driver will take care of everything."
I was struck dumb at the thought of abandoning a creature to, I don't know, have lunch, while he was settling into the earth.
What if dogs came, or foxes, or if people passing by stopped and stared? Who drops their pet on the road like an orange peel?  
"Do you understand or do I need to go over it again," asked the dispatcher, now impatient. "No, I got it," I replied. He sounded dubious. "Can you tell me what time the driver might come?" "Sometime after one, more than that I can't tell ya," he replied. "A window, you know, from 1 to 5, say?" I pleaded. "Can't tell ya," he answered again, relishing the ability to say no. "Mondays are busy." "Approximately," I beg?  "No," he replied, enjoying himself. I imagined him in an office in a blue Dickies shirt and pants that smelled of rendering, no matter how often or how hard they were laundered, and forgave him.
I hung up. The jar wedged in my imagination like a swivel door lined with books whose spines shine with gold letters in the library of a make believe castle. The solution, the go-between from this life to the next is a jar on the side of the road?
And if the jar is empty, or blown away, the ferryman not paid, does the driver heave himself back into the cab of his monstrous hearse and rumble off leaving a thousand pounds of horse?
I wondered about this driver. Who is this guy who hunts for the dead with no directions and shows up, alone, to do the work of removing the carcass of an animal that an hour ago was magnificent, that was loved and left?
This death of an animal, is it so odious that no one can stand and wait for the undertaker? Or is it what the animal will become? Who is this man who will take my heart away? Is he so tainted that he can't be met, face-to-face?
He is the one who eats our shame. Of we the people who make animals do things for our pleasure, we who mutated this horse's airway so he'd run faster and succeeded in slowly strangling him.  
My mind scanned its store of images for the right receptacle in which to stuff, as instructed, my money in exchange for the absolution of guilt for handing this lovely horse his death sentence.
Glass wouldn't do; glass and horse hooves don't mix, if the horse steps on the jar and breaks off a shard it is hurt. Of course, the horse won't be alive but I can't think that way just yet. A coffee can could work: one of those yellow things with a plastic lid. They're ugly. Strike that thought.
The vet, so often late, sometimes by hours, was early. We were ready, or at least at the ready. The little fellow, unsteady on his legs the previous afternoon, unable to summon the power to propel his rear end, had, with the help of painkillers and in the cool rain of the night, regained some of his racehorse fire.  Though I was pleased for him, it fanned the spark of doubt that nags when you play God with another's life.
Tossing his head and lifting his front feet off the ground, he jigged to the barn. When he first came to me from the track seven months earlier, he rocketed to breakfast at a gallop, tearing through the field to skid to a stop at the threshold of the barn and rise in an elegant rear. Like Zorro, I told my kid, only to realize neither she nor any of her friends had any idea who Zorro was, obliterated by time and usurped by other Disney characters.  
He wasn't hungry. When they're in training, most racehorses don't have windows to the outside world.   They live in a long row—the shed row—and stand twenty some hours a day with a view to the inside of the building. They see horses opposite and if they crane their neck, can spy comings and goings down the row but not the outside world. Rock loved his window and turned from his breakfast to hang his head out and gaze at the hills.
Sometimes, when snared by injury or illness, horses revert to pre-domesticated ways and the approachability in their eyes is shellacked with the look of the wild. A hint of aggression gleamed in this gentle horse's eye as we stood and stared in the same direction, he with a cocked hind leg, me with my hand over his neck.
A racehorse's lungs are crucial to his performance. The better the lungs, the better the athlete. A galloping horse can only inhale when his front hooves are extended forward. And he, or she, can only exhale when all four legs come together, squeezing the air out of the lungs. One breath for every stride, a mass of oxygen inhaled and released. Even a small defect in the airway can affect speed. When a horse breathes hard, two small cartilages that close over the larynx when he swallows open wide: the more air, the more speed. The cartilages open and close thanks to a muscle stimulated by a nerve that loops from the brain down the neck to the base of the aorta.  
Rock ran crazy fast but he developed a roar, a sound in his throat from a paralyzed vocal chord that did not let the flaps open cleanly. The surgery meant to fix the problem stitched one flap open all the time.   It had seemed fine at the track but over the months I had him that long twisting nerve stopped working right. In winter, one nostril ran, then the other. In spring, he ahemed a few coughs that I was told were of no concern. When he ate, food came out his nose. By the heat of summer, he developed a hack as if to clear his throat, a horrible, dinosaur-like sound, and finally he coughed so hard he couldn't trot in a straight line. Food stuck in his trachea, entered his lungs and he developed pneumonia.  
Put your ear to a horse's nostril the way you would a conch shell. The ocean's roar is not there but the power of this vast creature is, and his soul, too. The most sorrowful sound I have heard came from a horse after he realized his pasture pal had died. The surviving horse walked up to me, put his nose to mine and released a sigh of mourning so heartfelt the hairs on my arm rose up.
Rock turned his head and breathed on my face, the struggling bellows of his lungs enfolding me. Love, maybe, passed between us. I scratched him and he pinned his ears and bit me, so thin-skinned.   I smacked him for good measure and left for the house. He stayed at his picture window.
Who the hell bought these pickles, I asked myself as I rummaged through the recycling bin with resignation. The mouths of the canning jars lined up in the cupboard looked far narrower than I remembered, too narrow to fit the paw of the man who drives such a truck. Of course there would be no need for him to scrabble around for the check, as I would be handing it to him myself, but just in case, I needed that jar.
Spicy pickles? A lot of people cycle through my house, some bringing their own supplies, but this jaunty red label of a pig in a toque holding a fork over flames didn't seem to belong to anyone I knew. Just get on with it, I told myself.
I had run out of grass at our house and moved my horses a few miles up the road to a farm belonging to generous weekenders who loved the sight and sound of grazing horses. The plan had been to bring the little racehorse home to put him down but he grew weak so fast that I did not want to move him.
The vet informed me the spot I had chosen would not work, as the rendering truck needed to keep two wheels on the gravel. Doped up, the horse followed me, wobbling, to a more convenient place. Anne Boleyn, another creature enveloped in velvet, came to mind. Custom, or the king, required her to pay her executioner. Boleyn handed him the money, thanking him by necessity in advance for dispatching her in front of those who betrayed her.
The only practical area to drop the horse was dead in the line of sight of a camera lashed to a post in the farm's driveway to snap photos of weekday intruders. I worried about the owner's kids reviewing the film. But there was no choice.
The vet wished me better luck with the next horse—knowing a next horse follows in the heartbreak of this one the way a casino owner knows a gambler won't quit while he's down unless he's skint—and climbed in his white truck.
Rock lay in the crosshairs of the lens, the electronic witness to his death. His lone mourner—me—self-conscious of the camera and annoyed for worrying what the farm owners might think. Heartless if I walk away? Drama queen if I stay?
Never mind them, I told myself, and bent both knees in the dirt. I put my head on Rock's shoulder and his skin rippled over his carcass like a river flowing around a bend, my weight moving his legs like water lapping at the shore. I said my piece—it wasn't much—and stood up.  
With the vet early and the horse cooperative, there was time to kill before the start of the sin-eater's arrival window of 1 p.m. to whenever. In our getting-to-know-you-days, I had sat in the barn aisle outside the horse's stall on a folding chair and read or napped while he sprinkled me with wayward kernels of grain or nibbled on my hair. I considered unfolding the chair in the driveway but waiting for death had cranked me up so taut that waiting with death required more stasis than I had the discipline to muster.   Motion was imperative.
I mucked around the other horses who had not a whinny of concern at the departure of their stable mate.   I banged buckets and swept in violent arcs, the jagged rhythm of the broom tearing at the morning air.
I looked at my phone; it was still not yet time to stand watch. I walked over to the body. Feeling stupid, I curled the check into the pickle jar and lodged the jar between Rock's front hooves. "Sorry," I told him sheepishly, the way you do when you abandon your kid in the front seat of a shopping cart to snatch something off a shelf in another aisle. I ran a quick errand.
Upon my return I held my breath. Everything was the same. I plucked the jar from his hooves and put the check back in my pocket. It smelled of pickles. Fancy that, I snorted as I walked towards the barn. A rumble spun me on my heels. Three guys riding shotgun in a pickup truck came down the driveway.  
The driver had turned up not long before in the wake of a storm, going door to door offering his tree-trimming skills for the clean up. He seemed all right but he kept—and employed—uncertain company. One of them, with short teeth the color of dirty pennies, made me wary. I had spotted him close to dawn in a parking lot switching license plates on an anonymous sedan, the kind that cops drove in the nineties. Bought with cash from the cleanup, I guess. I waved an exaggerated hello as I passed—really, this was the best turnaround spot they could think of, out here near the highway? The look in his eye was not reassuring.
They slowed. The trio had come to trim a big limb that snapped from its trunk. Wouldn't take long.   "Please make sure you leave the gate open when you're done," I asked. "Someone is coming for the horse." As I tried to avoid their gaze and look in the middle distance my stare landed on a garbage bag slathered with duct tape where the rear window had been not long before.
"Yeah, WHAT happened to him?" asked the one I wasn't sure about, his top lip curled in a cartoon V of curiosity. "It's a long story." I bit off the words. They drove past, stopped, backed up. "We can come another day," the driver offered, almost somber and almost gentle. "No, it's fine," I said. "Might as well get it done." As promised, it was quick work. The garbage bag flapped as they lumbered off.
Then the rattle of the chains sounded and neared, and Erik appeared. He hinted of Viking, and not just because of his name. With reddish hair and freckles that slid their way under the tattoos swirling about his forearms, his good looks were starting to fray. A tummy strained against the tidy uniform shirt, and it seemed there was no dental plan at his job.
He was sweating. "The dispatcher drives me crazy, he can't write directions," he ran his hand through his hair before telling the tale of the two almost-same-name roads and the mail lady. "And these roads are bad," he explained. "I'm real late." He had the distressed feel of someone whose job hung in the balance.
"I've been to Fredericksburg to pick up a horse, I got this one and then I gotta to get a cow and another horse over in Maryland." By the clanging in the bed of the truck I assumed it was empty. "You don't have anyone in there," I asked. "Nah," he replied, "I had to go back to the plant then empty (restaurant) grease traps."
Another comment that is hard to answer. "I am sorry you had a rough day. Would you like the check?"   He wrote a receipt. It took forever. Maybe that would doom his job, not the driving. I folded it in half without looking at it.  
Erik donned his work gloves and lowered the rear ramp of the truck. I stopped looking and waited with my back turned: to each day its dose of reality. Then I thanked him and he left, directions explained and repeated and mimed.
One week after Rock died, at almost the same time of day, I hit the wrong computer key while downloading video from my cell phone and erased all of the photos and videos I had of him. My little horse had vaporized as surely as the pixels that held together his likeness. No mac whiz could help.  There was no grave on which to stand, no paper photograph to hold.
I pressed my forehead on the table, more wooden and lifeless than Rock's dead flank had been, and cried inconsolably.