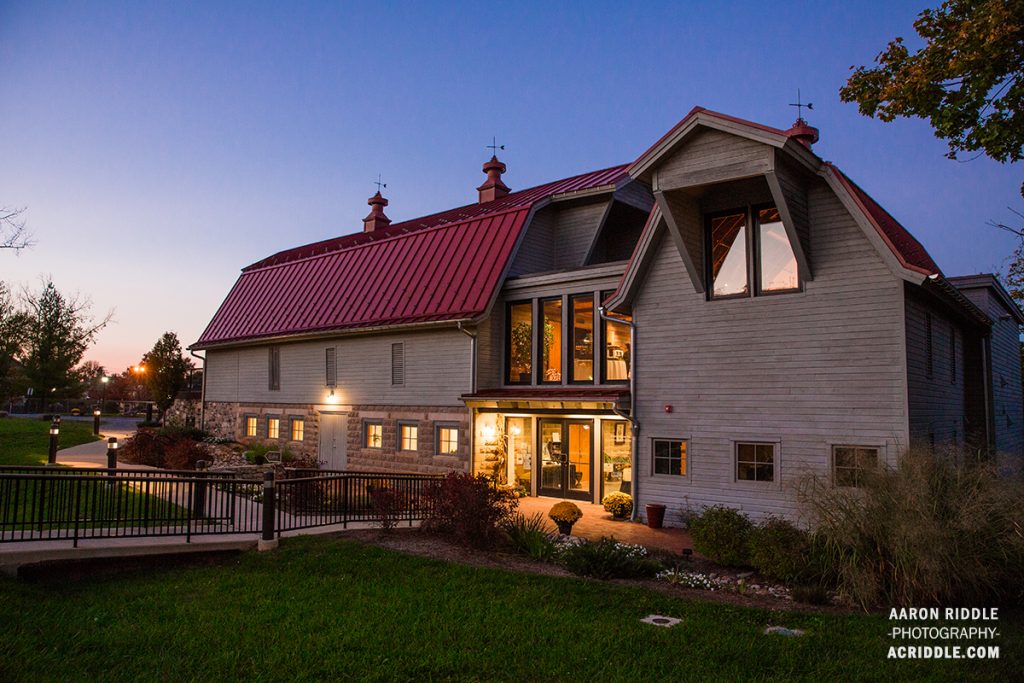 Featured Image by Aaron Riddle Photography
In the heart of Berryville's historic downtown area, with Rose Hill Park on one side and the Berryville-Clarke County Government Center on the other, sit two barns joined together to make a single striking facility. Around 5,000 people a year seek out the beautifully restored 1920s-era barns for their many activities as a center for the arts, education, and community serving the northern Valley and Piedmont region.
"We've been active more than five years now," said Diana Kincannon, chair of the Barns' board of directors. "More than 20,000 visitors have experienced programs that enlighten, educate, and entertain. We're very proud of that, and of the quality of programs we offer. Whether it's a documentary film such as "Maya Angelou: And Still I Rise" or a fun bluegrass and BBQ event, the full houses have been gratifying. We welcomed more than 1,300 people in the first six weeks of the New Year." And this weekend you can see a one-of-a-kind hybrid of art and music; renowned local artist Winslow McCagg's latest works are on display, and he is joined by the Sugar Clouds, Detroit rockers, to put on a synesthetic night of visual and audio greatness. Read more, and other weekend events for March 24–26, here.
Many in Clarke County and the region know the Barns story. In 1964 Horace Smithy donated the land and buildings to the Town of Berryville. Attempts were made to restore the old structures for community service, but to no avail. Then, in 2004, Downtown Berryville, Inc. (now Berryville Main Street) decided it would be best to form a 501(c)(3) devoted solely to the restoration project. The successful capital campaign raised over $2 million in public and private funding over six years. Carter + Burton Architecture worked with the group, a public bidding process identified H&W Construction of Winchester, and the Barns of Rose Hill opened in September 2011.
As a flexible-use facility, the Barns offers every kind of live music, films, art and photography exhibits, workshops, expert and author presentations, theater arts, poetry and prose readings, open mic sessions for young people and adults, and jam sessions. A new website for the public has just gone live, allowing better depth of programming detail and interactivity. 
Feedback from artists and performers has been enthusiastic. "It is one of the most unique and intimate venues for both the performers and the audience, not to mention one of the friendliest," Will Robinson, a Nashville-based songwriter, said. Maria Nicklin, an illustrator and designer, agreed. "Through an innovative program, Barns of Rose Hill provided a unique experience, allowing for the interconnectivity of a student workshop, an art exhibit, a concert and some fundraising. Thank you, Barns of Rose Hill."  New Zealand musician Catherine Bowness wrote, "Barns of Rose Hill is a truly special place." 
The Barns organization is looking to the future while noting the importance of sustaining an active calendar of events. On March 22, the organization announced a $500,000 five-year challenge grant from the Eugene B. Casey Foundation to build a $1 million endowment fund by 2021. The grant will match gifts received for the Barns endowment on a dollar-for-dollar basis. "This is an extraordinary opportunity to double the value of gifts while helping to ensure the future of excellent arts and education programming for Clarke County, the northern Valley, and the Piedmont region," Kincannon said. To be matched, a gift must be restricted to the endowment fund and can't be used for any other purpose.
The first year of the challenge grant ends August 31, 2017. Gifts and pledges from the board and other private contributors have reached more than $68,000 toward a $100,000 target for the first year of the grant period. The board is reaching out to friends and supporters now to close the gap and gain the maximum match by that August deadline.
Meanwhile, ongoing programming relies on sustaining gifts and memberships. Kincannon said "We keep our doors open and these wonderful programs coming through unrestricted gifts from those who feel as we do – that the arts, education, and community are strong positive values, and that the Barns of Rose Hill is contributing to the greater good through what we do."­­
Another way businesses and private donors help is through program sponsorships. "Sponsors are recognized in all our print and electronic media over a six- to eight-week promotion period," Kincannon said. "It's a great way for businesses to expand public awareness and gain new customers in the markets they serve, and private Sponsors support the kind of programs that mean the most to them."
The schedule for 2017 is filling up. There are live music concerts and art exhibits in April and May. Acting classes for kids are in April and for adults in early May.  Everything can be found on the Barns website, barnsofrosehill.org. The public is invited to offer program reviews and suggestions. Susi Bailey, who serves on the board and has been involved in the Barns story from the beginning, said "We are fortunate to have such a landmark in the center of our town. Barns of Rose Hill has certainly become an inviting site for the arts and education and especially for our community."
"From those derelict old barns has come something vital and valuable," Kincannon said. "It just demonstrates the good things that can happen when people come together. It's really quite exciting."
Barns of Rose Hill is located at 95 Chalmers Ct., Berryville, Virginia. For more information, visit their website (http://barnsofrosehill.org/) or call 540.944.2004. 
Barns of Rose Hill is a 501(c)(3) nonprofit, and your donations are tax-deductible as allowed by law.