It's that time of year in Virginia.  The days are getting shorter, the temperatures cooler, and pumpkin spice lattes are available at your local Starbucks. It also means the leaves on the trees are becoming a brilliant kaleidoscope of reds, gold, and oranges. While everyone has their own favorite place to view fall's glorious colors, we have rounded up some of the best locations around the Piedmont to see all the fall foliage. We hope you take some time this year to do some leaf-peeping before they disappear for another year.  It is truly refreshing for the soul to go on a hike, breathe in the crisp fall air, and listen to the leaves crunch under your feet.
Bull Run Mountain Mountain Loop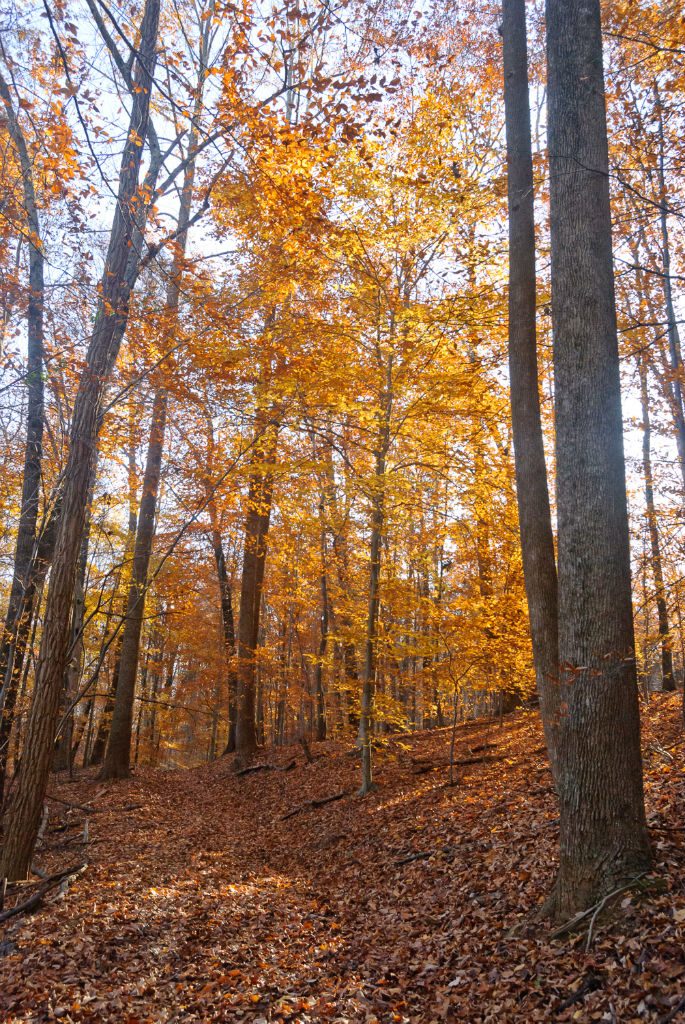 Bull Run Mountain Loop is an easy and enjoyable five-mile trail located near Broad Run.  This hike takes you past the remains of Chapman's Mill (which provides a fabulous backdrop for those gorgeous fall foliage pictures) and a few other Civil War homesites, family graves, and a beautiful  panoramic view of the Blue Ridge Mountains from the Elvis Rock overlook.  It's a great starter hike for those that haven't been active in recent months and want to get in shape for more strenuous hikes throughout the season.  No pets are allowed on the trail.
Whitney State Park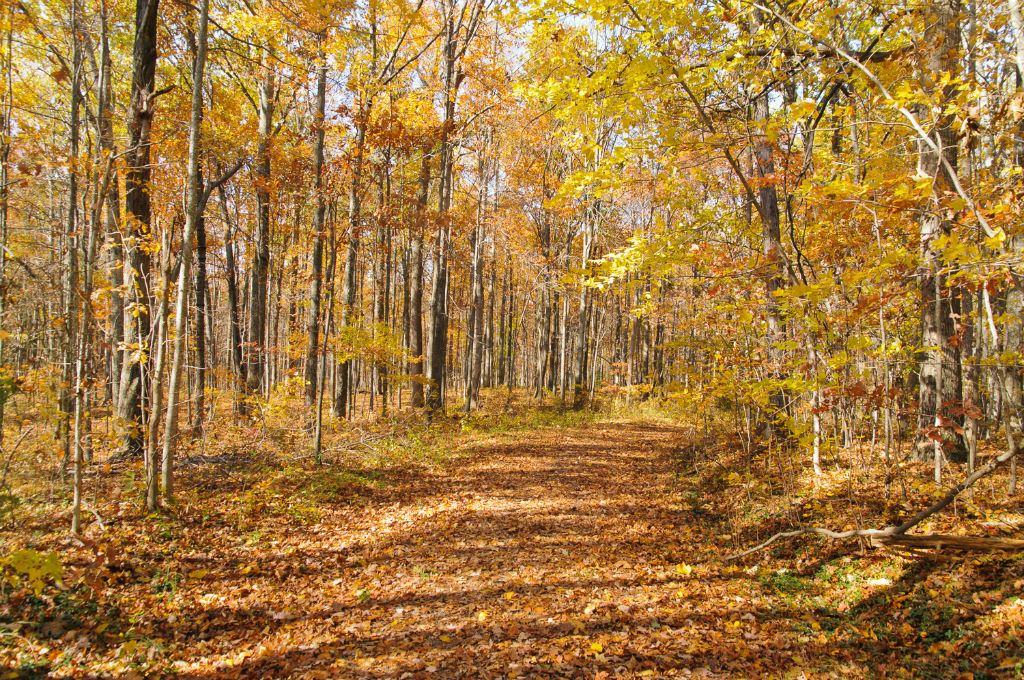 Located just 2 miles outside Warrenton is Whitney State Park, an understated forest that has over six miles of trails that weave around its 150 acres.  While it is a beautiful hike any time of year, it is especially so in the fall for an early morning or late afternoon hike.  If you hike along the service road that skirts around outskirts of the forest and through a clear meadow, you will end up at the ruins of the Ashton Mansion, a home with an interesting history.  All of the trails are easy hikes over level terrain. Leashed dogs are allowed.
Caledonia State Park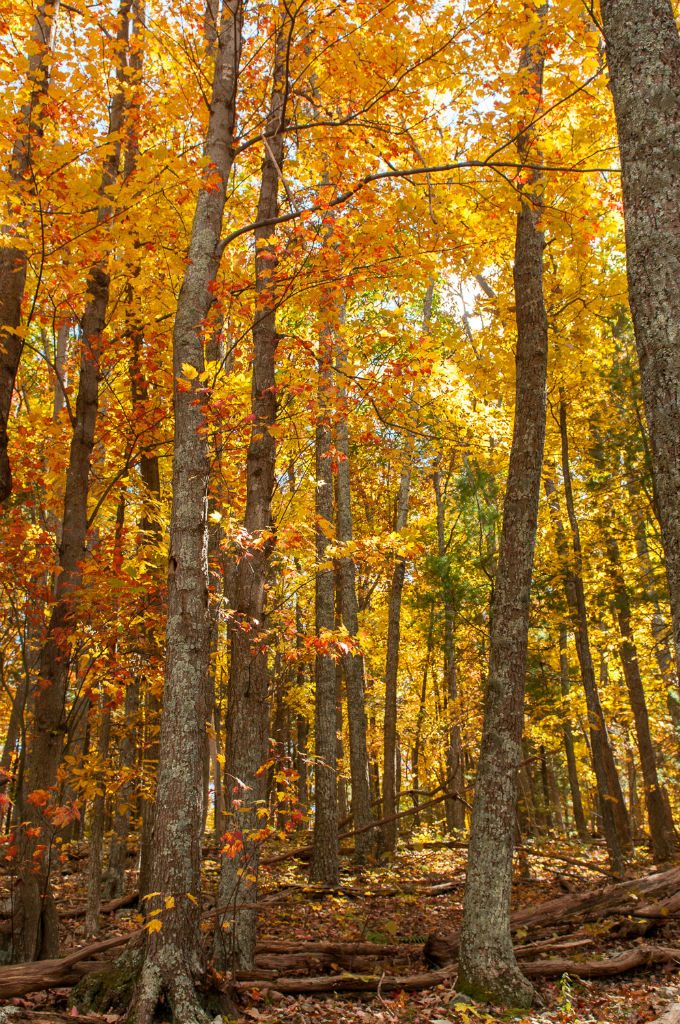 Caledonia State Park, located in King George, is not a very well known state park in Virginia, but it offers a beautiful and enjoyable place to hike.  It's home to the largest population of bald eagles on the East Coast, and is home to many other aquatic birds.  The park has over 12 miles of trails through the forest that are very easy to navigate, but the most popular is an approximately two-mile hike down to the shore of the Potomac River.  There are picnic areas and places to walk along the river.  Leashed dogs are permitted.
White Oak Canyon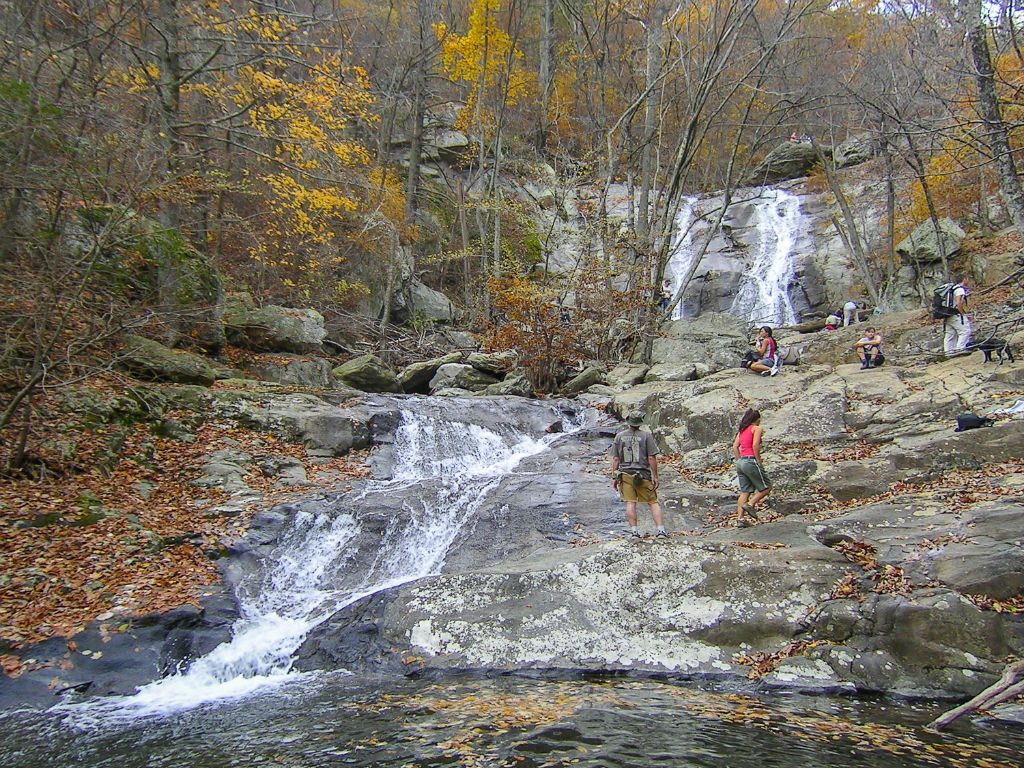 With six waterfalls to feast your eyes on, White Oak Canyon is another popular hiking trail any time of year, but especially in the fall.  It is arguably Shenandoah's most beautiful waterfall hikes.  Since it is steep in some areas, it is considered a moderate hike, but is still kid-friendly.  There are many areas along the trail to stop and have a break and just enjoy the scenery around you.
Stony Man Trail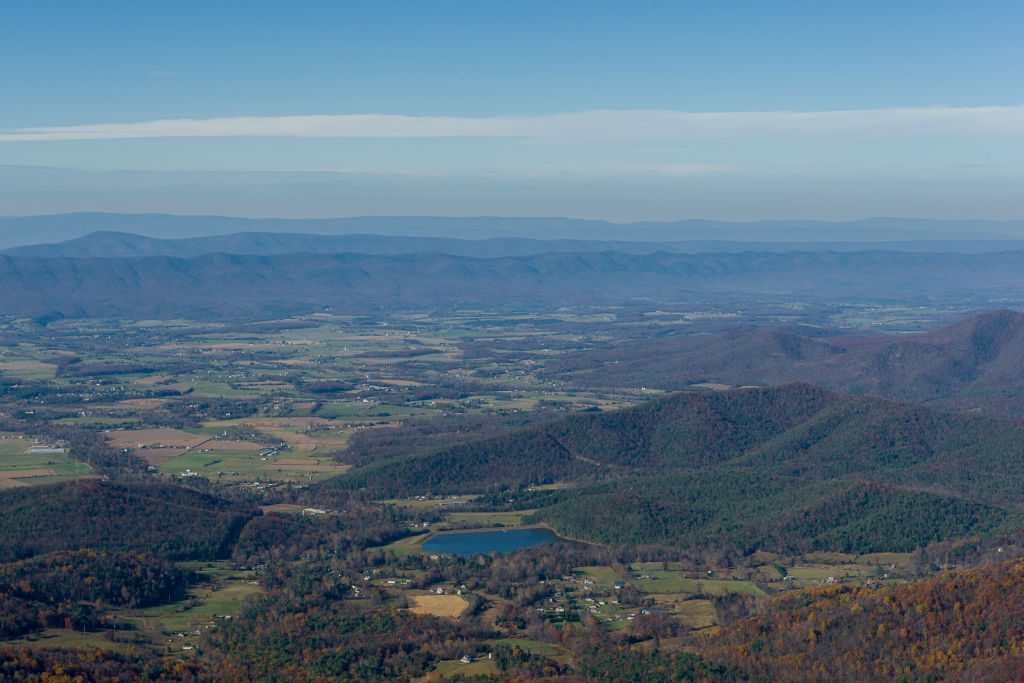 At less than four miles, most of it fairly level, Stony Man Trail is one of the easier hikes within Shenandoah National Park, but offers some of the most breathtaking views of fall foliage across the mountain and valley below once you reach the summits.  It is a good hike for beginners or for those that want to view beautiful scenery without the strenuous exercise that comes with some of the other hikes in Shenandoah.
Old Rag Mountain
Those wanting a challenging hike should head to Old Rag Mountain, one of Shenandoah National Park's most difficult treks.  Nearly nine miles long, this hike will take you an entire day to complete from start to finish.  The first few miles are through a beautiful forest, and then the terrain changes to several strenuous rock scrambles, narrow chutes, and climbs over and under large boulders. Don't forget to admire the leaves on the trees, the different plants and flowers making their last appearances for the season before winter sets in, and to look for wildlife along the way.  The peak of the hike atop a rocky cliff offers spectacular views of the national park and the Virginia countryside. Once you are done admiring the views, you complete the hike downhill over a somewhat easier terrain and down a fire road back to the parking lot.  Don't forget to dress in layers and definitely take a hiking partner with you.  And it goes without saying that no pets are allowed on any part of the trail.