How to live in harmony with some of the Piedmont's most interesting residents.
By Kim Winter
This article was originally published in our Autumn 2011 issue.
The news media, films, and books are replete with exaggerated tales of human-animal and human-insect encounters, most of which highlight the dangers of interacting with wildlife and what terrible things might befall you.  For residents of Virginia's rural Piedmont region, encounters with animals are inevitable.  Even in more urbanized areas, squirrels, deer, coyotes, and fox are prevalent.  As habitats become smaller and development encroaches more into the countryside, far too many animals meet their fates on our roads and highways.
More damaging than any car collision is the magnified effect of eliciting mass public fear of animals that are already reaching crisis population declines.  Of the three mentioned in this article's title, two are in deep trouble and one is doing just fine throughout our beautiful state.  Can you guess which one?
Black bear are prevalent throughout Virginia.  This year, the state's Department of Game and Inland Fisheries will institute the next 10-year management plan to ensure that bears and people can peacefully coexist.  While it can be a wonderful surprise to spot a bear in Shenandoah National Forest, it's ironic how spotting them in one's backyard or local park can elicit more fear than fancy.  Often, even nature enthusiasts will want the bear removed from residential areas, fearing an attack on themselves or their pets.  The media promotes this apprehension through news reports of bear attacks in Western states and Alaska, where grizzlies and polar bears — which can be quite aggressive — are found.
The American Black Bear (Ursus americanus) has been reported to attack a total of only two human beings in the state of Virginia in the last 100 years. One was a hunter standing over a bear he had wounded, and the other person was pushed aside by a startled bear that had entered a kitchen searching for something to eat. Food for thought?
As with almost every animal, we humans are usually the instigators of troubled interactions.  My first thought when I see a "wild" animal in an area where it's not normally found is to wonder what happened to its real habitat?  Wildlife out of their native environments tend to be either displaced by growing populations, migrating to new locations, searching for water or food, and/or attempting to explore new territories. They don't really want to interact with people, and when they do, it's often under stressful conditions.  Our best response is to observe, stand away, and appreciate the rare gift of seeing wildlife a little "closer to home."
That's not to say that feeding potentially dangerous wildlife is advisable.  I encourage residents to provide natural sources of food for wildlife by planting native species offruiting and nut-bearing trees, shrubs, and wildflowers.  It would be reckless to leave pet food or trash outdoors in areas known to host raccoons, fox, coyote, bear, or other animals that may potentially compete for that food with your pet, or enter a house looking for more handouts.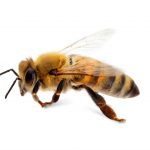 On the subject of danger, many people are mortally frightened by bees — the fuzzy little providers of most of the delicious fruits and vegetables (not to mention colorful flowers) that we enjoy year-round. We see programs on television showing violent "swarms" of Africanized bees, mobbing people, and stinging them to death. In actuality, when a colony of honeybees splits and swarms, they are simply surrounding their queen while half of the colony moves to a new location.  The seemingly frantic swirling of bees and the hundreds buzzing through the air can be likened to a large moving company, carefully lifting precious cargo while sending out as many scouts as possible to ensure safe transport to a new location.  The last thing the bees have in mind during a swarm is to find a human to whom to kamikaze themselves, as stinging results immediately in bee death.
The vast majority of the over 4,000 native species of bees in North America are stingless.  When we mow our lawns and a rush of nasty gold-and-black flying insects burst out, attacking our extremities with multiple jabs, we are encountering the vicious yellowjacket — not a bee at all, but a wasp.  Hate wasps if you must, but please love the bees.  They are here to feed us, and the rest of the wildlife we so lovingly steward.  If we want to help bees build back their unsettling low populations, we can stop swatting them, take pesticides out of the garden and field, and start providing pollinators with wildflowers and other good habitat.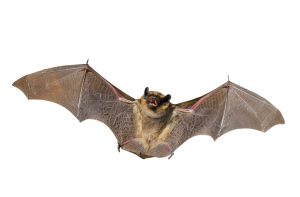 Last but not least, Virginia is home to 17 species of bats, some living in caves, while others roost in leaf clusters, hollow logs, or old barns and sheds.  The cave dwellers have been besieged with fatal White-Nose Syndrome, which in just two years has entered into 13 Virginia counties and caused mortality rates of up to 90 percent.
While vampire movies and Halloween have succeeded in imparting a tremendous fear of bats that results in most human-bat interactions ending in a bat getting clobbered, the truth is that bats, like other wildlife, just want us to leave them alone to eat, sleep, and live.  A bat roosting in your attic may be a little messy and noisy, so if you need to remove it to another location, please do so humanely.
Little brown bats (Myotis lucifugus), one of the more commonly seen bats, can catch up to 1,200 mosquito-sized insects per hour.  Who wouldn't want those little guys taking care of pests in their yard or garden?  Research has shown that some garden pests can hear the echolocation of bats over 100 feet away and will avoid those areas, saving your crops, vegetables, and fruits from damage.  The city of Austin, Texas, has caught on to the idea that bats are tremendously beneficial to their agricultural crops, and a tourism industry has developed around watching them come out of ground caverns and under bridges each evening.
Living in harmony with wildlife means respecting their space as much as we'd like them to respect ours.  And having a true appreciation for nature's beauty means debunking the myths that keep us fearing the animals with which we cohabitate in our beautiful Virginia countryside. To learn more about how you can help build healthy wildlife habitat, please visit www.pecva.org/habitat
---
About the Author: Kim Winter served until recently as the Sustainable Habitat Manager for the Piedmont Environmental Council, and now works for the National Forest Service.
---
Did you like this article? Subscribe to The Piedmont Virginian and follow our blog and social media to read more articles about our environment, conservation, and wildlife. Digital and print subscriptions available.