Chamomile & Whiskey. Friday, 5:30 p.m., Sprint Pavilion, Charlottesville. Chamomile and Whiskey's genre-defying and eclectic sound is subtly coded into the band's name; alternating between raw and raucous, 1:30 a.m. sing-alongs and sedate, poignant ballads, often within the span of a the same song, the band has begun to attract national attention. The group grew out of a duo comprised of Marie Borgman and Koda Kerl. After a strenuous tour together, the two returned home to Nelson County in the winter of 2011 with the intention of putting together a full band. The duo played gigs with several backing musicians until they found the sound that they had been looking for with the help of Tim Deibler, Brenning Greenfield, and Ryan Lavin. After adapting and rehearsing old songs with the new band, Chamomile and Whiskey cut their teeth and honed their chops with several shows at local bars. Though their influences include music as diverse as gypsy, rock, Irish, and Americana, their live performances are uniformly visceral and rowdy, influenced in tone and approach by the DIY ethos that catapulted the punk rock movement out of CBGB and into the national spotlight. Their efforts paid off, and the band was signed to County Wide Records based out of Charlottesville.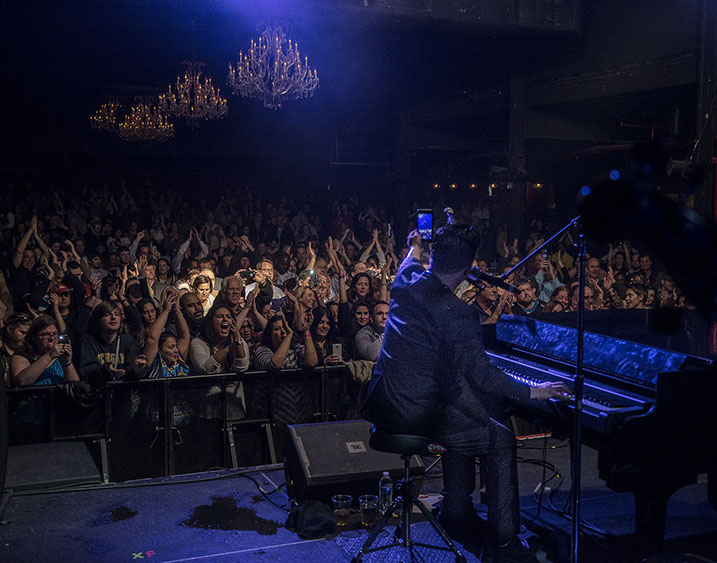 The Stranger: A Tribute to Billy Joel. Friday, 7:30 p.m., Tally Ho Theatre, Leesburg. With over 150 million records sold worldwide in a career spanning nearly 50 years, singer, songwriter, composer, and performer Billy Joel is one of the world's most beloved musical artists. Paying tribute to that level of talent and doing it justice is something special. That's the beauty of the Stranger. The Stranger, a sextet composed of talented musicians, brings together an authentic replication of Joel's timeless music, crowning it with the soulful, spot on vocals that make listening to a Billy Joel song so special. Frontman Mike Santoro is a native of Levittown, New York, just like Joel himself. He plays, moves, and belts out "Piano Man" like Joel himself. Don't believe us? Come see for yourself.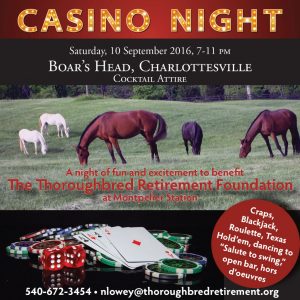 Casino Night at Boars Head Inn with TRF Montpelier. Saturday, 7-11 p.m., Boar's Head, Charlottesville. The gala will be an evening of fun, food, entertainment, casino games, silent auction, and more, all benefitting the Thoroughbred Retirement Foundation (TRF), a 501c3 non-profit organization whose mission is "to protect ex-racehorse from potential neglect, abuse and slaughter once their careers on the racetrack have ended." The TRF endows former racehorses with a second life, one of easygoing days in the pasture. These horses' happiness is only possible through contributions, donations, and funds raised at events like the fun-filled Casino Night. Don't miss out on the fun!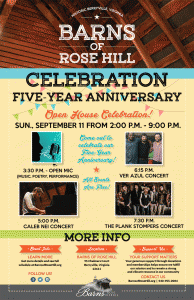 Fifth Anniversary of Barns of Rose Hill. Sunday, 2-9 p.m., Berryville. This free event celebrates the five-year anniversary of the local 501(c)(3) non-profit whose mission to enrich lives through exposure to the arts has been a magnificent success. Special guest musicians join in the celebration. Hailing from Winchester, Caleb Nei can be found somewhere in Northern Virginia playing jazz on most weekends. He plays piano as a both a solo performer and with small combo groups at concerts and various restaurants and hotel venues as well as for weddings and private events. Ver Azul's original compositions infuse jazz melodies, acoustic grooves, and Latin rhythms that is simultaneously easy to listen to and will make you want to get up and move your feet. The Plank Stompers are more than just a bluegrass band. Switching from old time, to Motown, to obscure classics or new original tunes, this band brings the audience on a musical journey complete with healthy doses of harmony and improvisation.
---
MORE EVENTS
---
• Greek Heritage Day. Saturday, noon-6 p.m., Doukenie Winery, Purcellville.
• Smithsonian Chamber Players. Sunday, 3-5 p.m., Theatre at Washington.
• Shakespeare Under the Stars: "Much Ado About Nothing." Saturday, 6:30-10 p.m., DuCard Vineyards, Etlan.