Featured Image by Dustin Condren. 
No BS! Brass Band with Lucy Dacus & Angelica Garcia. Saturday, 7:30 p.m., the Jefferson Theater, Charlottesville. Based in Richmond, Virginia, No BS! Brass Band has quickly earned a reputation as a premier band to see for heart-pounding energy and uncontrollable dancing. They take their music into uncharted territory, embracing the spirit of New Orleans into its original East Coast modern funk and fearlessly combining elements of James Brown, John Coltrane, Michael Jackson, and Led Zeppelin into their fiercely original sound. Founders Reggie Pace and Lance Koehler have cast this 11-piece band in which nearly every member has had conservatory training, holding various degrees in music. In putting together the compositions and arrangements, the "b.s." has been stripped to give the audience something solid, unique, organic, real, and powerful. They have the look of New Orleans with the raw sound all their own—music is a true definition of the "Richmond sound."
Lucy Dacus's No Burden is full of surprises—sharp lyrical observations, playful turns of musical phrase, hooks that'll embed themselves in your frontal lobe for days. But the most surprising thing about this album might be the fact that it's a debut; it has a keen sense of self about it, and it nearly glows from the self-possession held by the woman at its core. Dacus started playing around Richmond while in college, opening for local acts and eventually meeting Jacob Blizard, a guitarist who invited her to make a record for a college project of his. No Burden, which was originally released in February on the Richmond label EggHunt Records, opens with the forthright, almost brutally honest "I Don't Wanna Be Funny Anymore," the last song Dacus wrote before the album's day-long recording session at Starstruck Studios in Nashville. Dacus delivers scalpel-sharp observations about resisting pigeonholing over chunky guitars, ticking off ideals of femininity and youth until the track's not-quite-resolution.
The rest of
No Burden puts Dacus's voice center stage
, allowing the glinting poetry of her lyrics to shine even more brightly. "Trust," which Dacus wrote in late 2013, showcases her alone with her guitar, her faint vibrato floating over strummed chords as she sings of self-redemption. And the diptych "Dream State…" and "…Familiar Place," which revolve around Dacus repeating "Without you, I am surely the last of our kind / Without you, I am surely the last of my kind," capture disappointment and loss in a jaw-dropping way; the music trembles around her while her voice stays steady, anticipating whatever might come next. The album is sure to feature prominently on this year's
"Best Albums of the Year"
lists. And, hey, she's also one of
Tim Kaine's favorites
!
Middleburg Christmas Parade. Saturday, 8:30 a.m.–5 p.m. We all know the iconic photograph: foxhunters in their gleaming reds, flurries of snow, the hounds trotting through the idyllic streets, the foggy breaths of an elated audience. The Hunt Review is back again this year, as are the hayrides, parade floats, crafts fair, and Middleburg Garden Club's Christmas greens sale. The morning starts with a breakfast with Santa Claus himself and ends with Spirits of Middleburg, a pairing of the historic town's ciders, spirits, and wines with the delicious cuisine of its many excellent restaurants. So come early, wander through boutiques like Lou Lou's and Tully Rector, grab a cup of cocoa from Cuppa Giddy Up (or perhaps a hard cider from Mt. Defiance Cidery & Distillery), get a bite to eat at the new Side Saddle Café, then partake in the festivities that surround The Most Wonderful Time of the Year.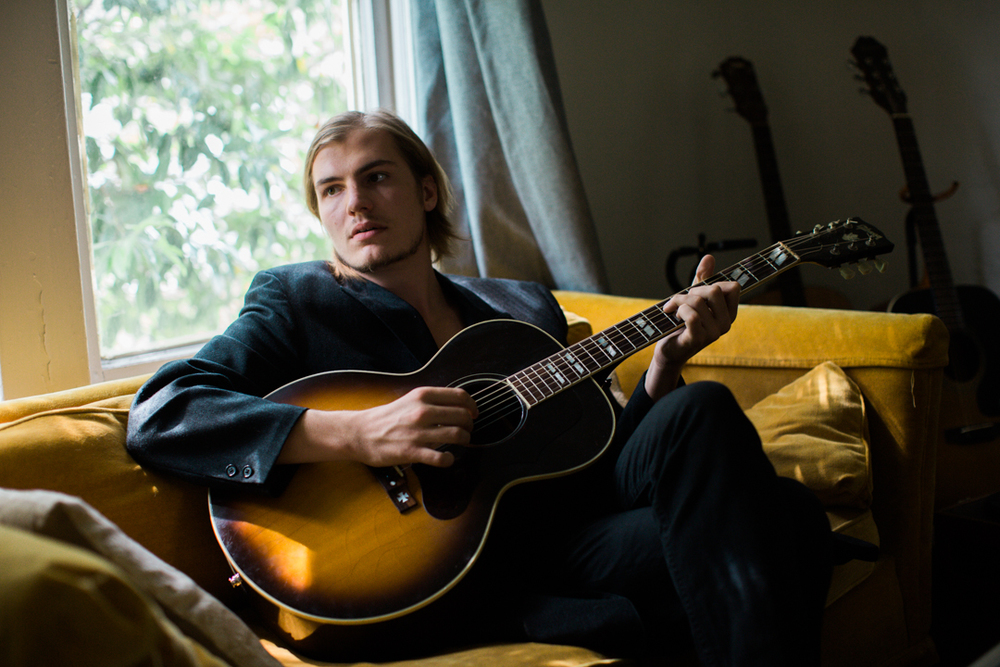 Dylan Leblanc with Bryan Elijah Smith. Sunday, 6–8 p.m., the Southern Café & Music Hall, Charlottesville. Dylan LeBlanc knows second chances don't come around often. But, neither do voices like his. Overwhelmed by the speed his gift would take him, from Applebee's server to "the new Neil Young" in a matter of months, he walked away from an unlikely major label deal after releasing two critically acclaimed albums. He slipped into a blur of booze and self-doubt. Exhausted and damaged at just 23-years-old, Dylan came home to Muscle Shoals, Alabama to write a new life for himself. In between the moments of clarity and a few familiar falls, he also wrote a new album, Cautionary Tale: a collection of shimmering, arresting songs with the same haunting vocals that caught the attention of Lucinda Williams and Bruce Springsteen, now with a sharpened edge honed by hastened maturity.
"This record is about me getting honest with myself," says
Dylan
. "I had to let the guilt about the past go and find a new truth within myself. This time, I felt like I really had something to say." If Dylan was wandering through a cemetery with his first album
Paupers Field
(
"Songs are like headstones to me," he told the Guardian
),
Cautionary Tale
is an abandoned desert town. He reflects on what once was, and if anything could be again. At times, he wonders if the signs of life he sees on the horizon are real or just a mirage. Phantasmic, warbling voices in the background rise to meet his own and fade into the ether; ghostly guitar riffs echo in the emptiness around him. "After everything I've gone through, I still love putting records out and singing for people, no matter how big or small the crowd," says Dylan. "It's the only thing I want to do, and now I get to keep doing it as a more well-rounded person. I guess I'm blessed or whatever the hell you want to call it."
Bryan Elijah Smith is perhaps best-known as the frontman of Dayton's alt-Americana group, the Wild Hearts. His compositions and aesthetic as a producer create a unique amalgam of Americana that is peppered with mainstream sensibilities crossing a wide array of genres. The Wild Hearts most recent album, These American Hearts, made year's end best-of lists in 2014 and highlighted Smith's songwriting over the course of 11 tracks. The album is a self-portrait, a story that unfurls, digs deep, and revels in the joys, sorrows, loves, and heartaches that manifest during long tours and time spent on the road. Beyond the poignant, insightful lyrics, the album soars sonically, at once distinguishing itself from and fitting itself into the raw, backcountry sound that the Wild Hearts have developed.
Gallery Spotlight: Changing Season: New Works by Becky Parrish. Opening Reception: Saturday, 4–8 p.m., Berkley Gallery, Warrenton. Parrish's use of exciting color contrasts and a deft use of light and shadow identify her work on display at Berkley Gallery. Her portraits capture an individual's spirit, rather than presenting a hard-edged photographic reproduction, while her still life works are strikingly diverse. "My paintings are abstract, regardless of their representative nature. Whether setting up a still life, or positioning a figure in a portrait, the objective in the paintings is to create an integrated whole," Parrish says of her artistic vision. "I choose still life as an art form because it allows me to control all of the elements. Still life in general is limited in depth and space, therefore, it is a challenge when developing an arrangement to try to capture that multi-layered sense space on the two dimensional surface of the canvas."
---
UnStable Arts Presents: Readings from Abundant Grace. Saturday, 3–5 p.m., Gallery on Madison, Middleburg.
Customer Appreciation Day with Music by Jason Burke. Saturday, Noon–6 p.m., DuCard Vineyards, Etlan.
Holiday Festival at Hope Flower Farm. Saturday & Sunday, 10 a.m.–5 p.m., Leesburg.