Tiny House Building Company, LLC supplies the simpler, minimalist, green lifestyle so many are craving
by George Rowand
The average size of a new home in America exceeded 2,600 ft2 in 2014. However, recent trends indicate that a radically different home design is finding a receptive audience. They're called "tiny homes," and these homes can be as small as 200 ft2. Some even smaller.
Kristopher Angstadt—a custom homes builder in Fredericksburg—was asked to construct a narrow home on an infill lot. The design challenges and successful final product helped him develop a new idea.
"I'm a new-construction builder, and have been for fifteen years," Angstadt said. "We started out building custom homes, and our bread-and-butter homes are probably between two- and three-thousand square feet. Then I built a single-family home on George Street in the historic district of Fredericksburg. The lot itself is only fourteen feet wide, and most people said, 'You can't build a house there. You can only build a shed.' But we built a house, and that house sold beautifully. The buyer loved it. It's within walking distance to all the shops downtown. We were able to put in nice features: pocket doors, beautiful granite kitchen, a nice living space. We had a front living room, family room, and in the back, we had a den off the kitchen. You didn't know that you were in an 11-foot-wide house."
That house required that he think deeply about storage space and efficiency. His success in managing these design concepts and constraints led him to start Tiny House Building Company, LLC.
"After that house, I started building very narrow houses, so I figured, 'Why not build a tiny home?' "
Angstadt took the concept one step further and built the tiny home on a custom trailer, thereby making the home mobile. This innovation has been met with praise and widespread public interest.
"The whole movement has started to take off in the nation," Angstadt stated. "It's very popular. Multiple TV shows now feature tiny homes. I thought it would be something good to bring to the East Coast, and that's exactly what we did. Since we started the company, things have really been going well, and we're on track to have our best year this year."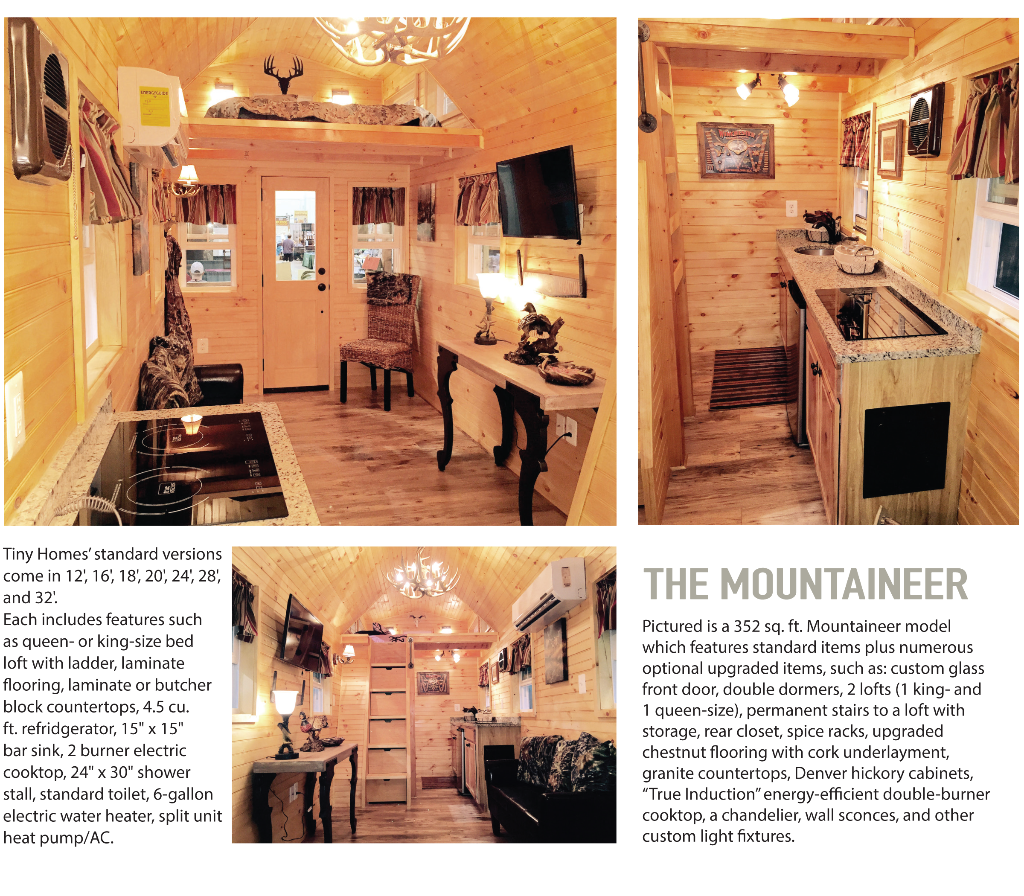 Starting small

Considering Americans' adherence to the "bigger is better" mantra in almost every phase of life, the popularity of tiny homes and their appeal to a wide variety of consumers are surprising.
"It's a lifestyle," Angstadt said of the movement, "and people are embracing it. They've lived in larger homes for many, many years, and they're saying, 'You know what, I don't need all this stuff. I can minimalize. I can get rid of all the clutter in my life by living in a tiny home.'
"I also think the mindset has changed since the last real estate crash," he continued. "People who live in large houses are going, 'You know, I work my tail off to have this big, beautiful home that I don't live in. I work, I come home, I eat, I go to bed. I'm working hard just to afford the mortgage payments, and I never can go on that weekend trip with my friends that's going to cost two- or three-hundred bucks because I never have the extra money because I'm a slave to my home.' I think that mindset has changed considerably. Those folks can downsize and live a lot easier."
There are other advantages as well, Angstadt noted.
"In a lot of cases, the features in the tiny homes we build far exceed what you might have in your home. We have granite counter tops, stainless steel counter tops, tongue-and-groove walls. If you have tongue-and-groove walls in a single-family home, it's going to cost a fortune. But these higher-end materials—which everybody would like to have—are affordable in a tiny home because you're not using too much of the product. And you have almost no carbon footprint. Most of these are built very green from the flooring to the exterior to the countertops. The appliances are very energy efficient because you need to be looking for low-voltage stuff, and any time you look for that, you're putting a very small demand on the electrical input that goes into that house."
And customers have come up with a wide variety of uses.
"It could be used as an in-law suite, a teen suite, for an extended family or as rental-income-producing property," Angstadt said. "We have a gentleman who has an oceanfront lot in an RV park, and he's looking at renting his tiny home for over $1,000 a week this summer. If it works out, he's going to order two more. He's looking at it as a major vacation rental income for him, and then when his family comes to visit, they're going to stay in the tiny houses. We've been contracted for a lot of pool houses. It makes so much sense to do something like this. You just don't have to wait for a long period of time to go through permitting, and the construction process can take six or eight months. If you buy from us, you can just pull it in where you're going to be using it, and you're up and running the same day. It's that simple."
Customers have come from across the country.
"Most of our sales are out-of-state," Angstadt said. "We've sold to California, we've sold to Maryland, we've sold to South Carolina, we've got a Texas buyer we're working with, so that's been good."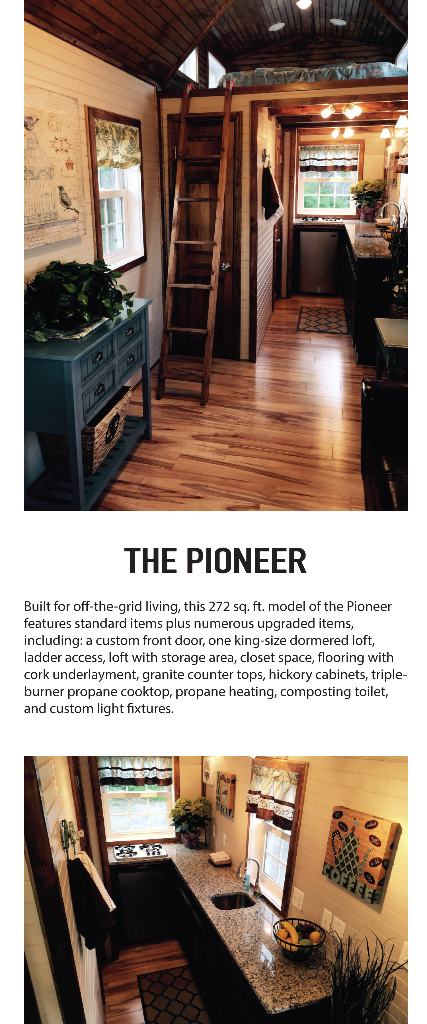 Spaced out

Due to the scarcity of space, builders have to be creative with the setup of the tiny home.
"It's all about creating usable space—a staircase that will have steps to pull out, and they'll all have usable drawers in them," Angstadt said. "The backside of the staircase can be a linen closet, and the side of the staircase can be a spice rack or additional storage space. The floor can be used for storage if I raise the floor up. The loft can have storage. We can build in dressers, but it takes a person who's committed to living in 400 square feet. Living in it fulltime is a lifestyle adjustment. You need to get down to the bare minimum."
Naturally, the cost of a tiny home is a fraction of what a traditional single-family home would sell for, and the expenses for utilities should be considerably lower or even next-to-nothing.
"We have tiny homes that are completely self-sustainable," Angstadt said, some totally "off the grid" even, that use a combination of solar panels, AC/DC power, composting toilets, water tanks, and propane for heating and cooking.
For Angstadt, a customer's sense of disbelief is one of the motivating forces that drives him to be more creative, to think smaller.
"I'm excited about it. I love tiny homes. With a tiny home, it's a different world of creativity. A lot of folks will walk into one of my tiny homes, and they'll go, 'How big is this? It seems so much bigger when you get inside!' "
Tiny House Building Company can be reached at tinyhomebuildingcompany.com. You can watch their segment on HGTV Monday June 20th, at 9:30 pm.