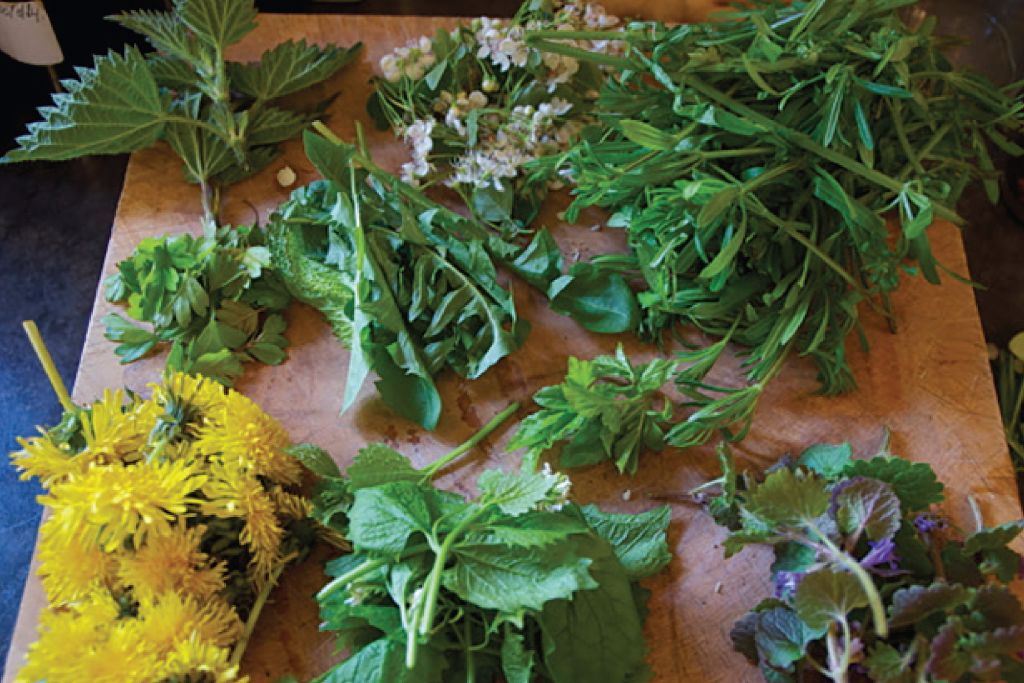 By Brian Lichorowic
Winter is over, and like you, I've grown tired of the mandatory winter vegetables provided by even the highest caliber of grocery stores. I've had my fill of broccoli from California, grapes from Chile, and tomatoes from Mexico. Four months of vegetables that can't possibly be construed in any way to be "eating local."
The problem is I'm eager; spring can't get here fast enough and things just don't grow fast enough. Interestingly, the types of food that are the first to pop up are not considered mainstays in the Piedmontian diet. Spring asparagus, ramps, and fiddleheads elicit looks of confusion from family and friends when they are set before them.
Spring greens and shoots wake up the taste buds and get your blood pumping again. What's more, the pursuit of wild foods can be an exhilarating hobby with a host of benefits.
Hunting wild food is great exercise. It connects you to nature dresses up menus with seasonal specialties, and can even help keep the grocery bills down. (You want to eat organic? It can't get any more natural than this.) Sometimes wild edibles are right under our noses, in backyards and vacant lots. More and more often these days, they're available at farmers' markets, natural foods cooperatives, and grocery stores.
This is the perfect time to explore a few foods found mostly in nature. Wild foods are not a category unto their own. There is nothing more natural than foods that grow unaided by human hand.
Now is the best time to try something different. Your palate has suffered through plenty of long cold nights of processed, GMO-laden foods handled by many hands from many lands.
Spring is the time for rebirth…just ask your taste buds.
"A WILD SHOT IN THE ARM" SPRING SOUP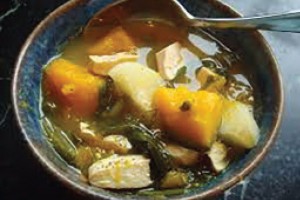 This is a wonderful introduction to the world of wild foods. The benefits of consuming an energy-based soup such as this are well documented.
Fair warning: nettles protect themselves, so wear gloves when harvesting. Nettles, a spring green that is sweet, mild-mannered in flavor, and high in minerals and vitamins, are often compared to spinach and are abundant in the Piedmont. Ramps are a prolific native spring specialty, a perennial wild onion with a garlic scent and pronounced onion flavor, best loved in the hills of Appalachia but celebrated from Tennessee to Canada between April and June.
Dandelions are a wonderful edible weed. If your lawn is pesticide-free, you can start plucking dandelions out by the root as soon as their saw-toothed leaves are visible. In fact, the earlier the better, as the younger leaves are less likely to taste overly sharp. But don't expect outright sweetness from dandelion greens — their light bitterness is part of their appeal.
INGREDIENTS
2 cups fresh nettle tops, chopped
1½ cups fresh dandelion greens, chopped
½ cup ramps, chopped
8 cups water
1 lg. onion, chopped
2 Tbsps. olive oil
2 med. turnips, chopped (about 1 cup),
or use 2-3 chopped carrots
2 cups kabocha squash, chopped,
or use a different winter squash (Acorn)
Miso to taste (optional)
INSTRUCTIONS
1. Wash and chop greens. In a medium size pot, simmer in 2 cups water (or as much as you need to cover them) until very tender (about 15 minutes).
2. Sauté onion in olive oil over medium heat until translucent.
3. Add the onion, along with the ramps, turnips and squash, to the nettles and dandelion greens. Add 6 cups water and simmer for 30 minutes until vegetables are very tender.
4. Turn off heat and stir in miso to taste right before serving.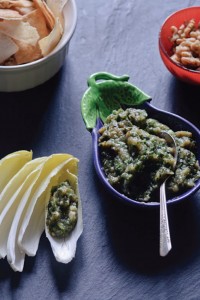 Okay, so you're not going find many wild eggplants growing around the Virginia Piedmont, but they'll be the first thing in farmers' markets and grocery stores come spring. Baby eggplants are small, young eggplants that are extremely versatile in their culinary uses. As with mature eggplants, baby eggplants are exemplary in grilled, roasted, broiled, sautéed, or baked dishes.
For the most part, they're sweeter and offer a more tender flesh when compared to larger sized eggplants. As for wild chives, you shouldn't have to go very far once the grass turns green in your yard again.
This dip is a refreshing reminder of tastes to come. Plus, it gives you a chance to fire up your grill for the first time this year.
GRILLED SPRING BABY EGGPLANT WITH WILD CHIVE CILANTRO DIP
INGREDIENTS
2 whole baby eggplants
¾ cup cilantro leaves, chopped
¼ cup wild chives, chopped
4 cloves garlic, peeled and cut in half
1 serrano or jalapeño chile, stemmed and seeded
2 Tbsps. olive oil
1 tsp. honey
Sea salt to taste
INSTRUCTIONS
1. Grill eggplants over high heat until charred and tender, 8-10 minutes. (Turn the eggplants over half way through the cooking time). Allow the eggplants to cool, then peel and compost (or discard) the skin. Roughly chop the eggplants.
2. In a food processor or blender, purée the eggplant along with the cilantro, garlic, chile, olive oil, and honey. Feel free to leave the dip a bit chunky (or make it smooth, if you prefer). Taste and add sea salt to your liking.
3. Serve with endive slices, vegetable crudités, and/or sliced pita bread or pita chips.
ABOUT THE AUTHOR
The 4th of six generations of restaurateurs, Brian Lichorowic grew up in a restaurant that seated 1,500 people. He thought it was normal to clean and debone 500 chickens every Wednesday after school. He was the first to leave the family business and took a different road to success as a technology entrepreneur. He can be reached at brian@pullmyfingergourmet.com He has copyrighted this story ©Feed Bag Foods Inc. 2015