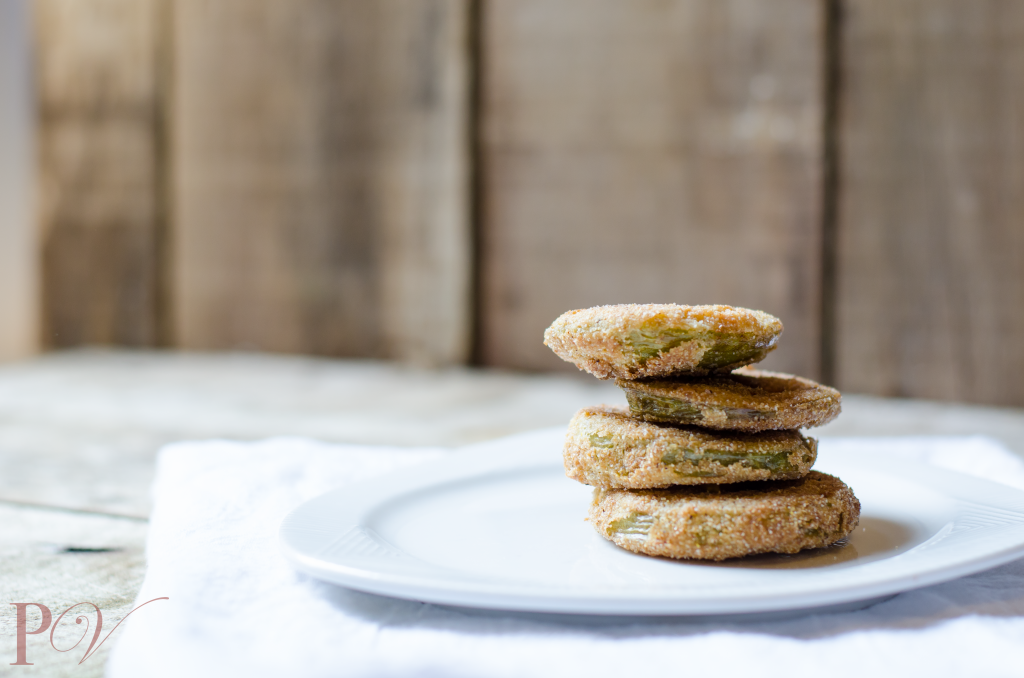 When you say the name "fried green tomatoes", you think one of two things — the 1991 movie, or the southern food staple. I can't say I remember much of the movie, but I can assure you, I remember the taste of that bitterly sweet fried goodness on a muggy Summer night. Front porches and sweet tea have never been complimented so well — and you're not a true Piedmont food enthusiast if you've never eaten fried green tomatoes.
So many of our Piedmont restaurants offer this appetizing treat, but seeing as it's the season of tomatoes, we like to make things ourselves when the opportunity arises. Most of our local farmer's markets now offer hard green tomatoes for frying. So, even if you don't have a garden of your own, there's still hope.
There's been an ongoing debate for the past few decades as to where fried green tomatoes actually originated. Is it even a southern food at all? Some believe that the method came from the Northeast with Jewish immigrants. While others believe that it was always a preferred way to use up unripened tomatoes before the autumn frosts hit throughout the United States.
"Lovers of tomatoes are very fond of them, sliced green as apples are sliced, and fried in butter.  Some persons are fond of them sliced and fried after being dipped in butter.  The green tomatoes, which the season will not permit to ripen, may be turned to good account by using them fried."  – The New England Farmer.  Oct. 14, 1836
As far back as 1836, we can see that these decadent mounds of fried goodness were a popular way to make use of every bit of natures bounty before it vanished.
FRIED TOMATOES.  Peel tomatoes and cut crosswise in large slices, salt and pepper, dip each slice into wheat flour, then into beaten egg, and fry at once in hot lard; serve hot.  A cup of milk is sometimes thickened with a little flour and butter, boiled, and poured over them.  – Wilcox, Estelle Woods.  The Dixie Cookbook. 1885. Atlanta, GA.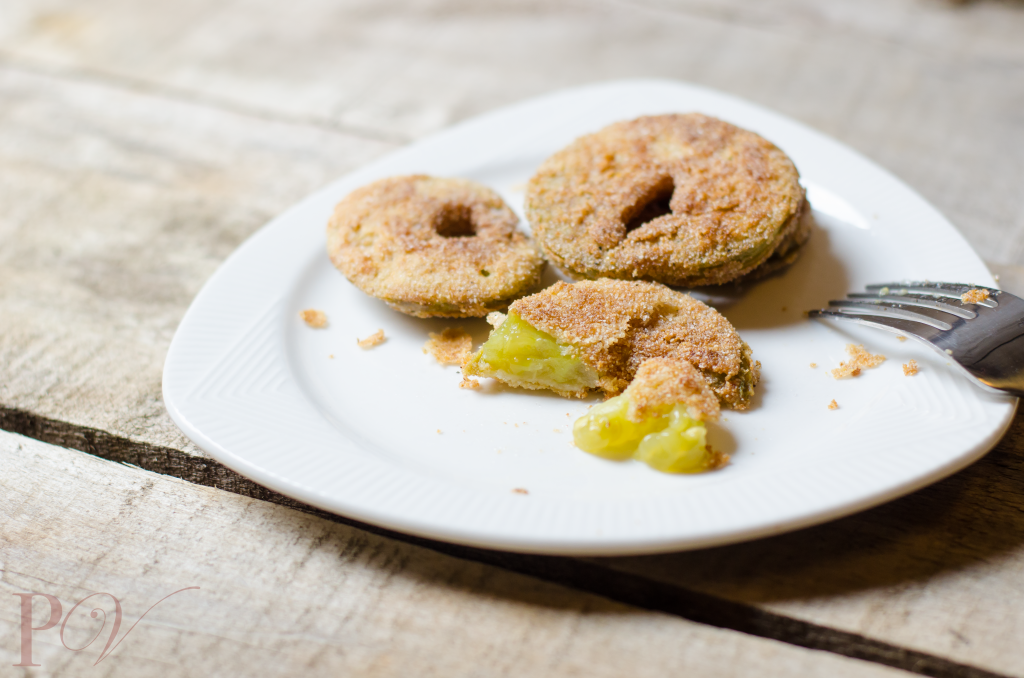 They've always been a true foodie masterpiece, as simple as they are — whether out of taste or necessity. And they truly are that easy to make.
Here is a modernized recipe that most of your cookbooks and grandmothers will pass down to you. You may choose to serve them plain or with a dressing of your own. As a suggestion, a simple mixture of mayo, sour cream, and hot sauce is delicious with these!
Fried Green Tomatoes
Ingredients
1 fresh egg, beaten
1/2 cup buttermilk*
1/4 cup flour
1/4 cup cornmeal
Salt and pepper to taste
Firm (practically hard) medium sized green tomatoes (3-4 will work for this recipe)
Vegetable oil
Instructions
Beat egg and buttermilk together in bowl. Set aside.
Combine flour, cornmeal, salt and pepper (to taste). You can also add paprika or red cayenne pepper for an added kick of flavor.
Slice green tomatoes into 3/4 inch to 1 inch thick pieces.
Heat oil on medium heat in cast iron skillet. Oil should be deep but not deep enough to cover over tomato slices once in skillet. Wait for the oil to get hot before adding tomatoes (375 degrees is suggested, but we don't measure.)
Lightly dredge tomato slices in flour mixture. Dip into buttermilk/egg mixture, and then into flour mixture again.
Fry each side until golden brown, about 2 minutes each side.
Once done, immediately take them out of the skillet and sprinkle with salt. Allow to cool for 5 minutes but serve them hot.
* if you do not have buttermilk, you can use half and half or cream.
---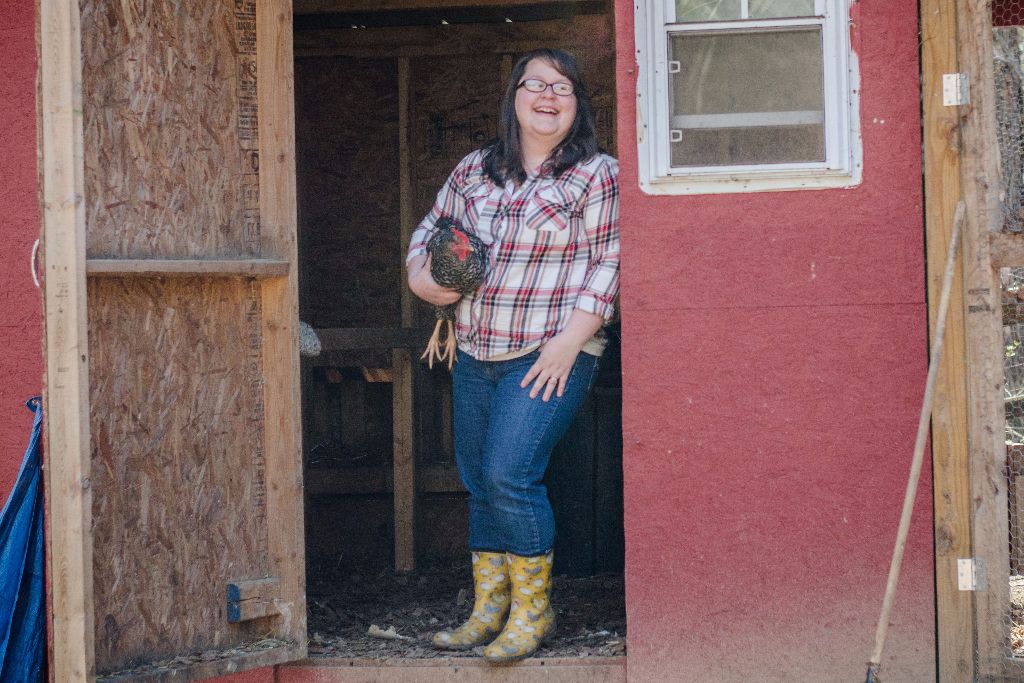 Amy Fewell is the Web Editor of The Piedmont Virginian Magazine, as well as one of our writers and graphic designers. She resides in Rixeyville, VA along with her husband, son and loveable lab. They run a small "mini-homestead" and Amy owns her own photography and marketing business. For more information, visit their homestead website and Amy's business website.